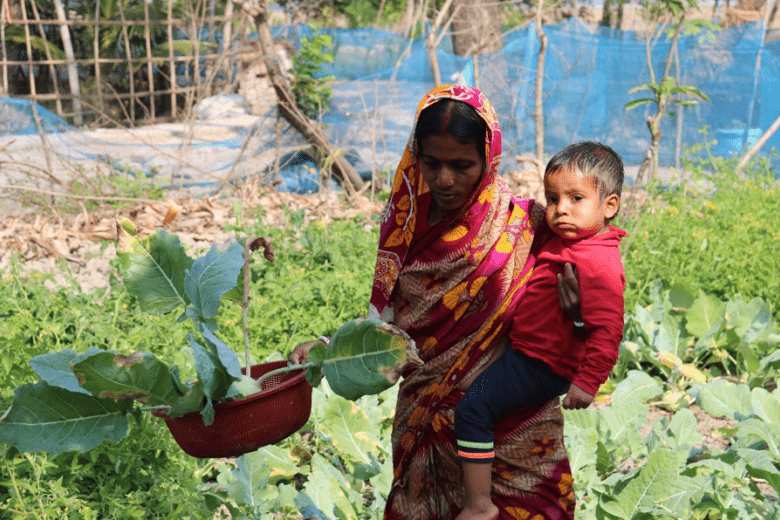 How USAID changed everything for Sunita and her family
Tuesday, October 12, 2021
The southwest coastal region of Bangladesh is subject to a lot of natural and man-made challenges. The area is frequently hit with cyclones, tidal surges, floods, and droughts. Increased soil salinity, water logging, and the conversion of too much cultivable land into shrimp farms has made life difficult for farmers. As a result, many families struggle to put nutritious food on the table and too many children are malnourished.
USAID's Nobo Jatra project, implemented by World Vision is hoping to change that. One of the many ways USAID supports is by training and empowering farmers with climate-smart techniques, sustainable production methods, and increased access to markets... and it's changing lives for farmers in the region.
Just ask Sunita Mondal, a mother and farmer in Kalbari village in southwest Bangladesh. Before Nobo Jatra, the family struggled to eat three meals a day and lived off her husband Bolay's income as a day laborer which was $47 a month. The family had a small pond – but struggled to cultivate fish using traditional methods because of the salinity.
"We were malnourished. I was so frustrated," says Sunita. "I wanted to help my family but didn't know how."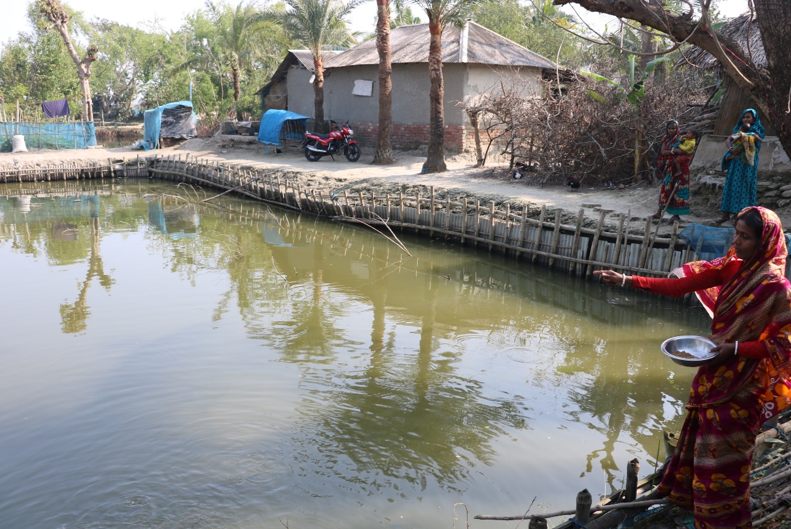 Around this time, Sunita had her first contact with Nobo Jatra – when she was identified as a great candidate for a farmer. To start Sunita was trained on improved production technologies for Telapia fish production, safe use of pesticides and how to keep records of sales. She also learned how to grow vegetables in the small space available around the family home. Now, as a result of these improved techniques, Sunita has transformed her land.
Sunita has enhanced her farm by preparing the pond with the right quantity of compost and fertilizer, feeding the fish the right amount of feed and also grows different types of seasonal vegetables around the year. Local Service Providers and Government extension staff are also an important source of information for Sunita on the types of seeds and techniques to use. Through using improved climate smart practices, Sunita has a regular source of income which contributes to the family's wellbeing.
There are many factors that contribute to poor nutrition – which is why Nobo Jatra also supported Sunita with a 15 month nutrition safety net when she was pregnant. Through an e wallet linked to Sunita's mobile phone - $27 was transferred every month to support Sunita and Bolay purchase nutritious food to supplement their diets with meat, eggs and milk. After Sunita delivered a healthy baby, she regularly went to Growth Monitoring and Promotion sessions to make sure the baby is healthy and also attends courtyard sessions where she learns how to cook nutritious balanced meals for the family.
To help the whole family stay healthy, Sunita also attended community sessions on the importance of safe water and sanitation. A water and sanitation facilitator visits the household to check on their new, clean bathroom provided by the project and train the family on how to take care of it.
It's through these varied interventions around nutrition, agriculture and sanitation, and more that USAID is helping families lift themselves out of poverty and empower them to help others in their community do the same.
"I will buy goats and chickens with our extra income," says Sunita. "So we never have to worry about food again."