Pond Sand Filters impacted thousands of lives in Bangladesh
Monday, July 8, 2019
"Situation was unthinkable before, says Dilip Mondol, the chairman of the Pond Sand Filter Management Committee of Thakurbari, at Assasuni Upazila, now it has changed".  He further continues, "Due to the commercial shrimp cultivation, the total area is affected by salinity. Tube-wells are contaminated with arsenic. Because of rock bed, deep tube wells cannot be installed; there was no source of safe drinking water in the whole area. People here had to depend on rain and pond water as a result diarrhea and dysentery was common in every family." 
Ashasuni Upazila of Satkhira District is one of the disasters – prone areas located in the southern part of Bangladesh. About 40, 735 households live here. Population is 268, 754: male 1,26399 and female 1,22845. Most of the people of this village are day laborers.
As located in the coastal belt of the country, every year it is inundated by water, and water logging continues for quite a long time; the people of this village have to suffer a lot during this time. In the coastal area of Bangladesh, 75% people have no access to safe and suitable sources of drinking water without any purification. As a result, most of the inhabitants of salinity affected area suffer from different water borne diseases. Children's attendance in school is also very low due to illness; they mostly suffer from bacterial infection.
World Vision Bangladesh implemented a WASH project for the costal dwellers in Assasuni District since it started its operation in Assasuni Upazila in 2005 and installed five Pond Sand Filters (PSFs), which were financed by World Vision Australia.  At the early stage, WVB organized focus group meetings with the community people where they raised demand for water and sanitation facility. WVB staff facilitated the project activities, highlighted its specialties and recorded the proposed names and site. Later they verified the listed names through a door to door visit. Shortly after that the villages were selected for five PSFs installation and after the consultation with the beneficiaries, the site for PSFs installation was finalized. Once the installation process was completed, the responsibility of the PSFs was handed over to the community. 
Gita Biswas, the donor of the pond for North Katakati Thakurbari PSF said "after building the PSF diarrhea, dysentery and other water borne diseases have become unusual now. We are so grateful to World Vision for this PSF."
More, World Vision also supported to form PSF Managing Committee to manage and maintain these PSFs effectively. The committees reserve their own funds with a minimal donation of BDT from community users which is used for repairing, regular cleaning and water quality checking.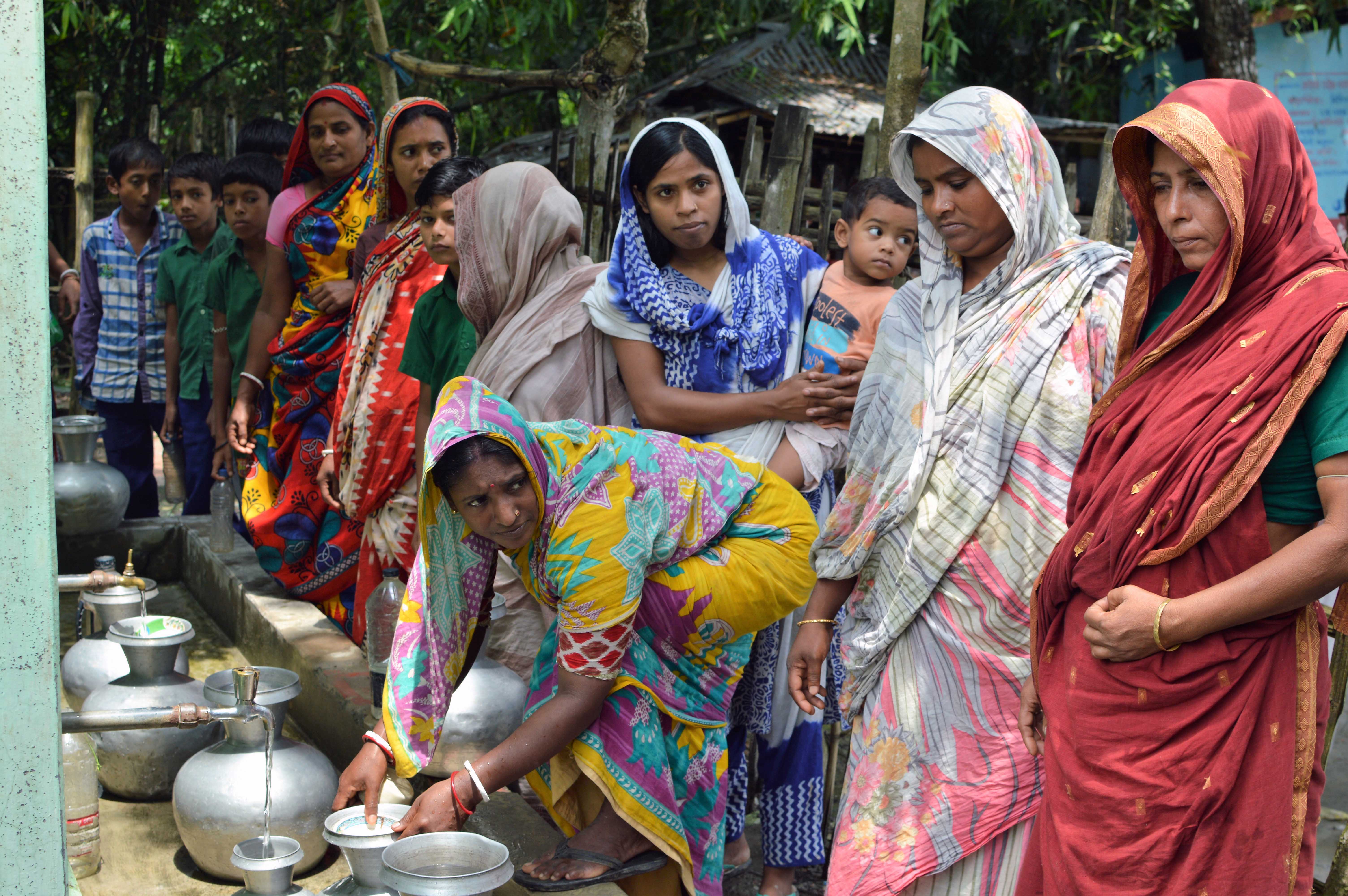 The PSF Committee Dillip Kumar Mondol of North Katakati Thakurbari PSF shares that few years back the solar powered transformer stopped working. Then they looked for the replacement the broken transformer but we could not find a new one anywhere. Then the North Katakati Thakurbari PSF Committee decided to replace the solar powered pump with an electric powered pump. By that time, the village got electricity connection. Although it cost them quite a lot of money to replace the whole system but they took the challenge. Without any support from World Vision, by their own money from the fund they fixed the problem. This is a burning example of the community's ownership and capacity of the PSF Managing Committee. 
After the installation of the PSFs, the community has started using water for different purposes like drinking, cooking, washing and bathing. A total of 60,000 people in Assasuni upazila are benefiting directly from this installed disaster-resilient PSFs. By the way, in the Southern Bangladesh Region World Vision Bangladesh installed total 16 solar powered PSFs and 35 hands pump PSFs. The beneficiary families are very happy to have a safe drinking water source. They are happy as all poor neighbors collect safe water from the PSFs for drinking and also use it for their household purposes. With smiling faces, they said, "Nobody has ever come with such assistance to help them before, we are truly gratefull." They are grateful to the donor for ensuring safe water for them and are truly in debt to the donor for their kindness. 
Today, nearly 1,000 children under age 5 die every day from diarrhea caused by contaminated water, poor sanitation, and improper hygiene. But we believe the global water and sanitation crisis can be solved within our lifetimes. That's why we're focused on providing clean water and sanitation to at least one man, woman, and child in every community we work in every 10 seconds, including the most vulnerable populations in the hardest-to-reach places with food  assistance and livelihood support.