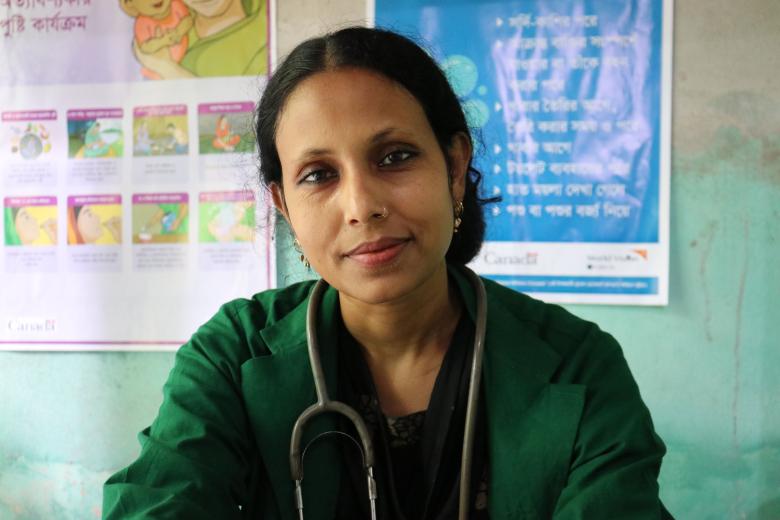 A ray of hope in the darkness
Tuesday, May 25, 2021
Mun Ema Banu Chowdhury, a Community Health Care Provider (CHCP) in Vogotgazi community clinic from Thakuroan District. During the COVID-19, she successfully ensured the childbirth of seven mothers. She responded to every call of her duty during such a pandemic situation, even at the midnight. In her service life, she has performed the delivery of 223 mothers in this community clinic.
She said "I was deployed in this community clinic to serve the mothers and children. During the COVID-19 pandemic, Community Clinic management limited the time to serve people and made instruction to complete all the emergency work within 4 hours. But I never aligned my duties with clock until all mother and children were served and received necessary medicine."
"My community people do not have any idea how serious this virus could be and about the possible symptoms. I accepted all the challenges to make the community aware in this regard. When I close contact with the patients, I feel unsafe as I do not have PPE access at the community clinic. So, I always maintain distance while counseling, conducting COVID-19 prevention sessions and, handling the patients. Besides my daily work, I have been conducting sessions on Coronavirus. At the same time, conducting MNP sessions, ANC/PNC checkups, updating record books, and providing medicine and cleaning equipment. During lockdown all over the country, the patients' flow is comparatively less. So I support them through cell phone & SMS. I am counseling over the cell phone for regular patients who are in lockdown at home."   
I go to sleep at night with the cell phone close and with an anxious mind so that I do not miss any phone calls to handle an emergency delivery case. Providing service during COVID-19 is challenging. Especially when pregnant mothers call me to open the Community Clinic to face the delivery case. I can not avoid pregnant mothers' requests in their critical moment because the delivery patient comes here with great trust in me. I cannot let two lives at risk just for my negligence. So, I open the Clinic at night and after the successful operation, I get back home.  
Now villagers have trust in me and also in this community clinic. I always give credit to the ENRICH Project (WVB) that trained me to be an accountable, sincere worker, effective use of resources, which is helping me to be a good performer in the district. 
Before my joining, this clinic was not very popular among the villagers because it was not well organized due to insufficient equipment and facilities. The Community Group (CG) members were inactive. Even they didn't know their role and responsibilities. The health services were too poor that community people lost their hope to received treatment from here. During that critical period, WVB expanded its hands for this community clinic and changed the total scenario. I dream that in the future this community clinic will turn into a mini-hospital that will comprise a minimum of 10 beds for delivery and emergency cases.