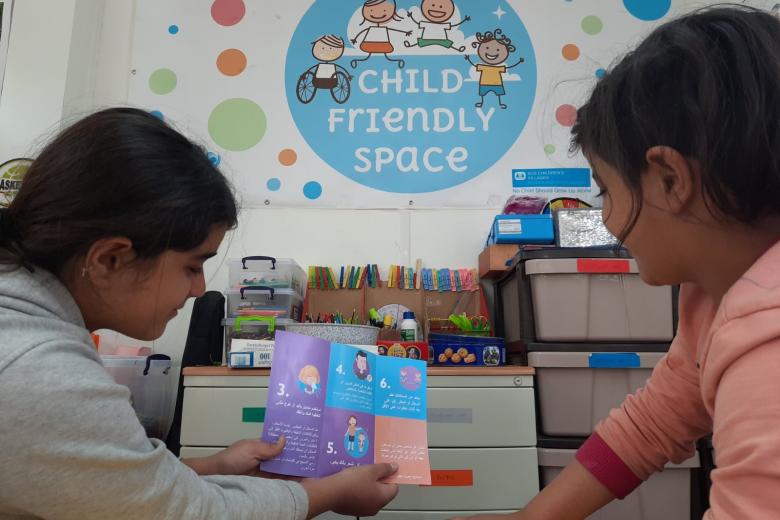 UNICEF and World Vision BiH work together to stop the spread of COVID-19
Friday, June 19, 2020
Together with her parents and a younger sister, Aisha* (14) is a resident of The Reception Camp Ušivak, near Sarajevo, capital of Bosnia and Herzegovina (BiH). The camp is a temporary residence for migrants and refugees entering and passing through BiH. Due to the COVID-19 global pandemic and the preventive measures aimed at stopping the spread of the disease, movement of the citizens of BiH, including its temporary residents, has been restricted. During the crisis peak, it was entirely forbidden for children to leave their homes.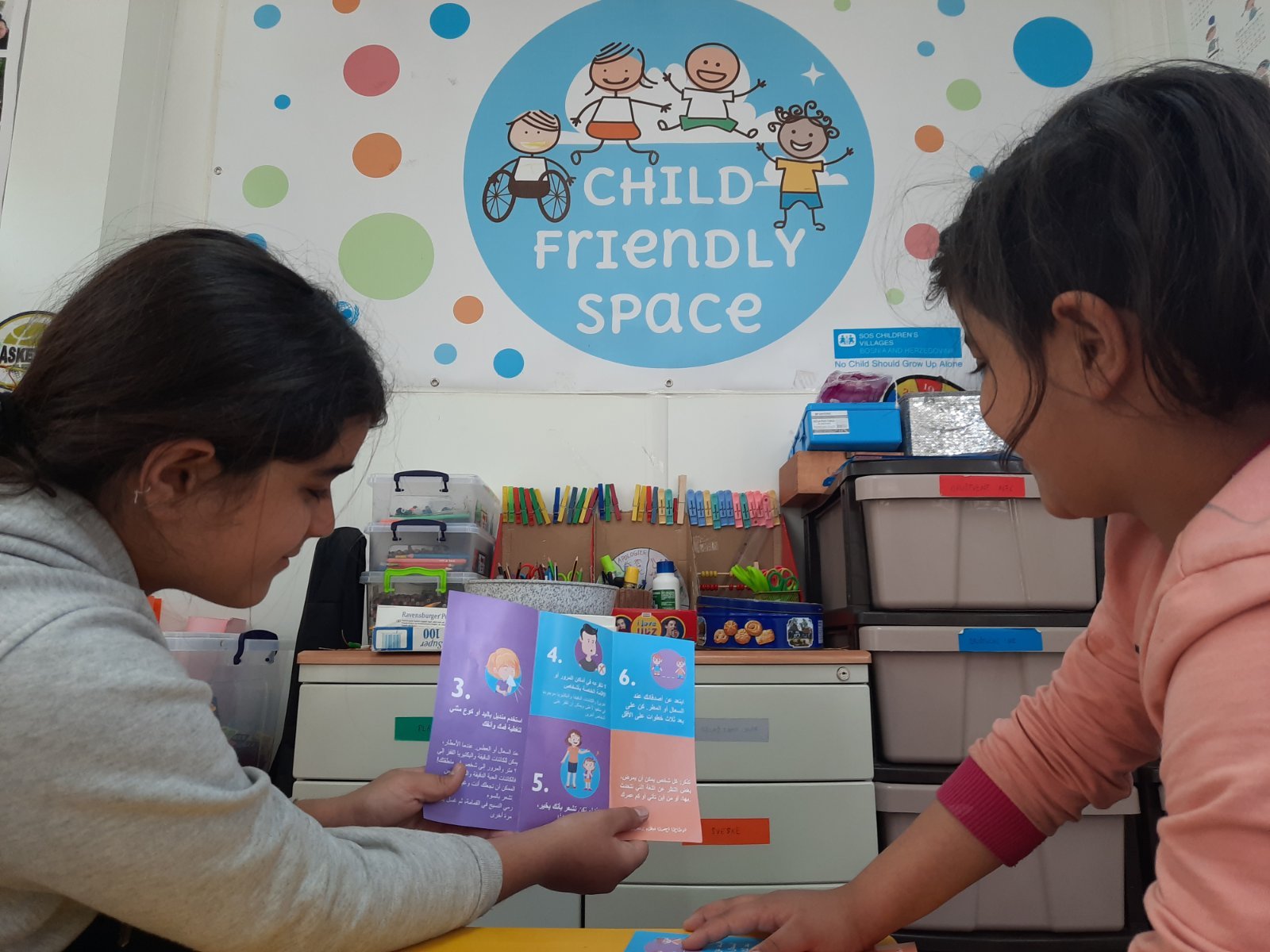 Chilld-Friendly Space: Aisha and her sister read leaflets with disease prevention tips in Farsi language. World Vision 2020
"We couldn't even leave the camp because of the virus situation. Sometimes I wish to go to a local park," says Aisha, resonating voices of many children whose lives have completely changed due to coronavirus outbreak.  This is a new situation for Aisha, but certainly not the only hardship this fourteen-year-old girl has been trough.
"We left Iraq two years ago. During the journey, we didn't have any water and food for days. We walked for so long that our shoes fell apart and our feet were full of wounds and blisters," says Aisha.
Aisha's favorite corner in the entire camp is Child-Friendly Space (CFS). This does not come as a surprise; all activities in CFS are focused on helping children who survived traumatic events overcome their negative experience trough creative and educational workshops.
"A scary experience for me was when some boys from Afghanistan tried to rob me. They wanted to steal my phone. My father saved me. After that day, my mother started hallucinating. My sister and I were so afraid for our family. Child-Friendly Space helps me to forget everything bad that happened to me and my family," says Aisha.
With the support of UNICEF, through a project funded by the European Union, World Vision BiH is implementing the project Ensuring protection and access to basic social services for refugee and migrant children in the Refugee Reception Centre Salakovac in Mostar and The Reception Camp Ušivak in Sarajevo. The project aims to provide a sense of stability to children on the move, assist unaccompanied minors and provide psychosocial support to mothers and future mothers. Child-Friendly Space, Mother and Baby Unit, and the unaccompanied minor protection service - UASC 24/7, are all part of these efforts to ensure migrant and refugee children are cared for and protected.
In The Reception Camp Ušivak, Aisha takes part in the organization of CFS events and participates in all group projects. She never skipped coming to CFS workshops, so far.
"She helps the children who arrive at the camp adapt, tries to make friends with them, and help them get involved in the activities," says Merisa Barimac, animator in Child-Friendly Space.
"I love music and I love singing and my favorite activity in CFS is to sing karaoke. Also, I like our group projects and I like when we make something. Every day I am impatient to go to CFS because it fills my day with happiness," says Aisha.
Apart from the external donors, World Vision global partnership have been contributing to keeping the child-friendly activities continuous.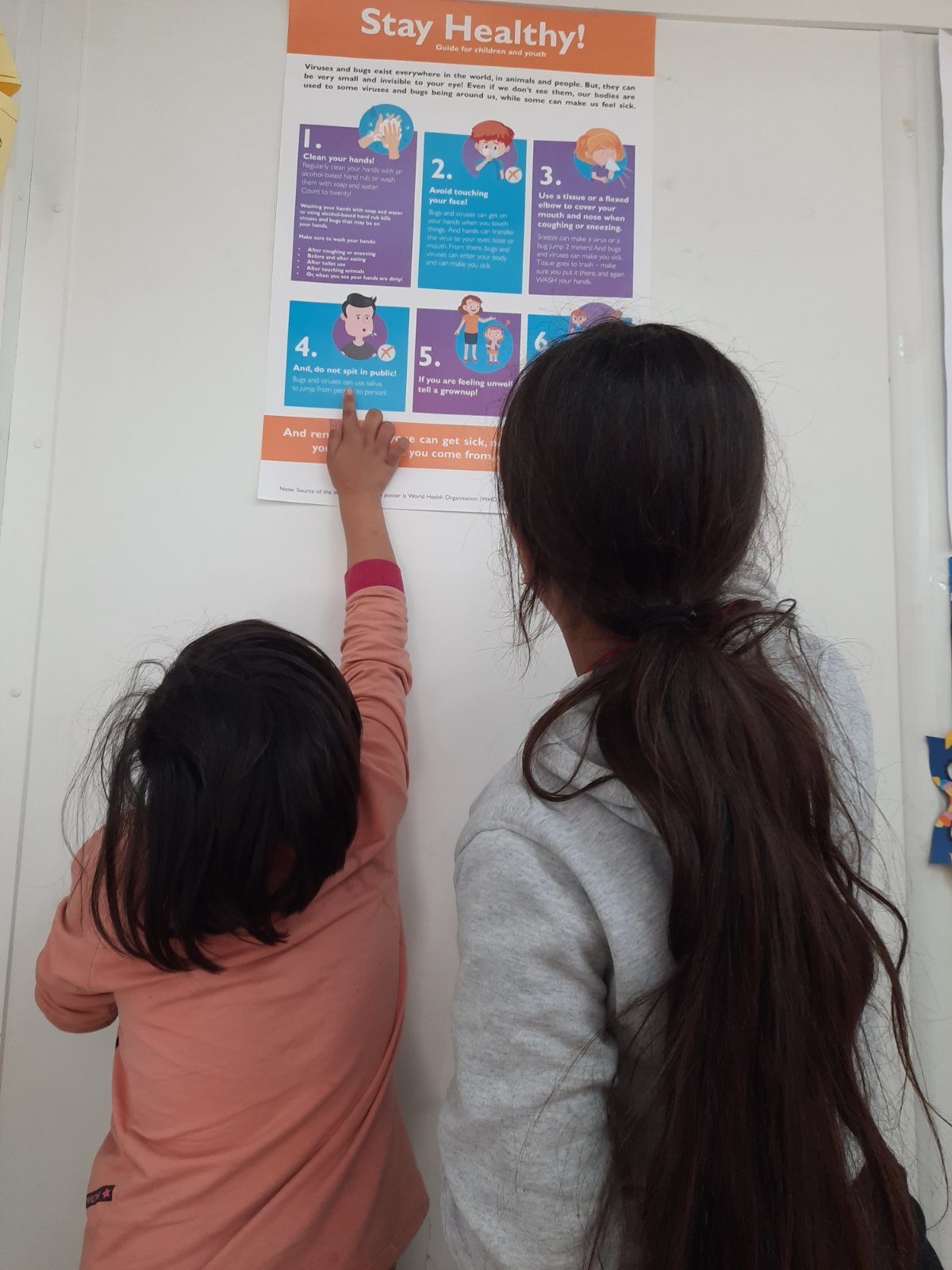 Chilld-Friendly Space: Aisha and her sister study posters with disease prevention tips in English language. World Vision 2020
Since the coronavirus outbreak, activities in the CFS have been altered to help children learn about the prevention – all workshops now start and end with handwashing. During the workshops, CFS staff takes the time to talk about prevention and steps children can take to protect themselves.
"At first, handwashing was interesting to them, and then -- washing their hands before and after the workshop became a habit and we do not have to remind them anymore," says Merisa Barimac, animator in CFS.
"We constantly wash our hands, being careful not to touch our face or touch anyone. I have learned that maintaining hygiene is important for health and if we take care of hygiene we can prevent various infections," says Aisha.
What is not visible to the mere observer of the workshops is that the space was fully disinfected and aired before the official start of the workday. Since the World Health Organisation announced COVID-19 as a global pandemic, prevention of the disease became a top priority in Ušivak Reception Center: with the help of donnors, camp administration and all personnel working in the camps have come together to stop the spread of the global pandemic COVID-19. CFS staff is wearing protective equipment, disinfectants are strategically spaced, and everyone entering the space is reminded of the need to disinfect their hands. Stay Healthy! posters with prevention tips for children in English, Arabic and Farsi language are on the walls, and educational leaflets have been distributes to families. In addition, according to the camp protocol, all personnel entering camp must have their temperature taken by the camps' health-care staff. OSCE Mission to Bosnia has provided clean clothes and shoes for 180 children in three camps, as well as additional hygiene items, thus contributing to the prevention of the COVID-19 spread.
COVID-19 has altered the way society functions on the global level. People are physically distancing, work and meetings are performed remotely, and entire families have been separated for months. But what Italians proved by singing from their balconies is that the pandemic cannot break the human spirit, and it certainly cannot break the spirit and dreams of a fourteen-year-old girl. While missing her family in Iraq and worrying about her immediate family in the camp, she looks to the future, dreaming of becoming a doctor and being able to help her family.
 "Wherever I go and whatever I do in my future, I will always cherish the memory of this place, Child-Friendly Space, my teachers, and my friends", says Aisha.
*Names in the story are changed for the purpose of identity protection
Note: Publication of this article was funded by the European Union. World Vision is exclusively responsible for published content which may differ from the official opinion of the European Union.
Learn more about and/or support World Vision's global work to limit the spread of COVID-19 and support the children impacted by it on our COVID-19 Emergency Response Page.