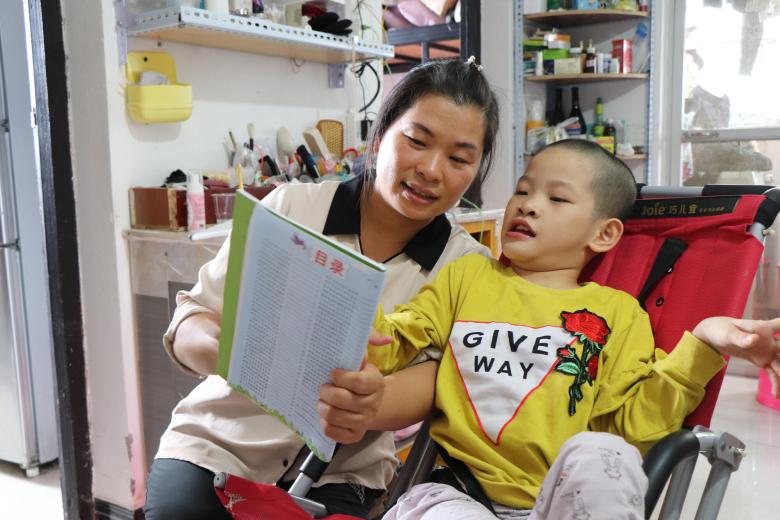 Caring with love for the flower to blossom
Friday, August 18, 2023
Former American professional basketball player Kobe Bryant once answered a reporter's question: "Do you know what it is like in Los Angeles at four in the morning? I see it all the time because I am already training." Xinxin's mother lives in Du'an County, Guangxi Province. She has never seen Los Angeles, but she is familiar with what the county is like at four in the morning because she is already working at that time.
"Most people do not want to go to work so early in the morning. But there are many pressures in our life. I'm willing to go out in the dark and come home in the morning just when Xinxin wakes up. Even though it is tiring, I can care for my daughter during the daytime." Xinxin's mother says.
Struggling on the road to rehabilitation training
When Xinxin was two months old, her mother took her to the hospital for a check-up because she noticed Xinxin's sleeping posture was unusual compared with other children. Xinxin had a hernia, and the doctor advised them to delay the operation until she was a bit older. Xinxin underwent surgery five months later, and after an extensive check-up, she was diagnosed with cerebral palsy.
Over the years, her mother has been taking Xinxin for rehabilitation treatment. They first rented a place for three and a half years in a city with various maternal and child health centres to attend rehabilitation sessions. Then they stayed in the capital city for half a year. They moved back to Du'an only after their savings were depleted. "We saved as much as possible to pay for Xinxin's rehabilitation. We did not calculate the total cost, but it is quite a large sum."
There are four members of Xinxin's family. Apart from Xinxin and her mother, she has an elder sister. Their father does odd jobs and is the family's primary breadwinner. As their income is small, her mother chose to work a job during the early morning hours to support the family without affecting her caregiver's role to Xinxin.
Many relatives advised Xinxin's mother to give up Xinxin's rehabilitation treatment because the family was facing financial difficulties, and most of their time and energy was invested in her treatment. "I will not give up. She is my flesh and blood. I will not give up on her as long as I live. I also do not let my relatives talk about this when Xinxin is around because she understands what is being discussed." The financial pressures, stress as a caregiver, and lack of understanding and support from their relatives have left her depressed, and she began to reduce her interaction with people.
Change and support encountered on this journey
In July 2021, Xinxin's mother got in touch with a project for children with special needs in Du'an, which was organised by World Vision and our partners. At that time, the project staff had moved to the next county to gather applications for custom-made orthopaedic shoes for children with special needs. When Xinxin's mother realised she had missed the opportunity, she insisted on contacting the project staff to ask for directions and submitted Xinxin's measurements in time for the application deadline. They did not have ladder bars at home for Xinxin's rehabilitation exercises, so her mother made one using broom handles. Her determination to cooperate and persevere left a deep impression on many. 
Later, our partners shared information about an opportunity to receive aid for wheelchairs. She successfully applied for assistance as Xinxin was now seven years old. It was becoming more difficult for her mother to carry her. Through their network, the project team also secured a proper ladder bar and wooden chair for Xinxin. Her mother treasures this rare-to-come assistance and uses the equipment daily to help Xinxin and make adjustments to complement Xinxin's rehabilitation progress.
For example, the ladder bar was too low for Xinxin. She extended the base and used additional sticks to stabilise the ladder and prevent it from falling over. Xinxin had problems sitting on the chair and frequently fell over the sides. Her mother used plank wood wrapped with old jeans and pads to help Xinxin sit on the chair safely. The device is adjustable and designed to meet Xinxin's needs and comfort. Xinxin used a cylindrical foam to exercise when she was young. As she grew, her mother used old floor mats to thicken the cylindrical foam so that Xinxin could continue to use it for exercise actions, such as lying on her front to lift her head and strengthen her arms. "I made this adjustment to enhance Xinxin's rehabilitation process and help her progress faster," her mother shares.
In addition to making equipment changes, her mother made many adjustments in their home. She used spare wood and nailed them together to create a shelve to store the children's things. The wooden box cover can be removed and used as storage, and the writing desk was transformed into a cabinet, "I made these racks and the shelves by myself. Our house is small, so we make full use of every space to make it more comfortable for us to live in."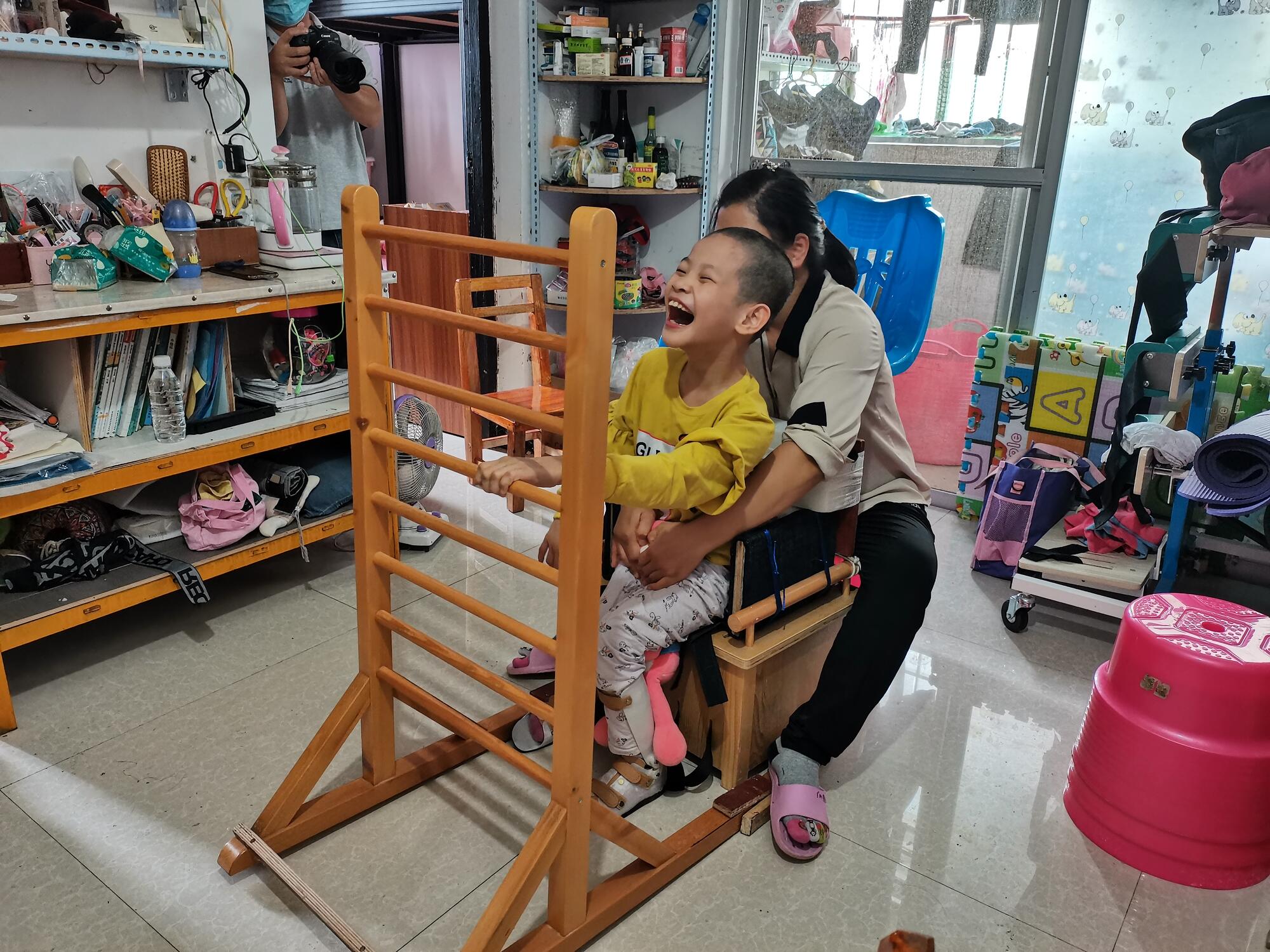 A journey filled with warmth
Xinxin's mother has been training with her at home, and she also learned some techniques from her past experiences. She is a keen learner and has been proactive in picking up new methods that would be helpful for her daughter's rehabilitation. When she acquired a new way, she would first try it herself and see how to make it suitable for Xinxin's condition, even with simple actions such as lying in a supine or side position.
Staff from World Vision and our partners regularly visit Xinxin to see her progress and give her mother rehabilitation and self-care guidance to help Xinxin. They showed them how to hold onto the ladder bars to help Xinxin build muscle and strengthen the hands, waist, and legs. They reminded Xinxin's mother to take special care of Xinxin's hygiene and taught her how to guide Xinxin to brush her teeth properly. Her mother also attended training on parenting, child safety, child protection, and drowning prevention. She got to know other parents with children with special needs. She listened to them share their experiences and the change they experienced with the support of the project team, "The family counselling services given are very practical. I am learning firsthand, which has greatly helped me feel cared for. This year, I began to see things differently and feel that I'm much happier now."
As Xinxin grows up, she needs to ensure she can take care of herself. World Vision and our partners supported her family in renovating their bathroom, which can also meet Xinxin's daily needs. They added a foldable stool for the toilet, a shower, a sink, handrails, and a shelf. "These assistant devices and this toilet are handy. Xinxin can be trained to use them and take care of herself, and it will also help her overall development."
Xinxin's mother's many years of care and training are beginning to show results. In the past, Xinxin was unresponsive. Now she can hold something solid (like a comb of corn) to eat on her own and communicate with others. Xinxin will use her ways to let others know she needs something. Her mother has also been buying children's books to read with her, and she can even remember that one plus one equals two and two plus one equals three. "To train her hands, I used tissues, added more tissues, and gradually transitioned from soft paper to harder ones. It was a difficult process, but I am happy to see Xinxin's progress. I used to have breakdowns because I felt helpless and didn't know what I could do. I am much better now." 
Passing on care and hope to others
Xinxin's mother is a lot more hopeful now. She has begun to look out for the needs of other children in her community to help them receive the support and resources they need. She recently helped Xiaojian, her neighbour, and brought hope to their family.
Xiaojian's mother has three children. Xiaojian and his second brother live with disabilities caused by illness and remain in a lying-down position at home every day. Xiaojian, who is 18 years old, still needed to be carried by his mother to go to the toilet. When Xinxin's mother saw how difficult it was for this family, she shared with Xiaojian's father the support World Vision's project gives and introduced the family to World Vision. After assessing their condition, World Vision donated an electric wheelchair, renovated their toilet, and will continue to provide support services to the family.
Xiaojian can now go out in his wheelchair to buy groceries and take his youngest brother to play. Seeing the change in Xiaojian's family, Xinxin's mother is comforted: "The children want to be independent and go out on their own, but they cannot move. Some parents do not know how to care for their children and do not send them for physical therapy. I want to share what I know with them so their children can receive rehabilitation and support services. They can get better and be comfortable. Sometimes I visit Xiaojian when his parents are not around. He can open the door using his wheelchair, take the rubbish out, or buy a cup of milk tea. Seeing him do well makes me happy too!"
Xinxin's mother encourages other parents: "It's tough for families like ours, where the older children cannot look after themselves and still need to be cared for like babies. Although it is not easy, I hope parents do not give up. Our children can feel it if we care for them wholeheartedly."
During a late, quiet night when everyone is asleep, an alarm clock breaks the silence in Xinxin's home. Her mother quickly gets up, washes up, and gets dressed. She sneaks a peek at her two sleeping daughters and hurries out to work, her shadow slowly disappears into the night.