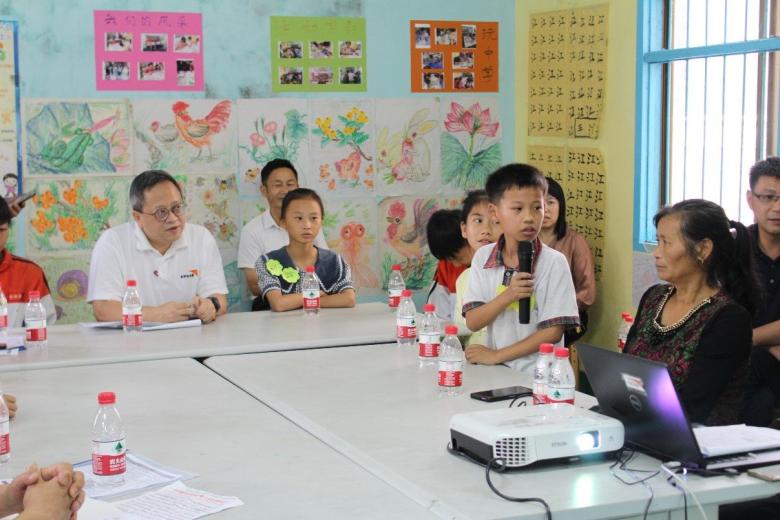 From a changed child to a changemaker
Wednesday, May 24, 2023
Jay is 13 years old and attends 6th Grade in primary school. He is small, thin, and has eyes that reflect a calm demeanour often seen in introverted personalities.
Despite being the youngest in the family, Jay did not grow up being showered with love. His father has a visual impairment and can only do housework at home. His two older sisters are much older than Jay and work or study in another town. His mother has borne the family's financial burdens and works very hard. Jay's grandparents cared for him and were his companions growing up.
The road to change
When Jay joined the Children's Center a few years ago, the Director noticed he was reticent. When they discovered that Jay's grandfather had passed away, they tried to comfort him and help him overcome his grief. The Children's Director also noticed that Jay stuttered whenever he shared during activity and could only say a few sentences. He seldom spoke to the other children.
To help Jay overcome his shyness in speaking to others, the Children's Director invited Jay to join a children's group and attend more activities. This gave him more opportunities to play with children his age and gradually build his courage to express his feelings and thoughts.
After two years of attending various activities, Jay has become more cheerful. He often comes to the Children's Center and has learned to speak before a crowd without stuttering. In June 2022, he was invited to speak with World Vision senior leaders. He talked about his thoughts and vision and offered some ideas for his community.
Jay, 3rd from the left, participates in a group discussion with other children and draws their dream village.
Giving to better a community
Jay has always been a kind-hearted child. While attending the Children's Center's weekend program to serve their community, Jay always took the most challenging and tedious cleaning job. Since joining the children's group, he has become confident in expressing his ideas. He also began helping people in need in the community and is always ready to do his part to make his village a happy place to live.
As a member of the children's group, Jay led his peers to organise a spring cleaning, serving their community by maintaining the cleanliness of their village.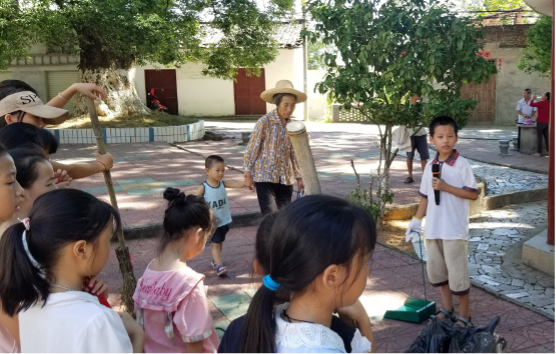 'A happy family is when everyone can live together peacefully. I am a member of the children's group at the community Children's Center. I help in some activities, such as sharing about traffic safety. I tell other children about traffic safety, and they go home and share this knowledge with their parents. This can also help us improve our communication with our parents."
Jay and his friends visited some older people in the village during the Dragon Boat Festival and brought them rice dumplings. They wanted to show their care and share warmth with the older people whose children were not with them during the festive season. Jay's mother is happy to see her youngest son become more and more confident and put his heart into helping others in whatever way he can.
To help children like Jay live life to the fullest, World Vision has established ten Children's Centers and formed children's groups in Suichuan County and its surrounding villages. Children learn life skills such as building their self-confidence, communication skills, responsibilities and management as they participate in the day-to-day running of the Children's Center. Children are encouraged to be agents of change in their community and villages through participation and servitude, building them to become the pillars of their nation.