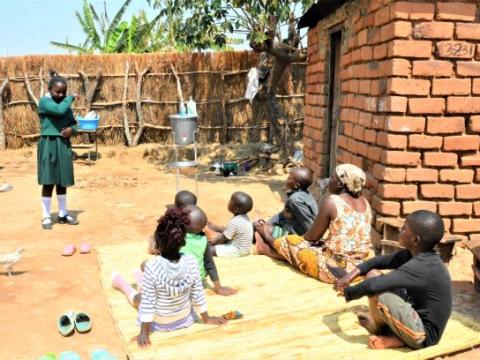 Children fight COVID-19 through WASHUP! Clubs
Wednesday, September 16, 2020
Proper sanitation and hygiene in schools are of the essence, especially when the whole world grapples with the deadly coronavirus pandemic (COVID-19). As a way of promoting sanitation and cleanliness, World Vision through the formation of WASHUP! Clubs in schools have stepped up Water Sanitation and Hygiene (WASH) activities amongst pupils. This is because children are at a higher risk of contracting the disease as they interact in and outside class.
The WASHUP! Club is a platform that offers school-going children opportunities to raise awareness and develop skills related to Water, Sanitation and Hygiene through entertaining but practical health activities. To ensure that the right messages and practices to prevent COVID-19 are adhered to, World Vision has been championing the WASHUP! Club so that children are not left out in the fight against the disease.
While most classrooms are empty due to the threat of COVID-19, a selected number of pupils from the WASHUP! Club at Chingazi Primary School in Kasenengwa District of Eastern Province has teamed up to help provide key messages on sanitation and hygiene to their fellow children in school and in their homes.
Before children engage in awareness activities, teachers collaborate with World Vision to train pupils the three primary WASH practices: safe storage and treatment of drinking water, proper use of improved latrines, and proper hand-washing with soap at critical times. Pupils play an active role in ensuring that their fellow pupils understand the importance of cleanliness and ensuring that the school premises are always kept clean.
Faith, 13, a pupil at Chingazi Primary School, explains that since the onset of the pandemic, she and her friends have had to adjust their club activities in adherence to COVID-19 guidelines.: "We previously used to meet five times a week, but we now only meet twice to discuss club activities due to the COVID-19 threat. Our activities are now restricted to holding home-to-home sessions. Now that only examination classes are allowed in schools, we regularly remind our friends to wash their hands frequently."
The pupils not only sensitise children in school and the community, but are also responsible for the proper operation and maintenance of hygiene facilities within the school.
"We have assigned ourselves responsibilities of overseeing the maintenance and use of water facilities around the school premises. We also have to ensure that we have soap and water in all the hand-washing facilities at all times." Faith explains.
Club Matron Harriet Nyirenda shares that the WASHUP! Club is an important channel for promoting pupils as agents of change in hygiene and sanitation to their families and communities.: "As teachers, we cannot manage to be everywhere, so this group comes in handy because it is easy for them to disseminate information to their friends as they come from the same communities.vMy work has been made easier because I rely on them to inform me if all the water facilities are operational or if there is a need to replenish any item as well disseminate information to other pupils."
Thanks to pupils' sensitisations, children in nearby schools and communities have adapted well to the new normal. To learn more about WASHUP! Clubs, click here.