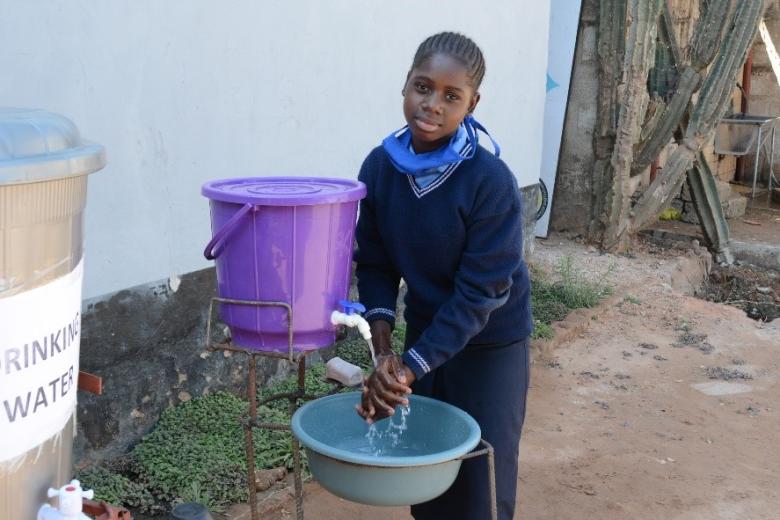 Soap partnership encourages hygiene and empowers community
Thursday, September 3, 2020
"I am grateful to world vision for giving our school soap to fight the coronavirus pandemic," Felistas says excitedly. "Nowadays, my uniform is always clean, and I feel safe to go to school."
Like many children living in poor and densely populated communities such as Ng'ombe, Felistas is at risk of contracting the deadly disease due to a lack of essential sanitary and protective materials such as facemasks and soaps.
As COVID-19 continues to spread, there are significant implications for children's public health and safety. The problems created by the pandemic are adversely affecting children and other vulnerable homes for whom COVID-19 possesses exceptional risks.
Felistas is a grade 7 pupil at World Vision's sponsored Community-Based School in Zambia's capital, Lusaka.
Felistas lives with her parents and two younger brothers. Her father is a labourer who does menial jobs to support his family while her mother is a housewife.
Felistas says that although her father does menial jobs from time to time, he does not always manage to afford all their essential needs.
"It is not all the time that my parents could afford to buy groceries like soap; we sometimes used to have one bar of soap to share amongst us. Soap used to run out quickly, and there would be times when my siblings and I would bath without soap," she states. "I sometimes used to go to school with a dirty uniform because we did not have soap at home. Since I started collecting soap from school, I no longer bath without using soap or go to school with a dirty uniform."
Working together to empower communities
Since she started collecting soap from school, Felistas can observe proper hygiene both at home and at school as World Vision, with support from its US partner Bradford, has been donating soap granules to the school. Women trained in soap making cook the donated soap granules and transform them into reusable soap bars.
The school was identified as a partner in development as it supports children whose parents and guardians are financially incapacitated. Through this significant collaboration, the two organizations have continued to work to prevent the spread of the coronavirus pandemic by donating soap bars to the pupils.
Like Felistas, many pupils at the school come from financially unstable families and lack many necessities, such as having adequate sanitary products. From the time the soap distribution exercise started, over 900 pupils have benefited from distributing the soap bars.
World Vision Gifts In Kind (GIK) Manager Mr Fred Mazumba said the soap partnership aims to forge links between World Vision and the school to protect vulnerable children and households from contracting infectious diseases.
Hygiene emphasised during COVID-19
"The soaps assist pupils and households in predominantly poor communities such as Ng'ombe to protect themselves by maintaining high levels of hygiene by washing their hands and protecting themselves from catching communicable diseases such as COVID-19," Mr Mazumba says.
Meanwhile, School Director Ms Esther Mkandawire explains that pupils have been practising proper health hygiene since the inception of the pandemic.
"The school has benefited a lot, and because of this, proper health hygiene is now being practised. The learners can practice proper hygiene by thoroughly washing their hands, bodies, and school uniforms using soap. We are also donating soaps to 13 schools targeted for the health hygiene reusable pads program," says Ms Mkandawire.
In addition to helping school pupils, the school also carried out an outreach program to reach the masses with COVID-19 messages.
"With the COVID-19 sensitizations, we have reached more than 7,000 households with more than 18,721 children, as we had carried out an outreach program," says Ms Mkandawire.
Economic Transformation
To diversify the school's income base, after distributing soap bars to pupils, the school sells the extra soap bars to community members at half the market price.
"The soap partnership has also been a form of empowerment to a lot of our beneficiaries' households. It has strengthened our work in the community, as guardians and parents can now meet some basic needs from the sales of the soap. We as a school sell 30 bars at K100.00 while they resale at K7, per bar, meaning they have a profit of K110, which is 100% plus profit," says Ms Mkandawire.
The school trained and employed six women on a full-time basis in soap making. The women also make an additional income by reselling the soap bars when purchased from the school.
I will forever be grateful to World Vision for the soaps they give us.
Through the sensitization messages carried out by World Vision and partners, Felistas and many other pupils are now able to maintain proper hygiene.
The donation of soap bars to pupils not only promotes their good hygiene, as evidenced by Felistas' experience, but they also help parents divert some money to buy much needed extra food for their families.
"Because of the soap I receive at school, my parents no longer have to struggle to look for money to buy necessities like soap like they used to," says Felistas.
To protect her loved ones, Felistas has, in turn, taught her younger brothers and friends in the community to always maintain good hygiene.
"I have taught my younger brothers and friends on how to protect themselves as well. Even after playing soccer with my friends, I always remember to wash my hands with soap to prevent catching the disease. I will forever be grateful to World Vision for the soaps they give us," she says.