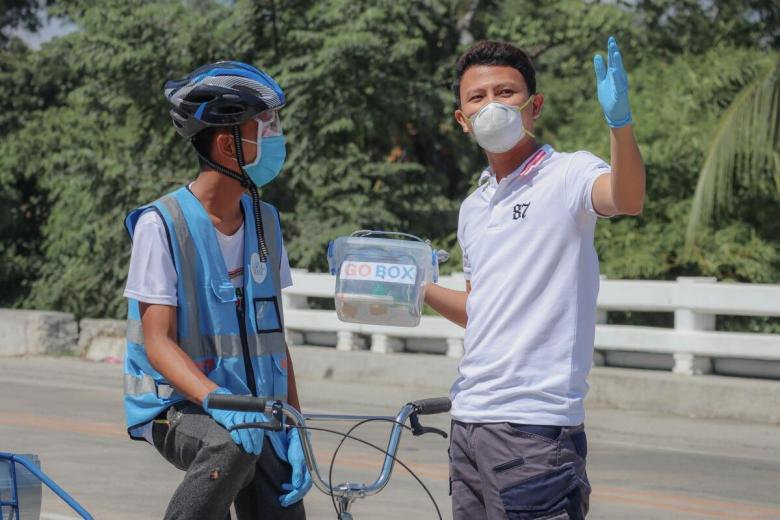 Philippines: Edren shows young people how to serve their community
Thursday, April 1, 2021
"My message for the youth is share your God-given gifts. No one will start the progressive change but you."
This is the advice of Edren, a youth leader in the Philippines, amid the COVID-19 pandemic.
True to his words, Edren leads a team of young people that provides basic medical health care and training on first aid and disaster preparedness through the Go Bike Project, which was co-founded by Edren's friends, Nikko and Sheena, in March 2019.
Founding the Go Bike Project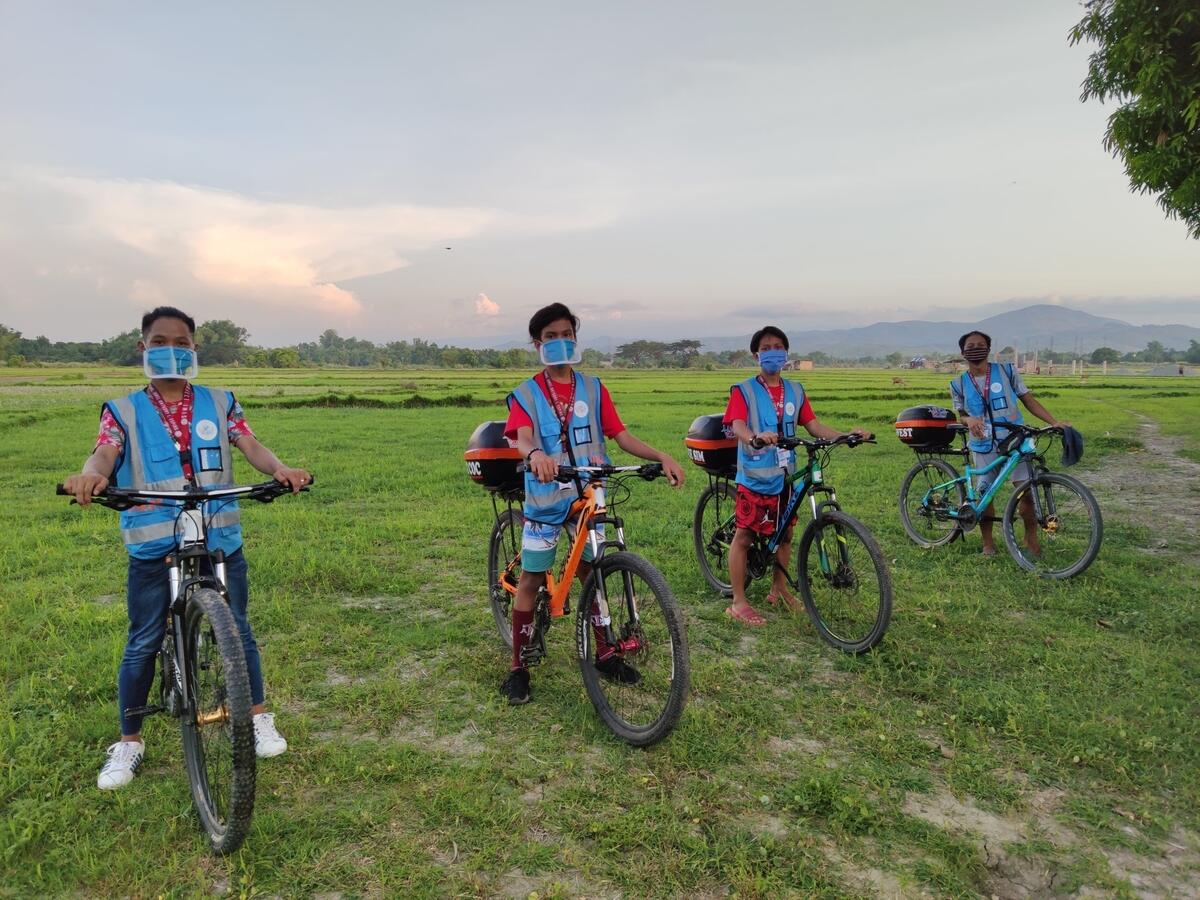 Using their bikes, the team go around their village and nearby communities to promote disaster preparedness and perform basic health care among adult and children alike.
"We conduct a bicycle 'fun ride' to promote the health benefits of cycling, which is a sustainable and eco-friendly mode of transportation. Bikes can also be our alternative mode of transportation during emergency response," he explained.
During the strict quarantine period to prevent the spread of COVID-19, many means of public and private transport in the Philippines were not allowed to operate, leaving most families to either walk or bike to buy essentials such as food. Some families relied on government food relief assistance.
During this quarantine, Edren's Go Bike team provided individuals with basic health care.
"During ECQ [Enhanced Community Quarantine], we noticed that most of our constituents could not go to health care centres for a health check. The temperature that time was reaching 50C.
"We thought that checking blood pressure was vital to monitor one's health. Our trained and equipped Go Bikers conducted basic checking and monitoring of vital signs [temperature, blood pressure, pulse, respiration and blood sugar testing]," Edren explained.
An individual or household member who needs their vital sign checked only has to call or text any of the Go Bikers who will then bike their way to provide assistance.
Not always a smooth ride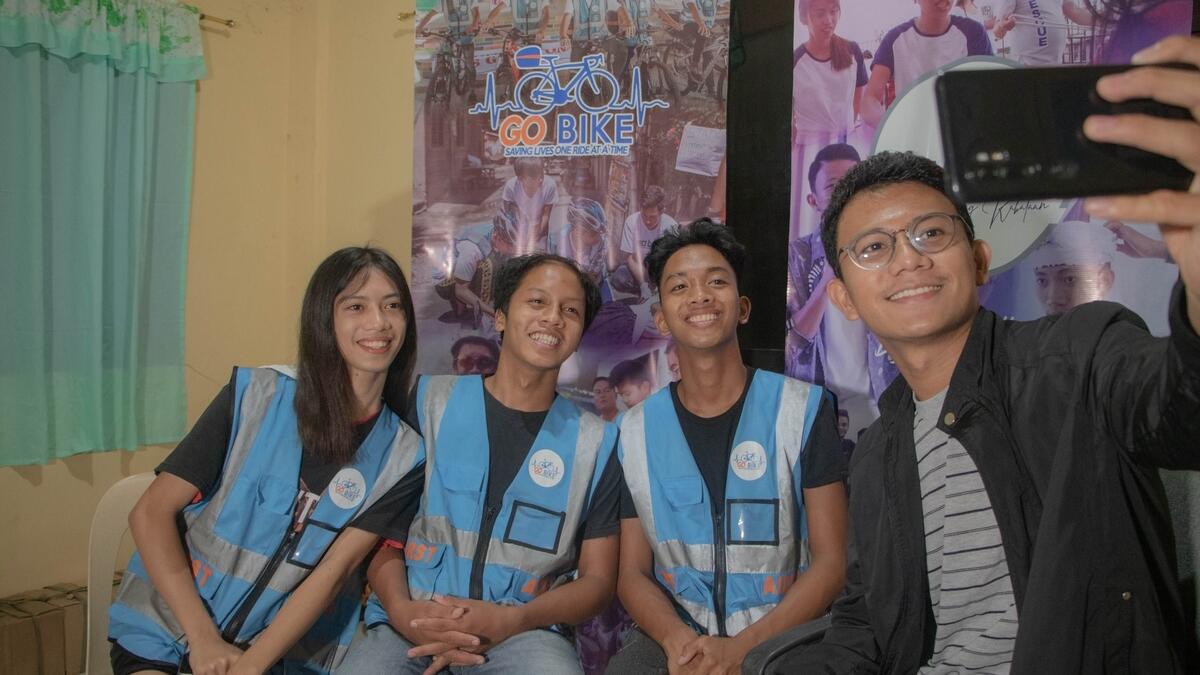 Go Bike is a youth-initiated project supported by the Sangguniang Kabataan (Youth Council) of the local village. Without major funding support, the Go Bike Project would experience challenges.
"We joined a lot of project proposals and competitions for grants. Currently, we lack resources to accommodate other youth volunteers who want to become part of the project. We can't fund their training expenses so they can be certified. We also cannot ;provide them with bicycles. These people are still on our waiting list," Edren acknowledged.
Prior to COVID-19 pandemic, World Vision trained young people on basic disaster preparedness and also provided disaster-prone areas with early warning devices, such as public address system, which serves as government officials' quickest means to announce important messages during typhoons. 
Deeper reason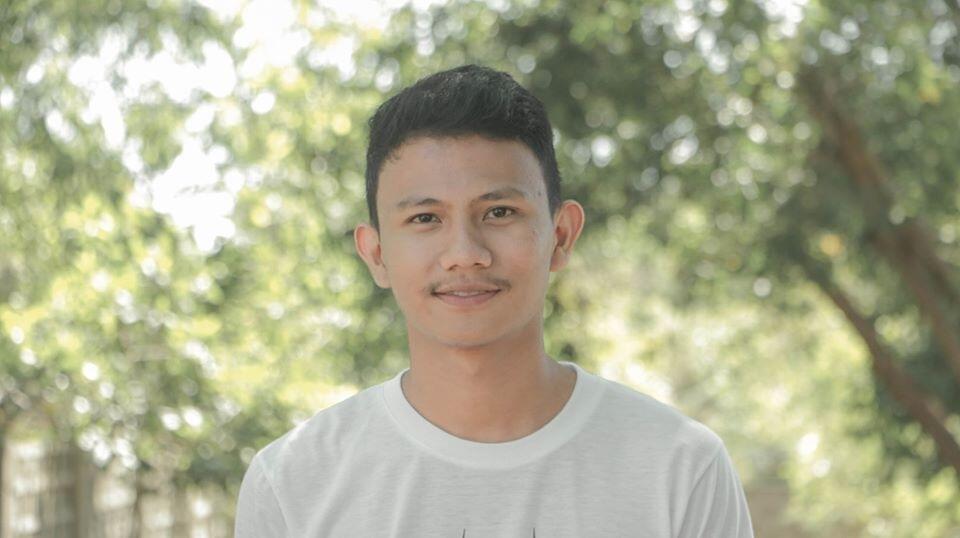 "My father and grandmother died from heart attacks. We failed to give them immediate medical care. My experience on my loved one's death inspired me to start Go Bike that will prove immediate health care in our village," Edren said.
While providing basic health services to people, Go Bike members also worry about the possibility of being infected with COVID-19.
"I admit that we are concern about our health as well whenever we do our job. But people are in need of help. So, we just practice basic hygiene practices like wearing PPE [Personal Protective Equipment], religiously washing of hands, sanitising equipments and keeping ourselves healthy. These are our golden rules. We are fully aware what will happen if we do not do these," Edren said.
Aside from practicing basic hygiene, Go Bike members also have meetings as part of their mental and emotional care. "We conduct regular weekly meetings to have time to talk to each other and unload possible burden while doing the project. We boost each other's morale and treat everyone as brothers and sisters," he added.
Edren and his Go Bike members aim to involve more youth in their advocacy and hopefully - with support from World – they'll be able to expand their project.
"We hope to have partnerships with other organisations soon," Edren added.
Find out more about our COVID-19 emergency response here.