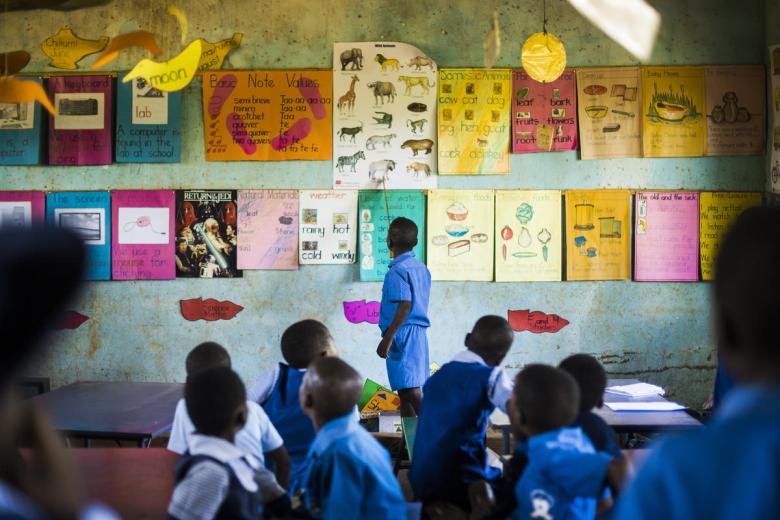 At International Literacy Day, communities lead the way to unlock the power of reading, leaving no child behind despite COVID
Tuesday, September 6, 2022
By Ana Tenorio, Global Technical Director for Education Quality and Innovation
What compels communities to act? Charles, a Reading Club volunteer in the Fanteakwa District in Ghana, answered this question: "we learned literacy results for children in our community were too low. This is what motivated me to join as a Reading Club facilitator. We needed to do something to help children in our community learn to read for a better future."
At International Literacy Day, we must reflect, but most importantly act, to decrease the rise in learning poverty most vulnerable children are experiencing because of the COVID-19 pandemic. UNESCO highlighted we are facing a crisis on top of a crisis. One that can result in a global generational catastrophe which is not limited to developing nations. Recent examinations of 9 year-old students in the United States indicate the pandemic erased two decades of progress in math and reading with vulnerable children losing the most. A joint report by UNESCO, UNICEF and the World Bank revealed the impact of the pandemic on learning is higher than previously thought: "In low- and middle-income countries, the share of children living in Learning Poverty – already above 50 percent before the pandemic – could reach 70 percent largely as a result of the long school closures and the relative ineffectiveness of remote learning."
In a recent visit to the Fanteakwa District in Ghana, I was privileged to meet a network of Reading Club facilitators that exemplify the collective action we all need to take to tackle the learning crisis and ensure every last child learns to read. Reading Clubs are playful community spaces were children ages 6-10 come together to learn and experience the joy of reading. This is one of the key components included in World Vision's Unlock Literacy project model.
Community networks lead and donate their time and skills to facilitate and monitor the quality of Reading Clubs in addition to other activities such as reading fairs, reading buddies and competitions. While World Vision provides targeted support, communities lead in mobilizing key actors to support children's literacy.
I witnessed the energy and leadership reading clubs generate by meeting Jedidiah, Patience and Stephanie. These young girls graduated from Reading Clubs and decided they wanted to give back to their communities by volunteering to be Reading Club facilitators. Jedidiah, Patience and Stephanie represent the future and exemplify the power of communities from young girls, retired teachers, community elders to faith leaders who act united for children. Communities also led the establishment of Catch Up Clubs as a response to the learning loss from the pandemic with incredible results. Especially for the most vulnerable children that were furthest behind in foundational literacy skills and at risk of not enrolling and/or dropping out of school.
Jedidiah, Patience and Stephanie are not alone. Upwards of 30 countries are implementing Unlock Literacy with community networks acting to ensure every child in their community reads. I was in good company in my trip to Ghana. As part of a Global Partnership for Education Knowledge Innovation Exchange (KIX) grant, World Vision and researchers from Honduras, Nicaragua, Ghana, and Canada have united to learn about the power of community networks and their potential to provide sustainable and scalable solutions in support of children's literacy. Education systems go beyond formal schooling but there has been little focus and research on how caregivers and communities are an important part of that system and can bridge gaps that cannot be fully addressed in formal systems. The KIX research will share critical learning on the power of community networks to support learning so others can join the movement and unite behind a vision of every child learning to read and achieve fullness of life. 
Martin Luther King Jr. said it best when he urged the world to champion civil rights in his 1963 historical march in Washington, DC. He said: "We are confronted with the fierce urgency of now. In this unfolding conundrum of life and history, there 'is' such a thing as being too late. This is no time for apathy or complacency." Truer words cannot be said about the current learning crisis. It takes a world to bridge this crisis. From the upper echelons of global and national governments to local communities engaging and acting in support of children. Jedidiah, Patience and Stephanie are showing us the way. Let's listen, let's unite and more importantly, ACT to address this learning crisis.
Can the world unite and act to address the learning crisis? The Transforming Education Summit taking place later this month (September 16, 17 & 19) aims to galvanise support and action.  World Vision and like-minded organisations are calling for a whole child financing approach to provide effective support to children and families. Join this movement to transform education to reach every child in every corner of the world with the gift of reading.
Ana Tenorio believes in the power of communities and their ability to change the world from the ground up.
________________________________________________
Additional Useful Information:
View Measuring Evidence of Quality Achieved (MEQA) Short Video