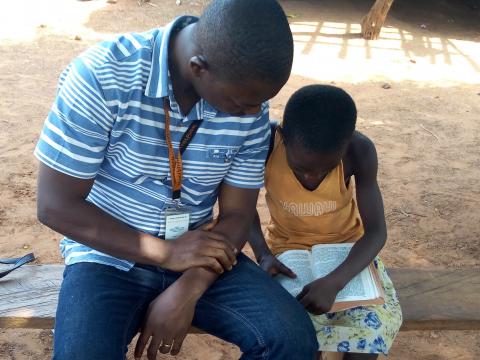 After School Reading camp improves children's literacy skills
Monday, October 26, 2020
Reading among children is seen as a challenge in the world especially in the sub-Saharan region. The issue of children's inability to read is not different in the Nkwanta South municipality. With the introduction of the after-school reading camp, children in the municipality especially areas where World Vision operates are gradually breaking through to literacy.
After School Reading Camp is an integral component of the Education Project for early grade learners. It is a place where children can go after school and on weekends to build on the literacy skills they learn at school. Reading camps are facilitated by trained community volunteers. Facilitators lead children to sing songs, dance, and read stories - all of which focus on building their reading skills in their local language and transfer the knowledge into reading English. Through the after school reading camp activities, there is an improvement in the pupils' performance in their mother tongue compared to English.
The improvement in children's reading ability has not only supported their learning outcomes but has also impacted positively on World Vision's child sponsorship processes, which generates about 80 per cent funding for the organisation. The sponsorship delivery process especially the Annual Progress Report has improved over the years. Children now participate fully especially in correspondence processing by responding to their letters and working on their own Annual Progress Report Expression sheets. "Children between seven and 12 years who have passed through the After-School Reading Camp concept, can read and answer questions on the expression sheets better during the Annual Progress Report. They complete their expression sheets well, and also assist other children to complete theirs," recounted Naomi Owusu, the Child Welfare Supervisor of Odumase. The expression sheets are a key medium through which the children communicate with their sponsors. 
One such child is Dorothy, an eight-year-old Primary three pupil. Dorothy joined the after-school reading camp in late 2017, when she was in Primary one. At the time, she lacked letter knowledge and phonemic awareness and was unable to read in any language. Dorothy can now read Akuapem Twi - a local language - with great ease. She also supports the Child Welfare Supervisor of the community to work on World Vision sponsored children's correspondences. "When I got to know how to read in Twi, English has also become easy for me to read. This makes me feel happy. I am very happy I can read Twi and English books. Thank you, World Vision!" Dorothy remarked.
Dorothy's grandmother, Florence Amandor, had this to say, "the after-school reading camp has helped my grandchildren learn to read in Twi.  They read in Twi fluently no matter the material they lay their hands on. Dorothy for instance reads the Twi Bible in church, and people ask me where and who taught her how to read so well. So does her brother Ebenezer. "Thank you World Vision for your great contribution towards our children's learning to better their lives," she reiterated with joy and a smile.