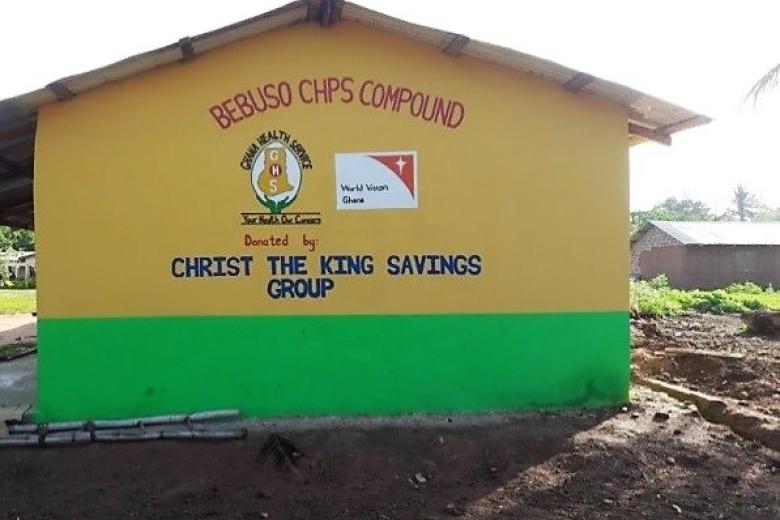 Bebuso Community Rally Together to Improve Access to Health Care
Monday, June 15, 2020
Bebuso community is located in Afram Plains South in the Eastern Region of Ghana. The community has a total population of approximately 600 people who are mainly farmers. The community is home to 175 World Vision sponsored children. 
In April 2017, the community formed its Community Care Coalition group named "Ametakporla" meaning "The Protector" from various existing Community Care Groups with the slogan Na Devio Kataa meaning "For all children".
"The hope of our children is paramount to us and our dream for the children is to have good health and education and sustainable child wellbeing," says Mr. Sakpatey, President of the Bebuso Community Care Coalition.
World Vision trained the community members on the need to take collective responsibility to ensure the wellbeing of their children in the Bebuso community. After the training, the leadership of the Bebuso saw the need to form a coalition from existing community care groups. The membership of the Coalition is made up of representatives from Savings for Transformation (S4T), Water, Sanitation, Management Team (WSMT), Local Council of Churches, Education Committee, Health Committee, and children from the community.
Through the health committee, the coalition realised the need to improve healthcare in the community. There was no health facility in the area and community members had to travel long distances (4kms to 9kms) in order to access some of the closest healthcare facilities such Samanhyia Health Center and Donkokrom Presbyterian Hospital. Motorbikes are the only means of transportation to these health facilities and many people had to walk because they had no access to reliable transportation.  Coupled with this, bad road networks to these health facilities also scared people from seeking healthcare. Fifteen(15) pregnant women lost their babies including their lives between 2016 and early 2017. This became very worrisome for the community.
The bizarre conditions of accessing healthcare outside their community motivated them to set up their own healthcare facility.
To address this challenge, the Community Care Coalition collaborated with the Christ the King Savings for Transformation group to leverage on the social fund to construct a Community–Based Health Planning and Services (CHPs) compound for the community. Community members supported the construction through fetching water, stones, and blocks and providing food to the labourers.
The CHPS compound has health staff who are providing emergency obstetric care. This is intended to help reduce maternal mortality cases in the community. Additionally, the community can also benefit from the treatment of minor ailments and health education.
"I am so grateful to have access to a health facility here in my community. I no longer have to walk long distances to get health care for my children and myself" – Bebuso community member and mother.
The CHPS compound continues to serve the community and is a symbol of the community's ability to rally together in support of a collective need. The coalition also continues to ensure the wellbeing of the World Vision sponsored children and their families.