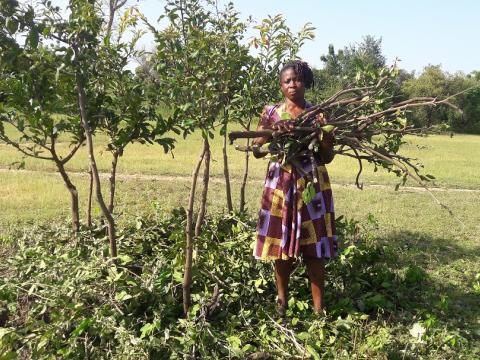 Comfort's farmland experiences restoration
Thursday, August 26, 2021
Comfort, 37, from the Gonnum-Akua community is one of the 10 female Farmer Managed Natural Regeneration (FMNR) lead farmers in Ghana trained by World Vision as volunteers on the concept and approaches to land restoration.
FMNR for Sustainable Economic Empowerment & Development (FMNR4SEED) was introduced by World Vision in 2009 in Talensi District, in the Upper East Region of Ghana. In 2020, World Vision introduced FMNR to ten communities in the Kassena Nankana West District, also in the Upper East Region. Gonnum-Akua is one of the ten communities.
In an interview with Comfort, she revealed that the Gonnum-Akua community was facing many environmental challenges. There were annual bushfires, slashing and burning methods were used in farmland preparations, and indiscriminate cutting of trees and shrubs for firewood. These practices negatively affected the community's efforts to rear animals, because the grasses which usually served as feed were burnt. The slash and burn method degraded their farmlands which led to poor crop yield.
"As a woman, lack of firewood affected me greatly. I spent productive hours in search of firewood and at its worst state, I would have to spend the little money I had to purchase firewood before I could prepare the family's meal", she narrates. This situation would sometimes also force girls within the community to spend many hours looking for firewood, which affected their school attendance, thus performance.
When the FMNR project got introduced to members of the community, 20 volunteers were trained as FMNR lead farmers. Comfort happened to be a member of the group and she was excited because of the enlightenment she received from the training. According to her, the knowledge and skills they have acquired helped support them in their fight against forest depletion. She indicates that the depleted forest makes women struggle a lot in search of firewood, which is the main source of fuel for households.
Lead farmers are trained on how to effectively prune weaker shrubs and to maintain stronger ones to get enough nutrients to grow. The project also partnered with the Ghana National Fire Service to train fire volunteers in each community on both domestic and wildfire management.
Gradually after a year, World Vision started noticing an environmental change. Comfort agrees.
"The struggle women in my community go through in search of firewood is reducing. As time goes on, and the shrubs grow bigger, we get more firewood from our farmlands", she says, adding that she will no longer go far or spend so much money on firewood before she can cook for her family.
The FMNR Project also supported community members to construct fuel-efficient cooking stoves, which also helps them to manage using less firewood to prepare a whole meal. 
According to Comfort, she is prepared and ready to support every intervention from World Vision, because the organisation has come to enlighten and relieve them of their burden.