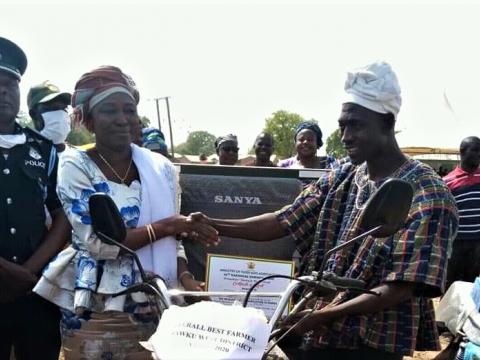 Community Savings group changes a farmer's life
Tuesday, November 24, 2020
Carlos is from the Siega community in the Bawku West District. He is 39 years old and has been farming since he was a teenager.
Growing up as a young boy, farming became his parents' major source of income. It was the only way to feed the family. Carlos inherited this in his 20s. He has been a farmer ever since - it's his main source of income.
Before the introduction of the Savings Group in his community, farming was difficult for Carlos.
He states: "As years went by, it became even more difficult as a result of lack of credit facilities to purchase farm inputs like fertilizers. To continue my farming activities, I had to resort to borrowing money from families, relatives, and friends, to help me buy fertilizer and other farm inputs.
"I used to face so many challenges with people. Sometimes, they would put pressure on me to repay even before the agreed time, or they demanded higher amounts as interest. There were times that I went to family and friends and I was told by them that they didn't have money to support me. I combed everywhere but did not get support. This made my farming difficult."
In 2018, World Vision in Bawku West introduced Savings Groups in the community. Carlos joined the group and has since expressed his gratitude.
According to Carlos: "Ever since I joined the programme, I can confidently say that I have never regretted my decision. When it was time for farming in the past two years, I had entirely a new healthy experience in terms of where to borrow money and support my farming.
"I contacted my group chairman and secretary, they brought it before the group and I was given a loan. I did not have to run around in search of support from people. I took the money and bought my fertilizers and farm inputs, even for the first time, I requested for tractor services and I paid from the loan I took."
As a result of this intervention by World Vision in the community, Carlos was able to expand his farm and this has improved his livelihood. This year, at the annual farmer's day celebration, Carlos won the Best Farmer Award for the Bawku West District.
World Vision Bawku West Area Programme through its Food Security Project is promoting the Savings for Transformation project model, aimed at ensuring increased access to affordable credit facilities which will thereby improve timely access to appropriate agricultural inputs.