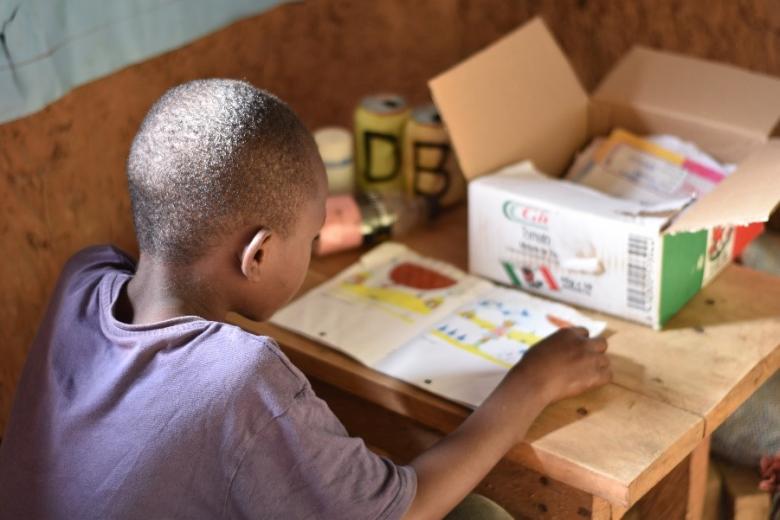 Encounter with brilliant Kabiru
Tuesday, July 27, 2021
On an assignment to Afram Plains in North District, Eastern Region, I had the opportunity to interact with a very brilliant child and his family in the Kwasi Addae Community.
Staff: What's your name?
Child: My name is Kabiru. It's spelt like this "K-A-B-I-R-U  and I am in class 2.
Staff: What's the name of the School you attend?
Child: Kwasi Addae D.A Primary School
Staff: I heard you are an active member of the reading club in this community. How did you join the club?
Child: Most of my classmates are in the reading organised by World Vision so I decided to join.
Staff: How many times in a week do you attend the camp?
Child: I have been attending reading camp twice in a week; Tuesdays and Sundays.
Staff: What do they teach you at the camp?
Child: They teach us how to spell and pronounce words. They help us to join letters to become words like "Me + ba = meba" and we do reading exercises in our own dialect too with some other activities.
Staff: I can see colourful cards and nice drawings here. How did you put all these together?
Child: The reading club sometimes gives us learning materials like cardboards and big colour papers. My friend Sammed, helped me to draw letters, animals and drums and I paste it on the wall.
Staff: So what's this place and what's the motive for developing this place?
Child: This is called the reading corner. With the help of Sammed, we decided to decorate this place just like the classroom so that if I want to study or read, I will come here. This place is very quiet.  
Staff: How do you get these books to read? 
Child: The reading camp has book banks so we get the books from the book banks and return them after we have finished reading. Then we request for another one. Our facilitator gives us assignment too.
Staff: What's your favourite story book?
Child: My favourite book in the reading clubs is "Me bɔɔlo" - It means my ball.
Staff: What do you want to become in the future?
Child: I want to be a soldier. Because I want to protect my country and my community and I want to take care of my mother when I grow up.
When I was Kabiru's age, I couldn't even recite the alphabet in my local language. I was stunned how he could read so easily and had to invite his dad to the conversation.
Staff: Ever since your son joined the reading club, have you noticed any sign of improvement?
Dad: My son wasn't able to even recite the alphabet and pronounce words but since he joined, he has been able pronounce words and I can testify that his confidence level has also improved way beyond my imagination.
Staff: Kabiru wants to become a soldier when he grows up. What do you have to say about that?
Dad: I always pray for him and I will help my son with all I've got to be able to achieve his dream. World Vision has helped children in this community a lot.
Staff: Kabiru, my last words to you is to keep learning, focus, pray and whatever you want to do, do it with passion and from your heart. What do you also have to say?
Child: I want to say a big thank you to my facilitator and World Vision for helping me improve upon my reading skills. My friend Sammed has also been an inspiration to me. Thank you Sammed.