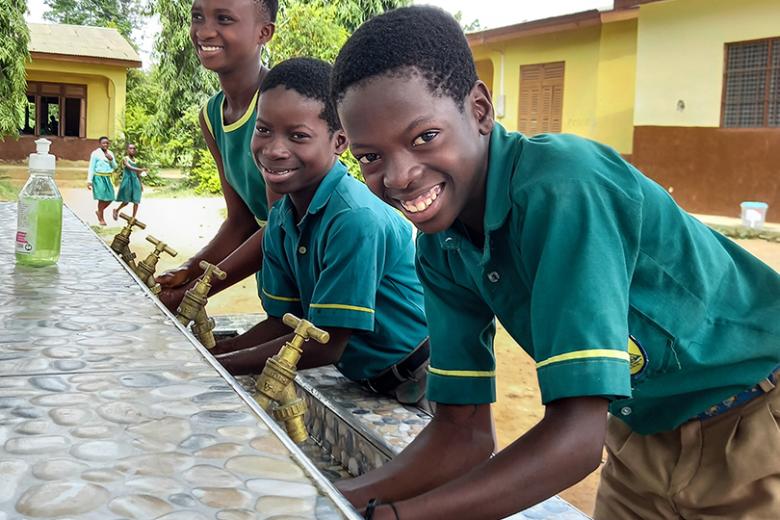 Kofi and his friends can now stay in school
Tuesday, July 27, 2021
Kofi is a Primary 5 pupil at the Akokoaso Basic school and a member of the school's health club. He narrates how he and his older classmates would previously miss lessons because they were fetching water for the school. The school had no water on-premises and relied on students like Kofi to provide water for the entire school. According to Kofi, their School Health Educational Program (SHEP) coordinator had taught them the importance of hand-washing, especially during the COVID-19 pandemic. 
"But madam, even water to drink in school was a challenge; how much more water to wash our hands", he says. "Because of that, we had no option but to bring our drinking water from home which normally didn't last us for the day. Because we play a lot, we also drink a lot of water. A good number of us always sought permission to get water from home but never got to return to school [because of the time it would take]".
The water situation was so bad that it affected the performance of most of the children in the school.
The assistant headteacher for the school, Mr. Baah, indicated that due to the scarcity, some of the older children who fetched water would not return. Moreover, the community did not give the pupils priority at the water point. The children had to join long queues until it was their turn. Lessons would have been ongoing and they would miss them. Kofi mentions that this affected their performance since they continually missed their first lessons until school was shut down due to the increasing number of COVID-19 cases the country was recording.
The SHEP coordinator, Sir Emmanuel, added that even though he had been consistent in teaching the children about hand-washing and its benefits especially during the pandemic, the practice could not be enforced since there was no water to aid in the behaviour. However, with World Vision's partnership through the Grundfos COVID-19 project, the school was supported with a standpipe that has water flowing throughout the day. In addition, a permanent hand-washing facility was provided to encourage the children to adhere to hand-washing behaviour. 
Kofi indicates, "carrying water for the school has become a thing of the past! We now enjoy washing our hands with soap and running water without getting worried about water scarcity". He further adds that their studies have improved since they no longer miss lessons. 
Mr. Baah adds, "the children now enjoy attending school because they have enough water to drink". He further thanks World Vision and the Grundfos COVID-19 project for addressing one of their challenges by providing them with water.