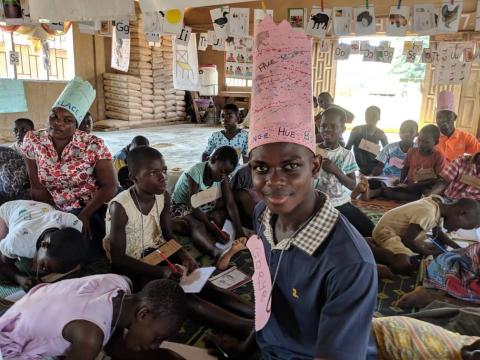 Moses Leads His People to Literacy
Thursday, September 26, 2019
The sun sets over the horizon. Pots clatter in the kitchen, and chickens squawk noisily as they eat their evening meal. Moses, a teenage reading club volunteer in Nkankama, Ghana, sits under a tree, speaking with a wisdom beyond his young age. "If someone holds a book written in his own language, or any other language, but doesn't know how to read the words, it's like a starving person holding a tuber of yam without knowing what to do with it." he says.
Moses might not be a prophet like his Biblical namesake but his statement rings true. More children are in school globally than ever before. But, in Ghana, two-thirds of them are not learning. The education system is weakened by unmotivated teachers with little capacity to teach literacy and a lack of supplies.
One Ghanaian in 12 suffers in extreme poverty – including more than a million children, many in rural areas.
Moses was among them. He was educated in a dilapidated building with few learning materials and no storybooks. He could barely read, progressing through school only because of Ghana's policy that students do not repeat a year.
After failing his High School exams, he travelled to the capital city, Accra, to work on mini-bus taxis. He worked hard, but life in the city was tough and expensive. So, he returned to Nkankama, unsure what to do next.
The Spark
World Vision had come to the community and a local leader suggested that he should volunteer to run an after-school reading club they had set up.
Reading clubs are a component of World Vision's early grade reading project, Unlock Literacy. Funded by a grant through the Korea International Cooperation Agency, World Vision ran the project in 108 primary schools in Fanteakwa District in support of government efforts to improve reading outcomes. Moses agreed to set one up in Nkankama.
The approach incorporates teacher training, parental awareness and community-led reading clubs that provide a safe, fun environment for children to practice reading. World Vision worked with book suppliers and universities to ensure that children have learning materials in their mother language.
Does it work?
Moses brings 8-year-old Fiifi forward as a witness. She is a fifth grade student who used to run around the community unsupervised after school, but thrived when the reading club facilitator opened up a world of books in her language, Twi. Fun-filled activities led to rapid improvements.
"Today, I can read in Twi and English," says Fiifi proudly. "Wherever you are, celebrate with us as we see our dreams coming true."
Celebrate with us as we see our dreams coming true
Before Unlock Literacy began, only one in 100 sampled students could read an English passage with comprehension. An assessment after two years found that 65 percent of Unlock Literacy students could read – significantly more than the 40 percent in similar schools who were not yet part of the programme.
Moses admits that he, too, has gone into the Promised Land with his students."I registered for the High School exam and this time I passed. God willing, I will be enrolling in the teacher training college. I am not sure I could have achieved this without being a facilitator at the reading club."
This programme was made possible through our partnership with KOICA and generous donors from Korea, who supported more than 545 teachers and 109 school to improve the literacy skills and futures of more than 10,000 students. Learn more about how World Vision partners with like-minded organizations across West Africa and see the impact working together is having here.