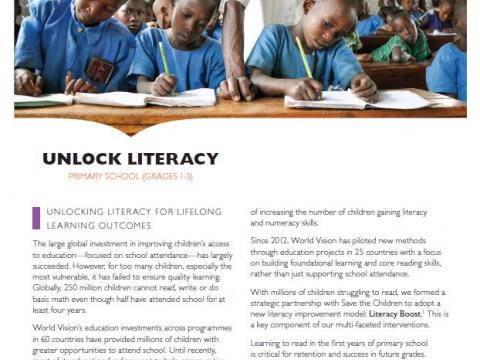 Unlock Literacy
Friday, March 3, 2017
Unlocking literacy for lifelong learning outcomes
World Vision's education investments across programmes in more than 60 countries have provided millions of children with greater opportunities to attend school. Until recently, most of its education funding went to help communities build schools, support parents to afford uniforms and fees, and provide school supplies.

However, analyses showed that children were not necessarily learning while they attended these schools. In response, World Vision transformed its basic education programming to improve learning outcomes, with a goal of increasing the number of children gaining literacy and numeracy skills.
Since 2012, World Vision has piloted new methods through education projects in more than 30 countries with a focus on building foundational learning and core reading skills, rather than just supporting school attendance.
Learn more about Unlock Literacy[1] by downloading our quick guide now.
[1] World Vision's literacy programming was developed from the organisation's experience piloting Save the Children's Literacy Boost model from 2011-2016. Literacy Boost is a proven literacy programme designed, developed and owned by Save the Children.