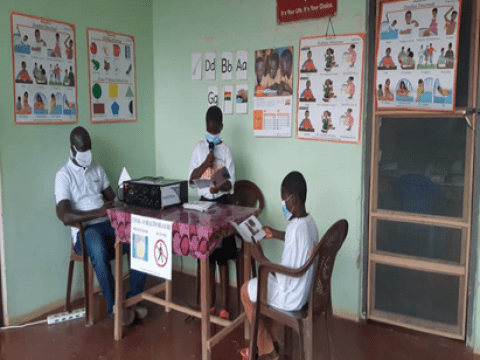 Promoting education through innovation in Krachi amidst the pandemic
Wednesday, July 22, 2020
One of the effects of COVID-19 has been the impact it has had on the education sector. As part of measures by the Ghanaian government to contain COVID-19, schools closures have affected more than 3 million children. To support learners, private institutions and government introduced E-learning to mitigate some of the effects of the closures. However, lack of access to electricity or telephone reception have made it difficult for children in rural areas to partake in these activities.
In areas where there is electricity, several parents do not own television or radio sets for children to use to monitor lessons. World Vision's Community Information Centres (CICs) have come in handy to bridge the gap.
 Mr. Andrew Ofosu-Denkyi, the Education Technical Programme Manager at World Vision in Ghana notes: "Most of the children who live in rural areas do not have the full complement of teaching and learning materials and the right teachers due to their location. COVID-19 has made their situation worse."
World Vision has taken a number of initiatives; with one of them being the use of the CICs to reach pupils with lessons similarly to normal classroom learning. In a typical reading lesson for class four, children are seated at home at exactly 10:00am with their books to listen to a teacher reading stories to them.
Mr. Ofosu-Denkyi shares that World Vision is implementing the 'Library in the Box' project, which some 30,000 children in 23 districts (including Afram Plains in the Kwahu North, Krachie West in the Oti Region, and Upper Dankyira in the Central Region) are benefiting from. Volunteers have been trained to assist children in their reading lessons.
As a measure to respect physical distancing protocols, children are divided into clusters and take turns to visit the CIC premises besides listening in at home. Ghana Education trained and accredited teachers go through reading, writing, and arithmetic programmes with the children.
Benedicta, a class four pupil at Monkra –a community in the Krachi West District– is happy to have gotten the chance to take lessons again after a long break: "I was worried when our teachers asked us not to come to school again. Now I have the opportunity to learn. My reading skills have improved since I began studies."
Forty-five-year-old Catherin Kosoe, a resident of Monkra, says; "Since it began, I noticed that this method is very good and I can see improvement in my children's learning. I have set up a table and chair in the house so as soon as learning time is up, I call them to go and sit."
Overall, CICs have so far supported approximately 6,455 girls and 5,476 boys in Krachi East and West alone. For as long as schools stay closed, children in Krachi are now assured of continued education through this innovation!
Learn more about World Vision's global work to limit the spread of COVID-19 and support the children impacted by it on our COVID-19 Emergency Response Page.