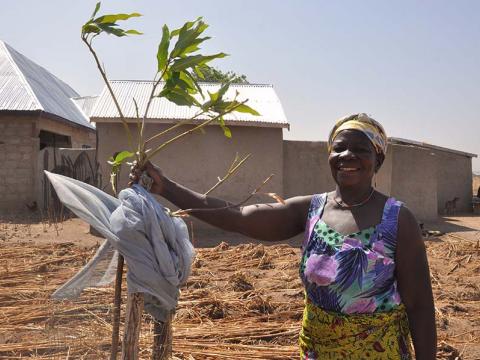 Reaping the fruit of the land: The story of Fariga community
Monday, January 25, 2021
A few years ago, when you would first arrive in the Upper East region of Ghana, one of the things you would notice was the land. The landscape was characterised by dryness. It was even worse in the dry season (November to May). During this time, the water bodies are often all dried up and the atmosphere is windy and dusty. People in these parts of Ghana would rely on the food that they would have previously harvested to sustain them for the following six months. Often times, the food they had would run out before the next harvest and many were left to starve.
Most of the people who live in the Fariga community are farmers. However, with their conditions, getting a bountiful yield was hard and they did not have enough to get them through the dry season. Unfortunately, their livestock also suffered because water is scarce. They would as a result switch to 'other means of income".
Charcoal is one way that the women in the town made money. However, their process of making charcoal is tedious, bad for the environment, and does not bring enough income. Since it was their only source of income, they would keep on cutting premature trees for little money (less than a dollar) to survive.
The Assemblyman of Fariga, Mr. Gideon Ayadago explains that "tree cutting was a vicious cycle that robbed us of our livelihood and took away our land's vitality."
Through its Farmer-Managed Natural Regeneration (FMNR) model, World Vision trained a selected number of farmers on ways that they can preserve the land and increase their farm yield. Farmers were trained on the dangers of burning the land and were tasked with creating a fire service group; and members of the community trained on best practices for extinguishing a fire. Women were also provided with skills in making soap and shea butter. World Vision sensitised community members on the benefits of planting and pruning trees regularly.
Mr. Mbawin Ayindan is one of the lead farmers that World Vision trained. He had always had a passion for farming and he was always looking for innovative ways to improve farming practices. One of his farming innovations, using wood from fully-grown trees as fences, has protected his farm from many wildfires. When he realised the work that World Vision was doing in his community, he decided to collaborate with the organisation to improve his farming techniques and become one of the lead farmers who would transform the landscape of his community.
Since his interactions with World Vision, Mr. Mbawin has planted many trees himself. With support from World Vision, he also nurses seedlings and gives them to members of the community to plant. "This has helped beautify the community and has brought the community together." he says.
According to madam Elizabeth Ayariga, a community member and farmer, "the community is currently in its dry season, and yet there is a reduction in the natural disasters usually associated with this season. Houses are not being destroyed, animals do not have to travel far to graze, and people no longer burn on their farmlands". The community is now able to enjoy the fruit of the land.