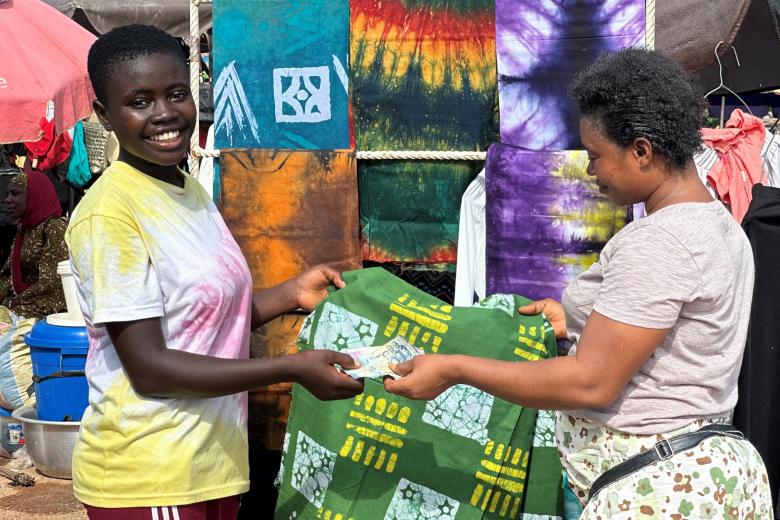 Skills Enhancement Intervention Empowers Florence
Wednesday, November 15, 2023
18-year-old Florence, a former World Vision sponsored child, lives with her parents and siblings in Krachi West District. Her mother, Eunice, works as a fish trader with the support of her father, Samuel.
Through a community awareness campaign organised by World Vision's Education Project in Krachi West Area Programme, Florence had the opportunity to attend a batik and tie/dye training. Although she had always wanted to learn batik and tie-dye, her path was uncertain due to lack of support. "She told me that she would be happy to learn batik and tie/dye as a vocation if the opportunity came," said Florence's mother during a monitoring visit by World Vision staff.
Florence's participation in the skills training was a dream come true. With the skills she gained, she was able to help herself and her younger siblings, who couldn't go to school because of unmet basic needs.  Her life took a positive turn when she embraced the batik and tie-dye vocation. This training not only opened up new opportunities for her but also allowed her to discover and develop her talents and interests.
After completing junior high school, Florence initially stayed at home as she had no interest in further education. Florence was not happy, but she had no choice but to help her mother sell fish on market days to financially support her younger siblings' education.
Like Florence, many young people in the Area Programme communities needed this educational support. However, under the mentorship of the Technical and Vocational Education and Training (TVET) coordinator, Foster, Florence excelled in the course and completed her training in one month. Her talent was recognised locally and she was able to sell her creations in the community and at markets. In just four months, her business was thriving, providing for her family and bringing new hope. This demonstrates the transformative potential of skills development.
As she began her journey into the batik and tie-dye business, World Vision's support, including seed money and other materials, was enough to give her the confidence to experiment. Within four months, Florence's business was flourishing. "I never knew I could make the materials so beautifully on my own. The first shirts I made for my younger siblings were my source of motivation," said Florence.
Florence took the plunge and started selling her products in her community. With her increasing sales, she is now able to provide for her family and meet their daily needs, bringing new hope to their lives. Florence now supports her younger brothers by providing money for school meals and helping to meet their needs when their parents are unable to do so. Her younger siblings have stopped skipping school and are now excelling in their studies.
She has become a member of the Savings for Transformation Group (S4T) in her community, enabling her to access loans to expand her business and save some of her earnings for the future. 
Florence's mentorship and willingness to share her knowledge demonstrate a culture of skills sharing within the community. She plans to expand her business and raise awareness of her batik and tie-dye project in neighbouring communities.
The Skills Enhancement Programme is an integral part of World Vision Ghana's education project. It is designed to provide livelihood training and opportunities to young people facing particular challenges, including school drop-outs, teenage mothers and children with disabilities. Since its inception, the Education Project has enrolled 42 young people in various skills development programmes such as tailoring, shoe making, batik and tie-dye. To date, the project has successfully trained a total of 12 youth in this enterprise, with 6 youth to be trained in 2022 and another 6 in 2023.
World Vision Ghana's education Programme has provided these trainees, including Florence, with some materials to help them achieve their mission of expanding their batik and tie-dye businesses. 
By Sasu Brako, Project Officer - Education & Life Skills