Speaking to the heart: A case for mother language in education
Tuesday, March 10, 2020
On 21 February 2020 at Ho in the Volta Region of Ghana, children and teachers from different schools in the district picked up their picket signs with messages such as: "All languages have economic value." Their goal was simple: these children wanted to be heard. They wanted to overcome the barrier that had made learning in rural Ghana difficult. They wanted to be able to learn at school in the language they understand and were taught at home – their mother language, Ewe.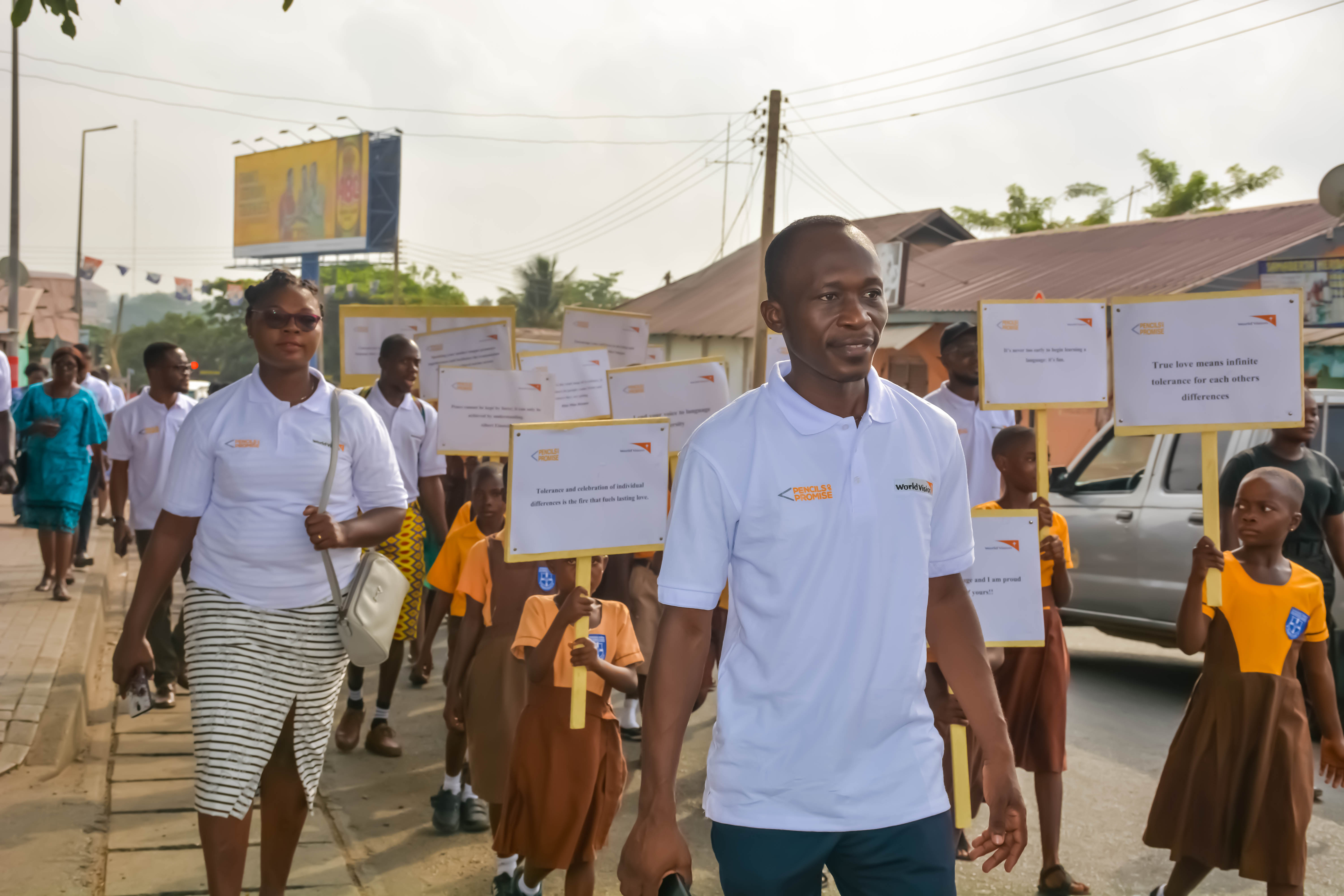 The importance of mother tongue education
Forty per cent of the global population does not access education in a language they understand. Children's first language is the optimal language for literacy and learning throughout primary school, but may educational systems around the world teach children the national language or one not spoken at home.  
Too often this results in a learning experience that is frustrating and unsuccessful. Students from language minorities who are unable to make use of the knowledge and experience they bring from their home community to learn new concepts in school fall behind early and, frequently, drop out altogether. 
Mother tongue education not only fosters respect for linguistic and cultural diversity, but also acts as a force for quality learning. Children are more likely to succeed in school when they are instructed in their mother tongue. Parents are also likelier to communicate with teachers and participate in their children's learning.
World Vision is implementing a version of its Unlock Literacy[1] programme in Ghana where it is called "Reading Improvement in Primary Education" (RIPE). The project seeks to ensure all children from 4-12 years are able to read and write before they reach Grade 4. The project encourages mother language as a medium to teach literacy, which aligns with Ghana's Ministry of Education and the Ghana Education Service Mother Language Policy for primary education.
Before World Vision implemented RIPE in a community in Ghana in 2016, only 0.5% of the students tested could read a Twi language passage with comprehension. By 2018, 62% of those students could read with comprehension, significantly more than the 55% of comparison students tested.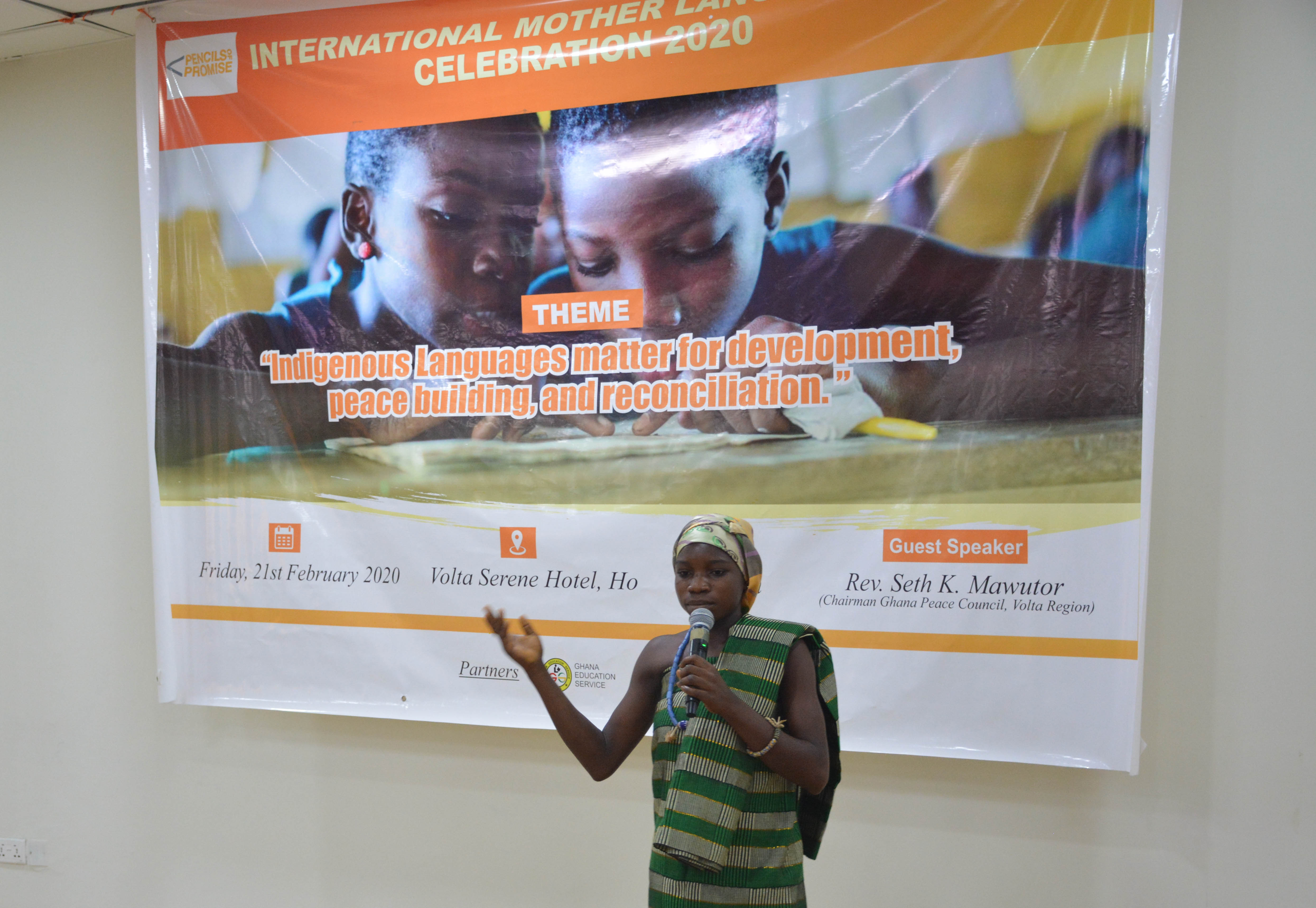 Advocating for mother language instruction
The walk was not an easy one. A band played tunes to popular songs, teachers stood at the sidelines, and community security directed traffic as the children marched valiantly towards Volta Serene Hotel. World Vision staff, in collaboration with Pencils of Promise, and the local community gathered to discuss the significance of mother/Indigenous languages in Ghana, as a bedrock for peacebuilding, development and reconciliation.
However, one of the complexities of using Indigenous languages is the multiplicity of ethnic dialects in Ghana. How can we encourage the use of Indigenous languages in the education sector in metropolitan areas such as Accra? Should there be a comprehensive policy that accommodates the unique demographic situations of rural areas compared to the metropolitan areas? The forum gave room for discussions such as these and many more.
The International Mother Language Day celebration 2020 with the theme, "Indigenous languages matter for development, peacebuilding and reconciliation" drew upon the expertise of key stakeholders, and partners such as Pencils of Promise and SDG 4, who spoke in a plenary on the issues surrounding the use of mother tongue instruction in education. A highlight of the event was the enthusiasm of students to contribute to the discussion.
One such student, 13-year-old Samuel explained to the panel made up of Ghana Education Service Regional Director, Ghana Institute of Linguistics, Literacy and Bible Translations director and World Vision Ghana's Education Technical Manager. The young learner also appealed to the audience of over 100 participants, which included the local media. He said, "Indigenous languages should be developed because we see ourselves as one people and yet we do not understand each other." According to him, languages should not be a reason for division, but an opportunity to come together.
During their presentations, participants such as the regional directorate of Ghana Education Service pledged to reinforce the World Vision supported bilingual literacy programme, which has a component of after-school reading camps and age-appropriate, relevant reading books developed in the local languages to promote the use of mother languages in the Municipality and the District.
In the words of Nelson Mandela, "If you talk to a man in a language he understands, that goes to his head. If you talk to him in his language that goes to his heart".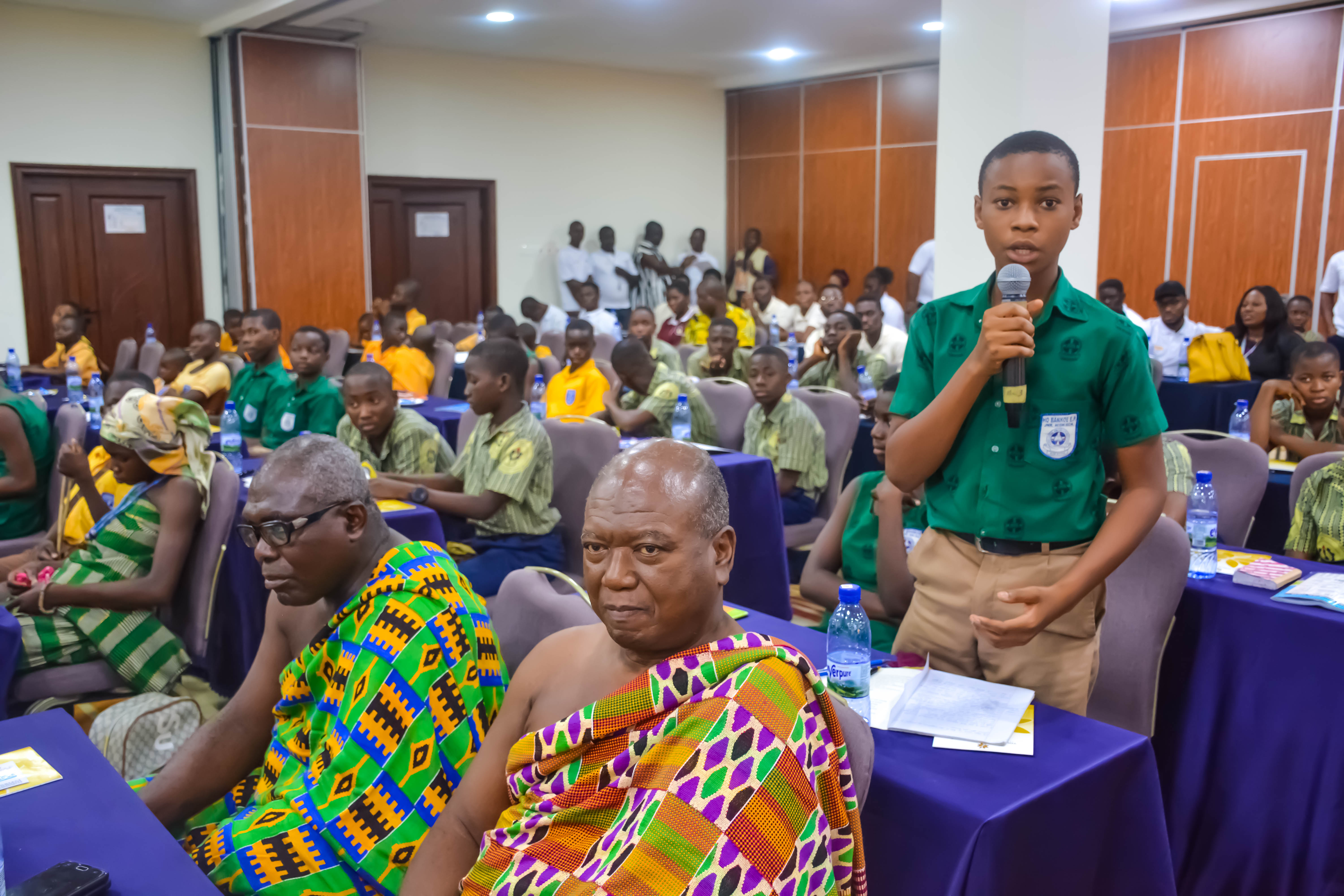 [1] World Vision's literacy programming was developed from the organisation's experience piloting Save the Children's Literacy Boost model from 2011-2016. Literacy Boost is a proven literacy programme designed, developed and owned by Save the Children.