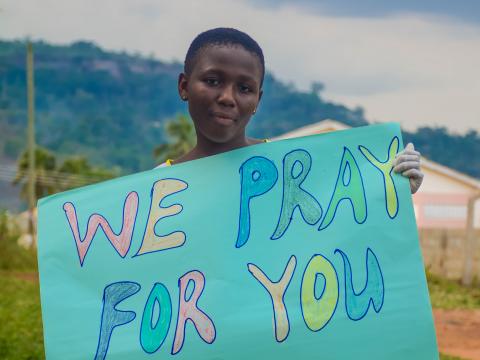 We are here for you
Wednesday, March 25, 2020
World Vision in Ghana has begun a humanitarian response with immediate effect to ensure the safety of all, as we join forces with the government of Ghana to prevent the spread of the COVID-19 virus. We understand that this may be a devastating time for many families and children living in Ghana. As we follow the guidelines and directives of the government, our aim is to ensure that we protect our staff and the communities that we serve. We are especially concerned about the most vulnerable children. We are prepared to provide protective equipment and handwashing materials to families, as well as provide information in local languages on adequate protective measures.
Awareness creation
We are working with the Ghana Health Service to develop communication materials for public education. These will include brochures, posters, billboards and audio-visual materials that will be disseminated both on radio and television as well as on other social media platforms in various languages.
Programming
In the current situation, we cannot continue to do business as usual and have therefore directed all area programme managers to review their programming activities to meet the needs for this response. Details of the various changes will be communicated in due time.
We are also working towards strengthening the capacities of hospitals and clinics to support the management of the virus, especially by ensuring the availability of water and hand washing items. We have begun looking at ways to enhance our Water Sanitation & Hygiene (WASH) programme to further facilitate effective hygiene and safety to prevent the spread of the virus. Additionally, we have engaged faith leaders to promote safety and prevent the spread of the virus among their congregants.
Organisational safety
Effective 17th March we will observe the following social distancing guidelines to slow down transmission:
World Vision in Ghana is not shutting down as an organisation because our calling is to save the most vulnerable and we must continue to work and ensure all are safe, including our staff. We are, however, encouraging staff to work from home, allowing all essential services that can be done remotely to be completed. The senior leadership team and selected key staff will be at post in the national office. All managers and unit heads will have a roster for their staff to attend to urgent tasks that must be completed in the office or in person.
We are here for you
We want you to know that you are not alone during this time. World Vision in Ghana is constantly working to ensure we provide assistance to the most vulnerable children and their families. We will continue to share information on how you can stay safe and protect yourselves. We are praying for God's intervention.