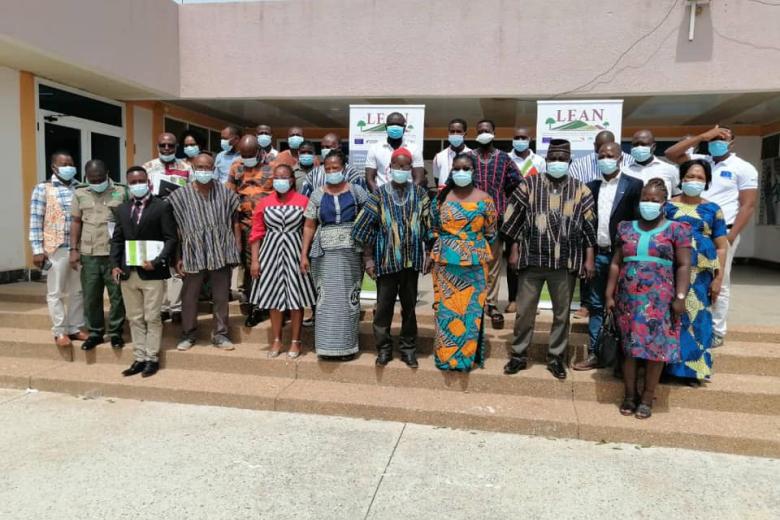 World Vision and partners launch project to conserve biodiversity and improve livelihoods
Monday, June 28, 2021
The Landscape and Environmental Agility across the Nation (LEAN) Project is a four-year project funded by the European Union's flagship Global Climate Change Alliance Plus (GCCA+) initiative that aims to conserve biodiversity, build climate resilience, reduce emissions from land-use changes in Savana, high forest, and transition zones of Ghana; and all while helping local farmers to improve their livelihoods. The project will be implemented by a consortium of local and international non-governmental organisations (NGOs), namely; Rainforest Alliance, Tropenbos Ghana, Ecocare Ghana and World Vision.
World Vision, in collaboration with its partners, launched this project in Paga, Kassena-Nankana District (Upper East Region) to help conserve biodiversity, build climate resilience and reduce land-use emissions whilst the improving food security and livelihoods situation in the District. 
Speaking at the launch, World Vision's Northern Zone Regional Operations Manager, Timothy Aman-Bey Akanpabadai said the project would target 12,000 farmers within the Kassenna-Nankana and West Gonja Regions, Damongo, whilst the four-member implementation consortium would target 36,000 farmers in the three ecological zones; high forest zone, Guinea and Sudan Savanna and Forest-Savanna Transition zone.
The Kassenna-Nankana District Coordinator was very delighted to grace the occasion and noted that the District is very grateful to World Vision for their interventions in child sponsorship, nutrition, Farmer Management Natural Regeneration (FMNR) and the LEAN Project. He added that the District is ready to support World Vision in the implementation of their activities.
The Project Coordinator, Joseph Yelkabong, also gave a brief of the project, outlining its main objectives. He further appealed to the District assembly and other stakeholders to support the project in the selection of communities to start implementation, since time is not on their side. The Project Coordinator for Rainforest Alliance, Abena Woode, was also present and she encouraged all stakeholders to go for the Green Ghana Seedlings to plant.
District Forest Reserve Manager, Emmanuel Owusu, said the environment is fast degrading and it is necessary that all stakeholders put their heads together to find alternative sources of fuel for households. This would help rural households to stop burning wood for firewood. He also urged people to embrace the Government's Green Ghana Campaign, encouraging participants to come to his office for seedlings to plant towards this cause.
CK Tedam University of Technology and Applied Sciences was also present, represented by the Environmental Science Department. Dr. Melvin Adonaga from the institution shared that the university would collaborate with the LEAN project to conduct research in order to come out with alternative ways of conserving the environment.