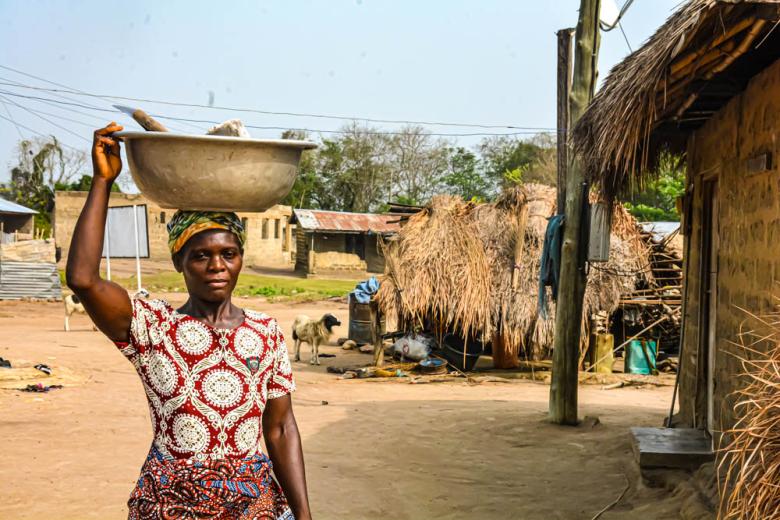 Sustaining farming and livelihoods in Volta region
Monday, April 5, 2021
It is mid-morning in Segbale village and several farmers can be seen returning with their hoes and cutlasses from their fields. It is the dry season in the Volta region, within the district of Agortime-Ziope district. The region has a population of 70,000 people, of which 60% are into farming. The region is a semi-equatorial zone, which experiences bimodal rainfall. Agricultural activities include crop farming, livestock rearing and agro-processing. World Vision has established a presence here, and over the next five years the organisation will be working with the community to introduce and assess programmes in Water, Sanitation and Hygiene (WASH), child sponsorship, education and livelihoods.
Kafui is a local farmer, and she explains to the World Vision team that the dry season which is characterised by dry harmattan winds followed by the rainy season, affects her livelihood as a farmer. "When it's too much rain, we don't get a yield and almost every year there is flooding. The little money I make is the one I'm using to get farming utensils and fertiliser", Kafui explains. "When there is a good harvest, there is a problem with storage. I need transportation, otherwise the tomatoes rot".
In this area, families' livelihoods are so closely linked to climate that communities are dependent on favourable seasons in order to harvest their expected yield. John Kwaku Amenyah is the District Chief Executive for Agortime-Ziope District Assembly, and he breaks down the situation in Agortime-Ziope district: "Economic hardship and livelihood are closely tied to agriculture, which is heavily dependent on the weather and the issue of climate change. When rain comes in abundance, the crop is destroyed or there is a drought, leading to crop failure. We need to consider mechanised agriculture, greenhouse structures and storage facilities so community members can get a good price for the crop".
One of the key objectives for World Vision in Ghana is to ensure that communities overcome economic hardship for every child and family, by protecting them against hunger and malnutrition. Through S4T (Savings for Transformation) groups, the organisation assists children and their families to live hunger-free, invest in community assets, livelihoods and longer-term development. Salome Yeboah is the World Vision Area Programme Manager for Agortime-Ziope, Volta Region, and she explains: "The S4T groups in the Area Programme's coverage areas, are the surest ways to encourage the community to mobilise funds locally to embark upon various businesses to improve upon their lives".
There are several other challenges faced by communities due to compromised livelihoods in agriculture. The fact that many of these farming communities struggle to raise an appropriate income, means that they suffer from many social ills within their area. World Vision met with Simon Yao Agbokpa, Ward Chief of the Asafokope community in the Volta region. He explains that this farming community dates back 700 years, but that the demands of modern farming and lifestyles have added new pressures on these families. "This land is not very fertile and the farmers are using cutlasses and hoes to farm and they can't reach their yields. As a result, they are unable to adequately feed the family and the children regularly drop out of school due to lost income. Access to S4T groups, would improve yields and increase income", he says.
The district assembly will collaborate with World Vision to implement various programmes including livelihood initiatives. Augustus  Kwaku Awity is the District Coordinating Director of Agortime-Ziope District Assembly. He explains that the district has already implemented various programmes to assist these communities to improve on their livelihoods."The Government currently supplies fertilisers and seeds within a subsidised programe. Last year's rainfall was erratic, so we introduced drought-resistant seedlings to tackle the issues of livelihoods. We are a tomato producing community and we have set up a tomato processing factory to tackle low income and livelihood issues. The funds will be used to sponsor other needs for children in the community. We hope to integrate some of these programmes with the work being done by World Vision", says Awity.
Over the next five years, World Vision will conduct an evaluation of child sponsorship, WASH, education and livelihood programmes to assess the impact that they are having on the lives of the people in Segbale Village, Agortime-Ziope District. Where there is no, impact World Vision will restructure programmes; tailoring them to the needs of the community.