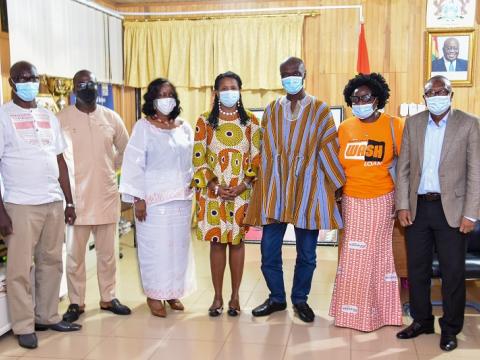 World Vision and VisionFund Boards make courtesy call to Northern Region Minister
Monday, August 30, 2021
World Vision and VisionFund Ghana Board members made a courtesy call to the Northern Region Minister, Hon. Shani Alhassan Shaibu on Monday 30th August 2021, at the Northern Regional Coordinating Council in Tamale. The central theme of the call was on the need to look out for children, more especially during this pandemic era.
The World Vision Board Chair, Mrs. Efua Ghartey emphasised this, stating: "You cannot have a family and when there is a pandemic raging, you are not looking out for your children. How are they? How are they fairing". She made these remarks while announcing why World Vision and VisionFund were in the Northern Region, and trusting that the Regional Minister would give all the necessary support they will need throughout their operations in the Region.
She further thanked the Regional Minister on behalf of World Vision and VisionFund for making time to host them. "We already feel very welcomed. Thank you so much for making time to be with us", she said.
The Regional Minister, Hon. Shani Alhassan Shaibu, warmly welcomed the Board members and shared his gratitude and appreciation on behalf of the people of the Northern Region for the visit and the relationship they have together. He announced that the Regional Coordinating Council's core mandate is to coordinate activities of organisations like World Vision. "The fact is, there will not be any duty for us to perform if we do not work with partners like you", he said.
The Regional Minister further stated that he has a lot of respect for World Vision and revealed that his late uncle worked with World Vision for many years and he has been a witness of the good works World Vision is doing not only in Ghana but across the globe.
World Vision's West Africa Regional Leader, Carla Denizard, announced that World Vision will soon implement an initiative known as "Finishing-The-Job". This ambitious initiative will aim to help provide universal coverage to Water, Sanitation and Hygiene (WASH) over the next ten years. On announcing this, she requested that the Region should continue to support World Vision to collectively achieve a universal WASH coverage in the Region and Ghana as a whole. 
Dickens Thunde, World Vision's National Director for Ghana, expressed his gratitude on behalf of his organisation to the Regional Minister and his team for accommodating our staff in the Northern Region, seeing them also as his staff and working with them to make sure there is continuous development in the Region. 
The VisionFund Ghana Board Chair, Mrs. Benedicta Quao used this call to enlighten the Regional Minister on the operations of VisionFund. "We work with World Vision and position ourselves at where World Vision is, so that when World Vision exits from a community, their works do not fade away. We are here for the community; especially women" she said; elaborating how VisionFund financially supports community members to improve and expand their small-scale businesses. 
The Board members are in the region this week to experience and review the work and projects World Vision and VisionFund have been doing to ensure that every child experiences life in all its fullness.