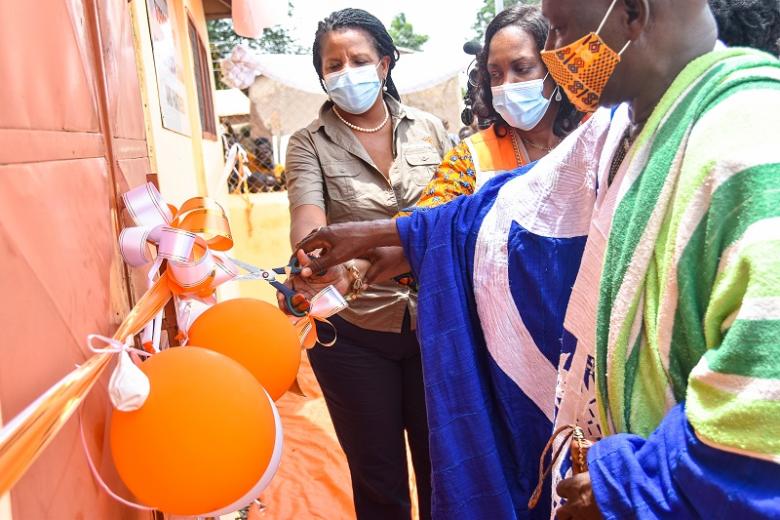 World Vision and VisionFund inaugurate Bunglung women's shea butter processing centre
Wednesday, September 1, 2021
World Vision, together with VisonFund Ghana, has inaugurated a Shea Butter Processing Centre in Bunglung Community in Tamale, on Wednesday 1st September 2021. The facility was jointly commissioned by World Vision's Ghana Board Chair, Mrs. Efua Ghartey, and VisionFund Board Chair, Mrs. Benedicta Quao assisted by the Chief of Bunglung Community, Yoo Naa.
The Integrated Programmes Director for World Vision in Ghana, Richard Okai, in remarks on behalf of the World Vision Board and the National Director, mentioned that every intervention of World Vision is focused on alleviating poverty as well as seeking justice in vulnerable communities. "We believe the surest way in breaking the vicious cycle of poverty is by empowering women", he said.
He continued that supporting women to make profit is not only the reason for supporting the Women's Shea Butter Processing Centre, but also to see these profits transforming into the well-being of children in the community.
The Bunglung Women's Shea Butter Processing Centre directly benefits over 98 vulnerable women, 294 girls and 196 boys. It also indirectly benefits over 550 families comprising of 495 women, 55 men, and about 1,650 girls and 1,575 boys from Bunglung, Yemo and Botingli communities.
The centre receives financial support from VisionFund by working to secure loans for procuring raw materials to produce in large quantities. It is well equipped with modern machines like gas-fired burners to reduce the use of firewood, as well as kneading and grinding machines. It also has spaces for material storage, kneading, meeting and packaging, nuts preparation, filtration and cooling, and a storeroom for keeping finished products.
The establishment has successfully registered with the Cooperatives Department and the Registrar General's Department. To enhance its operations and marketability, the centre is registered with the Shea Ghana Network (SGN) and the Ghana Enterprise Agency (GEA). The processors have over the years supplied large quantities of Shea Butter to clients locally and internationally including Canada and USA. In June, 2020, the group supplied 37,500 kilograms of Shea Butter to Canada through Savanna Fruits Company.
Fatimatu, a member of the Shea Butter Processing group, expressed her gratitude to World Vision and VisionFund for their support towards expanding the shea butter business. "It used to be difficult providing the needs of our children but now with the provision of this facility, we are able to process Shea Butter in larger quantities and sell. We no longer sit idle because we have something to do support our families. We are grateful", she said.