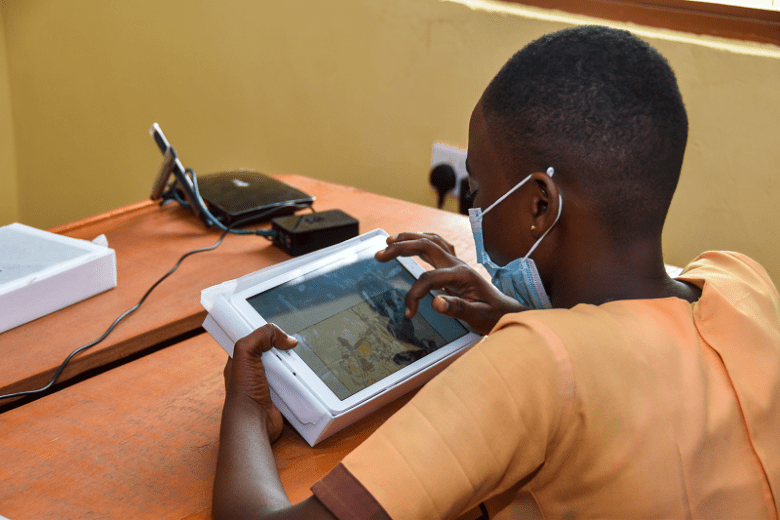 World Vision inaugurates an e-library at Lamashegu
Thursday, September 2, 2021
World Vision has inaugurated an e-library at the Lamashegu Cluster of Schools in the Northern Region on Thursday, 2nd September, 2021. The e-library was inaugurated by the World Vision West Africa Regional Leader, Carla Denizard, assisted by World Vision's Ghana Board Chair, Mrs. Efua Ghartey and the Northern Regional Director of Education, Dr. Peter Attafuah.
According Carla Denizard, education is a tool of empowerment for children, irrespective of their gender and background. However, reading enables them to achieve their maximum potential and enhances their capacity to benefit from other entitlements that promote their wellbeing. "Getting involved in our children's education, even in the simplest way shows that we care about their school life. The more supported a child feels at home, the more effectively she or he will learn at school" she said.
Mrs. Efua Ghartey stated that the e-library facility offers opportunity for children to read, and that she believes the facility will go a long way to help children improve their reading. She urged all stakeholders to make conscious efforts to support in whatever way to make the e-library serve the purpose of its construction. "I am particularly excited about the fact that children will not only learn to read but acquire ICT skills as well. Dear parents and caregivers, let's ensure our children patronise the e-library", she said.
The objective of the e-library project is to support Government's effort to improve reading among children and also enable children acquire ICT skills. It is expected to serve about 1,500 children in the vicinity and 2,000 children in nearby schools.
World Vision's Technical Programme Manager of Education, Andrew Ofosu Dankyi, stated that the e-library facility worth about GH¢ 302,918 (which is equivalent to US$ 50,000) has a discussion corridor, a storeroom, washrooms, and two rooms for documentary and online learning respectively. It also has tablets with more than 5,000 books for all reading levels. He continued to thank Duraquah Constructions for constructing the facility, as well as Nissan Motors, Voltic Ghana and World Vision's Canada Office for substantially donating to the E-Library project.
Asana, a student of Zeseme Girls Junior High School mentioned that she doesn't have much knowledge on ICT because she doesn't have access to computer, smartphone or ICT devices at home. She was scared to use ICT devices because she feared she might cause damage to such devices. "I was scared to use laptops and iPads because I felt that I might cause damage to it and the owners will not be happy with me", she added
She believes the e-library is user-friendly and will help boost her confidence in accessing technological devices, and that the educational materials installed on them are also helpful. "This is my first time using an e-libray. I know this is an opportunity for us to improve upon our reading skills", she said.