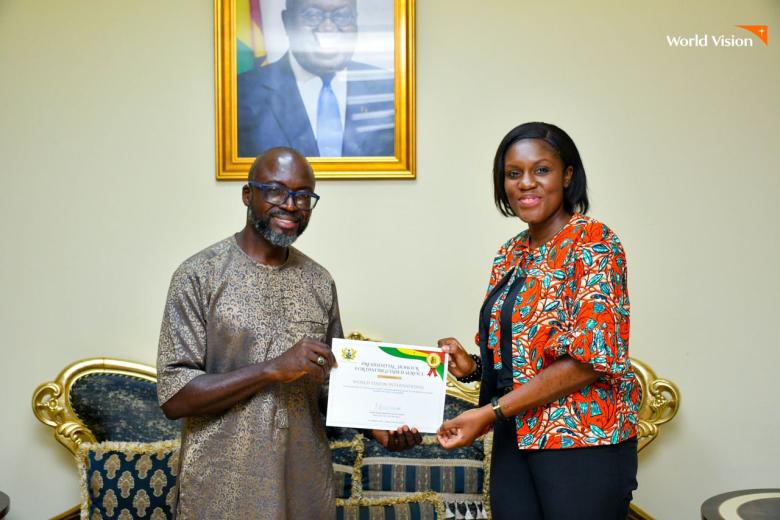 World Vision Ghana honoured by the government of Ghana at National Honours and Awards 2023
Wednesday, March 22, 2023
The President of the Republic of Ghana, H.E Nana Akufo-Addo, conferred national honours on World Vision Ghana for its contribution towards containing the spread of COVID-19. The institution was among the list of distinguished individuals and deserving institutions who played various roles in the fight against the pandemic.  
The award was received by World Vision's Director of People and Culture at World Vision Ghana, Madam Akua Mensah. Reacting to the award, Madam Akua thanked Mr. Ibrahim Adjei, Assistant to the Executive Secretary of the President who was acting in his capacity as chairman of the citations committee. 
The National Director of World Vision Ghana, Mr. Dickens Thunde, expressed his gratitude for the award and stated that "World Vision Ghana is humbled to receive this prestigious award and to be recognized by the government of Ghana for the work we did during the COVID-19 pandemic. We will continue to partner with the government and like-minded agencies to tackle injustice, poverty, and emergencies." 
In March 2020, COVID-19 devasted the nation and being an agile and responsive child-based organisation, World Vision Ghana quickly reorganised and joined the front liners in the fight against the pandemic. World Vision developed an over 10 million Ghana Cedis ($2,000 000) response plan to contribute to the eradication of the COVID-19 pandemic and its impact on health systems, child protection, food security, and education in Ghana.  
World Vision is an international Christian relief, development, and advocacy organization dedicated to the well-being of the most vulnerable children, their families and communities by tackling the root causes of poverty and injustice.  With a presence in nearly 100 countries and a staff of almost 40,000, World Vision works in collaboration with government ministries, corporate entities, churches, other faiths, local and international agencies, as well as Community-Based Organizations. World Vision has been working in Ghana since 1979 with footprints in all the administrative regions with a strategic focus on Water, Sanitation and Hygiene (WASH); Primary Healthcare and Nutrition; Household Food Security and Resilience; Reading Improvement in Primary Education; with Child Protection and Spiritual Nurture of Children as cross-cutting elements.  
Since 1960, the National Honours and Awards ceremony has recognised Ghanaian people and institutions who have rendered distinguished services to Ghana.