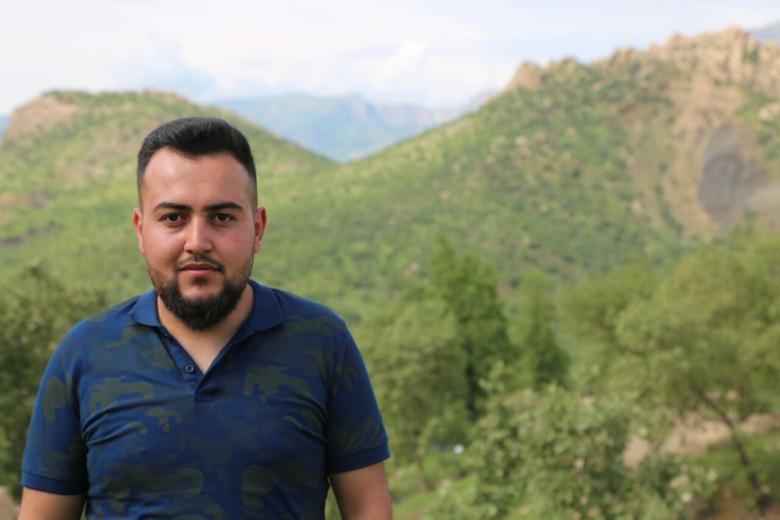 Defying circumstances and overcoming challenges
Wednesday, July 15, 2020
He reminisced on the first moment he stepped into Iraq. He thought to himself, "This is it! I am far away from my parents and they shouldn't feel worried about me and I should not tell them that my place is not nice so they don't get sad.  But what I was really thinking was how I could live here without my family."
Ayham was only 20 years of age when he left his family of six and his home in Syria four years ago. Originally from Damascus, when the conflict started to reach his area, his father lost his job and his home and they were displaced to northeastern Syria, three years before his journey to Iraq.  There, he completed his high school and joined the College of Engineering at a university in Homs. Once tensions escalated there also, his parents decided to send him to Iraq. As a young man in his 20's and the eldest of the children in his family, he would be obliged to join the military in Syria. However, because of the nature of conflict there, he feared for his life. When he left, his father hoped he would finish college and find a good job to make a living.
While waiting for his residency papers, he stayed in his uncle's tent in Domiz camp in Duhok.  After telling his story to the immigration officers, he was granted refugee status and was issued residency. For six months, his family back in Syria helped support him with his living finances. However, once his residency was issued, he immediately moved to Erbil and settled in there finding a job as a receptionist at a hotel and relying on himself financially.
Chasing opportunities
One day, while surfing the social media, he found an ad for a scholarship opportunity by Spark Organization for Syrian refugees living in Iraq. He immediately applied and after rounds of interviews over three months, he was accepted to be enrolled in the scholarship at the University of Cihan in Duhok to study computer sciences. He felt most proud then. 
While moved to Duhok to begin his studies, he started looking for jobs there.  Despite being a young and bright student at the university, and having a nice demeanor, Ayham was applying for jobs but with no success. He recalled, "I applied for a lot of jobs and I wouldn't get any reply. I realized I have a problem in the way I handled interviews or in my curriculum vitae."
It was then that he learned about the EMPACT project, a project designed to help IDP and refugee youth gain digital skills, English skills and receive cash assistance. He applied immediately for the program. He shared on his first day at the center, "The first day when they explained about the organization and its goal, I got encouraged and was enthused to complete the course." 
There he learned the soft skills of how to prepare a curriculum vitae and how to ace an interview. He was not only grateful that the course improved his professional skills, but also that he was able to engage with a diverse student body.  He shared, "Different kinds of people participated in the project. You go to this place and you get to know people from different religions and backgrounds and you get different ideas from them. The project was representing people from all backgrounds."   
Through this project, he was able to find a group to work with online that connects him with freelance work opportunities from companies. Not only that, but Ayham found encouragement and emotional support through direct and indirect influences of the teachers in the EMPACT team. They told him that there is nothing impossible to do, and Ayham began to open up his mind to even greater aspirations.
Ayham began using the skills he gained at university and through the EMPACT project to implement a Smart House project. The project enables you to control your home electronically and remotely. It uses technology to create an easier environment for life while keeping it accessible through affordable prices.  He has been working in a group, however, their work was interrupted as COVID-19 started.  As COVID-19 spread, they no longer were able to go to the market to get the gadgets and items needed or tohave their regular meetings on the project. Today, after months of living with COVID-19, they have started to adapt to this new normal. They meet again at one of the houses of the group members but making sure there is social distancing and that they use sanitizers and follow government regulations.
Ambitions, fears, and defiance
Ayham's ambition does not stop there, for the past period he has been studying Japanese and attempting to read MANGA. He aims one day to go to Japan to study his Masters. However, he fears that there are some obstacles to his dream. As a Syrian refugee, and with the declining status of Syrian passports around the world, Ayham has some worries that he might be unable to pursue his dream of studying in Japan in the coming years.  He, however, also keeps holding onto his hope despite his fears. He shared, "The lesson I learned in life is that life is a challenge. It is a difficult challenge but a nice one, and you must not be overwhelmed. Failure is a step for success, if you try. As much as you try, you will achieve success."
Ayham reflected on the first moment when he arrived to Iraq and now. Little by little, he has grown used to being away from his family. However, it wasn't only the mentality of getting used to this, but his insistence to make a different reality for himself and to defy his circumstances. He started making friends in his new country and today he has five best friends: two from Iraq and three Syrian compatriots. He reflected, "When I first immigrated I said I won't be able to study and I had the negative energy, but little by little, with support from family and friends, I was able to study and find work. The thing that helped me settle down easily is the nature of people. They are very nice. I saw a lot of people in Duhok and even in Erbil; the hosting community was very helpful and the thing that helped me most is that I made a lot of friends and I have a social life here."
On World Youth Skills Day Ayham sends a message to the other youth in Iraq and around the world: "Whatever your goal is in life, make a plan and do trainings to grow your skills. And, the most important thing is to enjoy the work you do."
EMPACT is a project in partnership between World Vision and WFP. The project is designed to provide digital and English skills and cash assistance to IDPs, refugees and host community youth in Iraq. Started in April 2019, the project targeted 2,000 youth giving them a chance to improve their skills and livelihood prospects in the long run.
This represents a unique opportunity in building sustainable and transferable capacities on a larger scale for the most vulnerable communities connecting those people who are most in need to internet-based opportunities. The project also aims at creating a strong social cohesion among the beneficiaries as they are coming from different backgrounds.  The program is in three stages, a beginner's level course, and an advanced course. Each is a two month period. Once the courses are completed, the students can enroll in a course on freelancing.
This coming month, the next opening of the project will start online, having been adapted due to COVID-19, in order to continue supporting youth in this particularly challenging time.
Learn more about and/or support World Vision's global work to limit the spread of COVID-19 and support the children impacted by it on our COVID-19 Emergency Response Page.