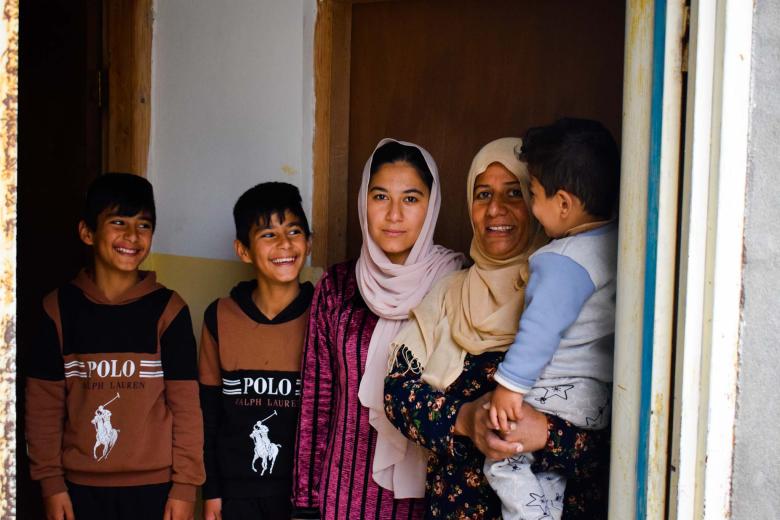 From the edge of the abyss
Thursday, May 26, 2022
Written by Suzan Hussien Abd, Meal Assistant
It wasn't easy for her to face it, but it is inevitable, it was difficult to be a woman and a man at the same time.
Shukria, the 42 year old struggling mother, lives in the harsh conditions of displacement in Tooz, Salah al-Din Governorate, after being displaced from her home in Zenana sub-district, Komblak village.
Since her marriage at the age of eighteen, she has lived a tranquil rural life in the village, baking loaves of bread in the morning and tending to the sheep in the afternoon.  She had no major anxieties and her aspirations were simple.
The cracks on her hands did not come from suffering or violence. Rather, they were the best evidence of her efforts to take care of five children and a husband suffering from cancer.
After the birth of her eleven-year-old twins, Shukria suffered from failure in one of her kidneys.  While the other kidney is still working, the risk of failure for the remaining kidney is always worrying.
Despite all this, Shukria says: "The birth of these twins was the birth of happiness for me, today, I do not care about owning one or two kidneys, what concerns to me is that I have a sufficient reason to live, which lies in my children."
In the aftermath
Shukria's life was turned upside down after she lost her warm home and her livestock, which she spent 20 years caring for, and was worth 32,560 USD, during the October 16 conflict.
Following the displacement, her husband had a psychological condition, which also was exacerbated by them finding out he was also suffering from bowel cancer. During those hard days, Shukria had no choice but to be the woman and the man at home in order to provide for her family's basic needs and to pay for her ailing husband's care.
At some stage, the past four years became a nightmare for her.  Her anxiety increased as she feared for her children and their future, schooling, and well-being, which over time had grown to be nearly non-existent.  Shukria said, "My dwelling conditions have been simply harsh during the displacement period.  There are no words to convey what I went through, to the point where I didn't have a mattress for my children to sleep on. We slept on the ground!"
But she did not forget her brother's assistance for her, who was the most supportive person in those circumstances who could hardly pay his rent, due to his own debts but also because he was so generous with helping others. Despite his own low financial situation, he gave her beddings and some basic necessary goods for the house.
Throughout her difficulties, Shukria's primary goal was always to provide the environment and basic necessities for her children to complete their schooling. To this end, she did not give up her pursuit to get a job or any other chance to obtain experience and get qualified to work in a career that would improve her financial situation.  She registered with a number of organizations and left her name with the neighborhood's Mukhtar.
Accordingly, she was registered by World Vision Iraq staff and was selected in the cash-for-work project as part of the Sustainable Livelihoods and Economic Recovery project that World Vision Iraq implements in partnership with UNDP Iraq and with funding from MBZ and KFW. Shukria was contacted and informed of a five - day training that would allow her to work for forty days and receive cash in return.
Shukria said that when she was picked, she felt as if she was being dragged out of the mud that she was drowning in, which included debts, school needs for her children, and her husband's prescription medicine costs. In Shukria's words "It is a divine opportunity for me to get even a little experience that I may later use in another career that will sustain myself and my children."
When you breath a sigh of relief
"A person must be patient, contented, and satisfied with what he has". These were Shukria's words that were repeated in relief after she paid off her debts, brought her husband to the doctor, and bought school supplies, new bags, and clothes for her children who were overjoyed and glad to have a mother who protected them as a lioness guards her cubs.
Shukria gained a lot of knowledge from the cash-for-work training, she learned how to paint walls, fix school furniture, and the basics of establishing electricity. It was like a profession that she could do later.
And this is what Shukria did when she returned home, she painted the living room in a calm white color that resembles the whiteness of her soul, declaring that she did not give in to circumstances and perseverance to achieve her goals.