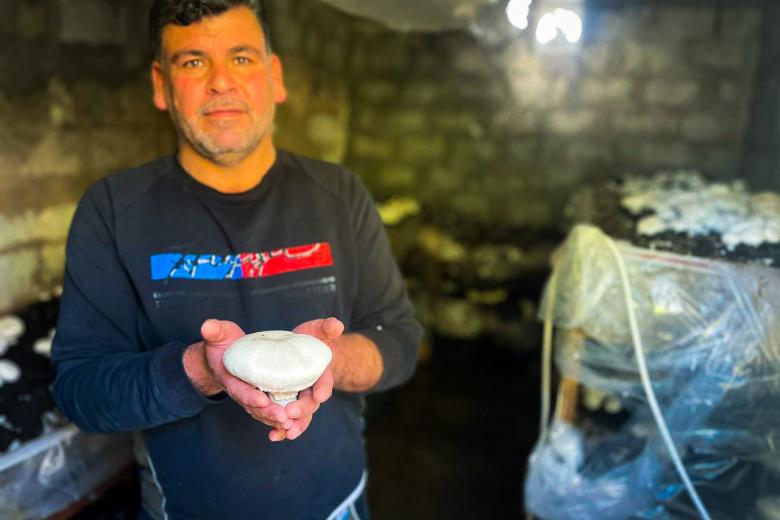 One day you will thank yourself for never giving up
Thursday, May 26, 2022
Witten by Muhammed Abd Salam, Livelihoods Assistant
Everyone has a dream. Faisal's life and dream was to have a Mushroom Greenhouse.  Faisal is 46 years of age. He is married and has three daughters and two sons.
When the conflict started eight years ago, Faisal was a farmer and he was living in Abo Hassan village 14 km away from Tooz district. Faisal was displaced to Tooz early in the conflict and lost his house, job, income and any sense of stability in his life. Sadly, his children left their school. Still, life went on and Faisal knew he needed a job to feed his family so he worked as a casual daily worker for a little amount of money, only enough to feed his family.
But Faisal has a will of his own, and has never forgot about his dream even as life got extremely difficult for him and his family and never gave up hope or working for his dream. Faisal said "One day you will thank yourself for never giving up." His dream of the mushroom greenhouse finally became possible when he applied at the Tooz Mayor's office to get help from organizations helping internally displaced persons and returnees.
World Vision Iraq staff visited Faisal's home to meet him face to face and adding his name to get helped through the Sustainable Livelihoods and Economic Recovery project that World Vision Iraq implements in partnership with UNDP Iraq and with funding from BMZ and KFW. Livelihood Business Management project reached to 840 people who benefited with 750 small grant and 90 medium grants. Faisal's was one of the recipients for the medium grant.
Malik was one of Livelihood Assistants of the project at World Vision Iraq who supervised Faisal's group during the five-day training, and he shared, "Faisal's enormous excitement for his project was showing on his face. Faisal was always showing me videos about Mushroom Greenhouse. He studied every details about mushrooms."
On the first day Faisal received his grant he set about launching his project. After his greenhouse was built and he produced his first batch of mushroom, Faisal saw his dreams come true.  Faisal started selling a good amount of mushroom every day and has his own customers who always buy his products. But his drive to do more and better continues. Faisal is now trying hard to produce a bigger and heavier (500g) mushroom which looks and tastes good so he can attract more clients. With this kind of success, Faisal has a good income and has been able to re-register his children to study at the local school again. His older son of 12 years of age shared "I want to finish College of Agriculture to make my father's business better so we can grow the company".