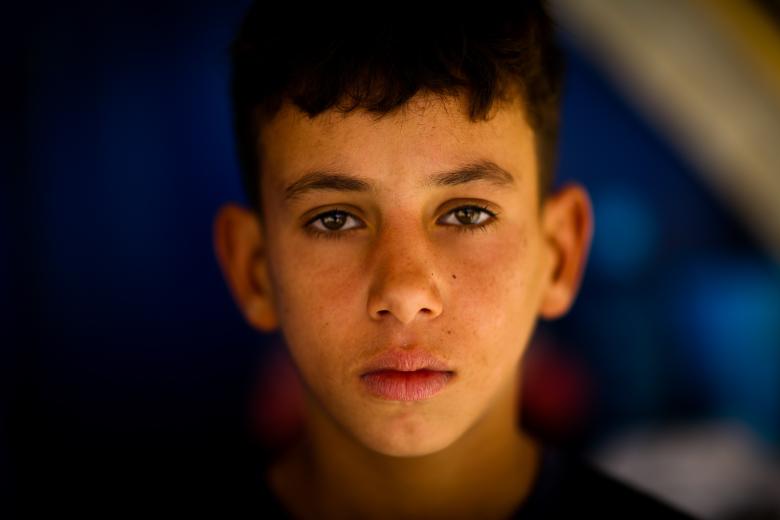 The Gone Childhood – Azzam's silent will to succeed
Monday, August 30, 2021
Shy and quiet and with a vast capacity for internalising all hurts and sadness Azzam looks on with eyes that look years older than his twelve years. Words don't fall out from Azzam's mouth easily and his silence guards his sensitive heart and his secrets and pains. Yet, what he is most known for is that he is a hard worker. 
Azzam lives with his mother, five brothers and three sisters in one of the tents in Khazir camp. They moved there on a cold and rainy night, a few days before the new year's eve of 2019. Khazir camp is a 40 minutes' drive from Erbil, the capital of Kurdistan Region of Iraq but surrounded by an empty desert – it feels like removed from the sights and sounds of Erbil.
Before moving to the camp, he and his family lived with their uncles' house in the west side of Mosul.  Their uncles, however, didn't provide them with much support and eventually asked their mother to move out with her children to the camp as they couldn't afford to support them and buy food for them. 
The name Azzam means someone with determination and so is Azzam by nature. Born twelve years ago he has missed much of a normal childhood having shouldered the burdens of supporting his family through hard days of hunger and displacement. To this boy, his family is everything and helping his siblings and his mother is how he expresses his love. When his family is having a difficult time financially, he will go out of the house without even having a breakfast, find a job and come back home giving what he earned to his mother.
Azzam's family is originally from the west side of Mosul. His mother married his father when she was only fifteen years of age. A difficult marriage from the start, his mother has never had an easy time. She had to go through a lot of emotional abuse by her brothers-in-law before and after her husband died. Azzam's mother said weeping "I don't want to be reminded any more of the days of my marriage. My brothers-in-law were not good to me. They would hit me all the time. My husband wanted me and treated with love and respect. But his brothers were telling him kill her and beat her; she is not good and is not obeying."
Life was so harsh on Azzam's mother that she often was bewildered about how her life got here. "I have six boys and three girls, and up to now, I don't know when or how I brought these children to life. When did I get married, and when I brought them to life. I don't know. I originally wanted only a boy and a girl."
Azzam's father was a daily labourer and sometimes he would get a job and sometimes he wouldn't. As the conflict with ISIL began, Azzam and his family stayed in Mosul but would see massacres on the streets as their home was on the main road. Members of ISIL often urged Azzam's father to join them, but he would say he couldn't as he had a family and children. It was also during that time, that Azzam's mother recalled when the family had no food on the table at all. She shared, "We didn't have food. Only bread and water. Despite that the rest of the family and my in-laws were well off. But I wouldn't ask anyone (for help). I gathered them (the children) and told them that is how things are. Since we don't complain and are not sick, that is (going to have to be) enough. They were feeling hungry but didn't cry. I offered them what we had and what we could afford. Sometime they would go on the streets, and they would tell (people) we did not have anything to eat."
During the liberation operation, Azzam, his mother and his siblings were liberated from Mosul and fled to Haj Ali leaving the father in Mosul. Later his father went missing and Azzam's mother heard that he was killed during an aerial bombing.
When the family returned to Mosul, they still had three sheep and Azzam and two of his other siblings started to work to make ends meet. They would work in the market or sell scrap steel and bronze which they scrounged from the surroundings areas. Often from rubble of destroyed buildings or spent bullets and destroyed weaponry.
Today, Azzam wishes to return back to school and he attempted times to register, but he always gets told he is too old to start schooling and his application is rejected. Children like Azzam who lived in the limbo because of the conflict lost years of education and now after the return to stability, they have difficulty accessing education because of the years out of school as they are too old for the grade they need to get into. 
Azzam shared on his experience in the camp and being able to only access the child friendly space and not being able to go to school "I didn't learn anything there. I don't like to play games there. And I wait for the chance to study there. I work in (selling) scrap metals like steel. I work more than I play games. Work is good for everything. I worked in the market.  If I collect enough metal, I get money, sometimes IQD 30,000 (USD 20) a day.  I would like to go to school, but the school won't admit me as they say you are old."
That won't kill Azzam's indomitable spirit though - Azzam dreams of becoming a teacher one day and his eyes tell a story of someone who will work to get his dreams.
Azzam and his family are one of the participants of a cash for food assistance that World Vision, in partnership with World Food Programme (WFP), provides to internally displaced people in Iraq. Through such assistance, children like Azzam can have food on the table. Azzam's favourite food is potato and his mother is making it for him. Through such assistance, Azzam and his siblings are able to get three meals a day. Once a month or so, Azzam says they even get chicken or meat.  Azzam's mother often make them rice, beans and lentil.  At World Vision, we make sure that every 60 seconds a hungry child is fed.  
Despite the fact the programs such as cash for food assistance is intended to keep children away from work the reality for Azzam is that this assistance is enough to keep his family fed for much of the time and he works and brings home more money to ensure they get more than the basics the rest of the time. With food prices increasing due to the recent economic downturn Azzam accepts that he has to work. For him, his situation is not unusual. Many children remain out of the education system and undertake dangerous work collecting scrap metal in Mosul.
It is very critical that more assistance is provided to children to get back to school who have missed years out of education. Children deserve to experience a safe and happy childhood and not have to be put on dangerous situations on the streets. As of August 2021, the overall Iraq Humanitarian Response remains severely underfunded. The two sectors vital to children, namely education and protection, are critically underfunded with only 14 percent and 1 percent of the needed funds having been raised respectively for 2021.