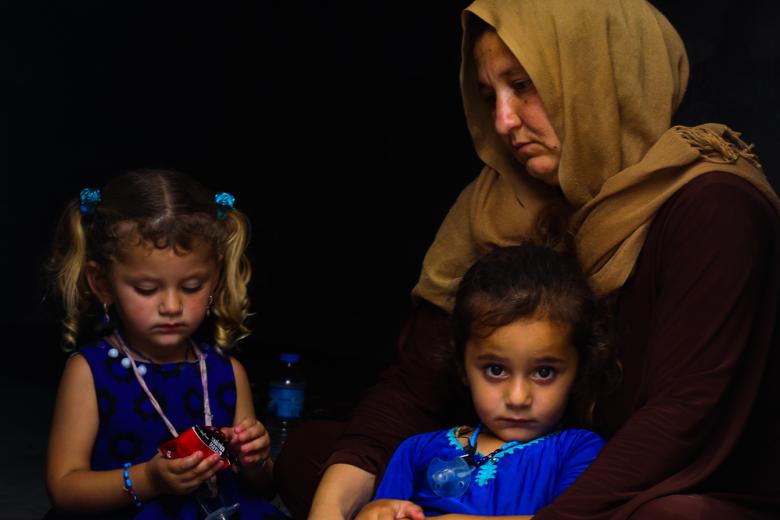 In the middle of melancholy, laughter to lighten children's hearts
Monday, August 30, 2021
Just one day before remembrance day of the conflict that started in Sinjar in Iraq, Nahla, in an all brown dress and beige veil, was sitting quietly in a melancholic state in the middle of her tent yard combing the hair of her two little girls, one at a time. Both girls dressed in blue and also somber and silent, mirrored their mother. It was a peaceful sunny morning with clear skies but Nahla's eyes were heavy with shadows of the dark days of the conflict and her losses. Nahla shared "Today I cried, and I felt that I am alone and I don't have my husband to help us anymore. I remembered the time of fleeing from Sinjar and I remembered everyone's situation as we all fled."
Nahla, today, is 31 years old, and is living alone in the tent with her six children. The eldest is fourteen and the youngest is two years old. She is originally from Duguri, a village from Sinuni; a 45-minutes' drive from Sinjar. Her husband passed away six months ago as he was suffering from kidney disease.
When Nahla was a child, her family, like many of residents of Sinjar, were relying on agriculture to make a living. During the farming season, she would go with her parents to help with farming. When she became 16 years of age, she was married off. In a year, she had her first baby. Her husband was suffering from disability in his legs. During those years of marriage, they were relying on government aid provided to her husband and they had a small market in the village. They were living a quiet and modest life with some worries but a familiar way of life.
However, from one day to the next things were to get much more difficult for Nahla. She remembers the day seven years ago very clearly. She was peacefully baking bread for the family on a hot bright morning, but the peace was broken when the area around her house broke out in a panic and everyone started talking about a group of people who was coming to invade their city. Fearing for their lives, Nahla and her family left everything behind, got into a car and fled. Nahla remembers that day very intensely, "We ran away directly to Kurdistan Region of Iraq.  We were on the road for more than 10 hours and it was very crowded. My uncle in law drove the car. We even didn't know who these people coming were, but we feared they would capture and slaughter us."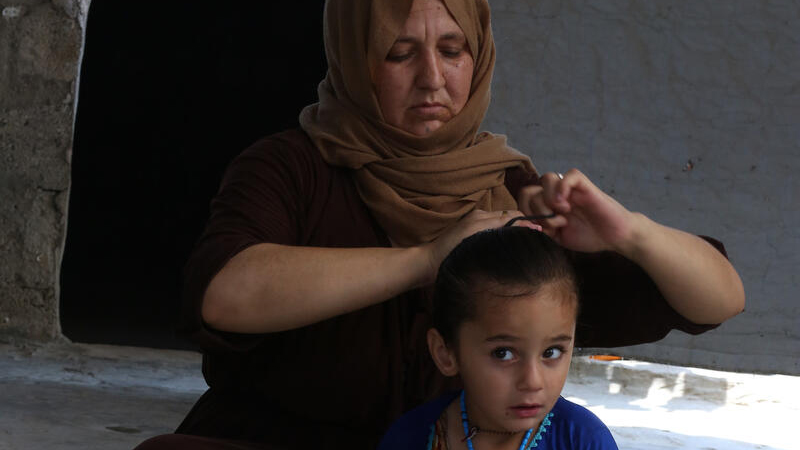 They stayed in Dereban first which is a border town between the Kurdistan Region of Iraq and areas under the control of the Government of Iraq. They then moved then to Zakho city and stayed in a school for more 15 days. Later, they moved to Khanke camp, a camp opened for displaced Yazidis in Duhok. She remembers her first feeling being in the camp, "It was very difficult for us. It is like we were dead (and forgotten). It was a desolate kind of that feeling."
It has been seven years that Nahla and her children have been living in the camp.  With the passing away of her husband recently, the family have lost his disability benefits and the family's financial situation has become severe.
Nahla is worried now more than ever - "Many times we didn't have food to eat". She continues to share "We are dependent on the monthly assistance from (World Vision).  If it gets delayed even by a day, we won't have food to eat.  It is very difficult after passing away of my husband. We are dependent on the assistance we receive from this organisation. If there is no such aid, me and some of my children would have to go to the farm and work seasonally and the amount we get would be only 7,000 IQD (US$ 4.8) per day."
Of course she would only get a job if she was able and if jobs are available. This is a drought year and farms are not hiring as many people as before. Until recently, Nahla's health has also not allowed her to work. Nahla had kidney stones which made working difficult.
Nahla recalled miserably a time when her children didn't have food to eat, "It was difficult for us; we didn't know what do. The children were crying for food. We didn't have anything to do. Then, we took a loan and I made food for the children. We bought fruits and rice and some other small things for the children."
One of Nahla's younger children is suffering from a disease in her blood and the doctor recommended to Nahla that she provides fruits and vegetables to her frequently. Nahla shared "Food is important but especially for my little one. The doctor recommended that we provide vegetable and fruits to the little one but we cannot buy fruits every day."
Last month, Nahla had difficulty providing fruits for her little child due to financial constraints as she owed money to some people for her surgery to have the kidney stones removed. However, in the last few days, she managed to get some fruits for her little child with difficulty. She can only provide her with fruit every now and then and this clearly requires very careful financial planning given she has one source of income, she and her family have to eat but she also owes debts which she has to pay back.
Nahla gets cash assistance from World Vision Iraq on a monthly basis. She uses the money on food and medical expenses as two of her children has medical conditions. In addition to her daughter's need, Nahla's boy of four years of age is also having a medical condition where his bowel movement is weak and cannot pass stool.  In the past, the boy had surgery done twice to address the issue, but both procedures failed.  The doctor's say he needs another surgery, but this costs way more than they can afford.
Nahla's thoughts are persistently preoccupied and even as she falls asleep, questions about the next day worries her.  She shared "Whenever I (go to) sleep, I ask myself what can I do for my children tomorrow? What can I make out of the little I have the next day which will be sufficient for my children? Because my children are very young and they can't work. I too cannot work due to my surgery and nobody helps us that is why."
Today what gives Nahla strength and hope is the cash assistance she gets from the World Vision Iraq. She shared "The organization gives us hope to have a better life." Nahla's only dream is to raise her six children and to see them graduated from colleges.
Years of conflict, displacement and difficult conditions in the camp can severely affect children and adults alike, but Nahla, behind her melancholic look, defied her worries and problems and keeps a strong and sweet heart inside.  She admits that she can barely laugh, but when she does, she is doing it for the sake of her children. She shared "It has been awhile since I have laughed, sometimes I make jokes for children so that they don't remember things like toys.  Sometimes I make jokes to pass their time and (help them) fall asleep."
Conflict and Yazidis
On 3 August, 2014, conflict started in Sinjar. In the attack, 4,000 men were killed and 7,000 women were enslaved in Iraq or transferred to northeastern Syria. The conflict lasted three years until 2017. Today, 200,000 Yazidis remain in displacement in the camps in northern Iraq. Many Yazidis fear of getting back to their places of origin as the events and tragedies of the past haunts them. 
What World Vision Iraq has been doing to helps Yazidis in Iraq
World Vision Iraq has been partnering with WFP for six years now providing live saving assistance to internally displaced persons. There are 136,912 Yazidis displaced in all camps in Duhok that World Vision Iraq provides cash for food assistance. In Khanke camp, World Vision Iraq has been providing aid to 14,376 displaced Yazidis. The assistance World Vision Iraq is providing to internally displaced persons in the camps is cash assistance through mobile money transfer. Through such assistance, World Vision Iraq is protecting the lives and providing the internally displaced persons with the most basic needs and ensures food security for the families.
Due to the previous modality of the cash assistance, delays occurred in the distribution because of technical issues between the service provider and World Food Program (WFP). However, after changing the modality, beneficiaries like Nahla are regularly receiving their payments every middle of the month.