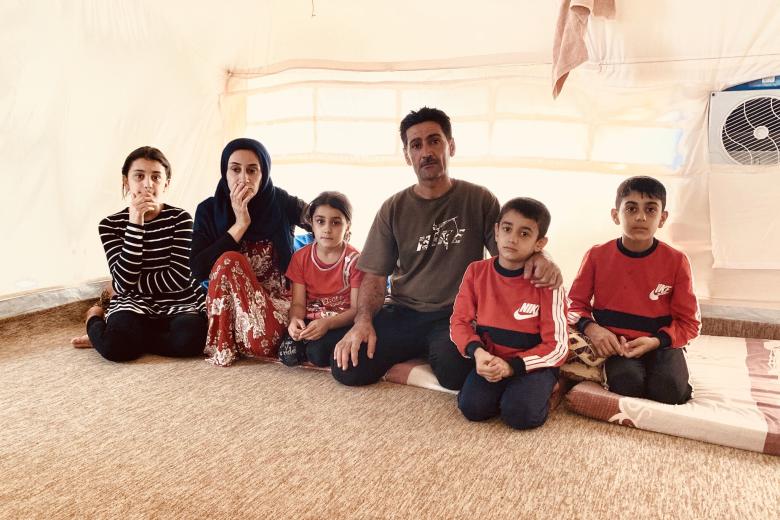 My dream is to have a house and see my children go to school
Friday, June 19, 2020
Sitting in a tent, far from what he calls home, Dakheel stares down at the floor. He is lost in thought, thinking of his children, thinking of his mother back in Syria, thinking of an uncertain future. This is not where he ever pictured he would be.
Dakheel, a man of 40 years of age, is married and has four children: two girls and two boys. His eldest child has just reached thirteen and the youngest is seven. A Syrian refugee in Iraq from Qamishli, today he dreams of having a house, seeing his children go to school and seeing them become successful in life.
Dakheel, despite his relatively young age, is suffering from several health complications. Four years ago he endured a liver operation which made him unable to work like other people of his age, except in jobs that do not require complicated physical movement such as guarding.  
For the past three years in Syria, he was unable to find a job and relied on aid and assistance from charitable people. His situation was so poor that even the house he was living in was given to him free, but eventually he was told to move out as the homeowner wanted the house for a relative.  Because of the difficult economic situation and the increase in conflict in Northeastern Syria, Dakheel decided to leave the country with his family and seek refuge in Iraq.  A lot of people encouraged him in that decision as his situation worsened in Syria and they told him that organizations would be able to help him and his family in Iraq.  
A risky journey  
In October 2019, with the aid of some people who gave him money to pay for his journey to Iraq, he was able to flee with his family.  Dakheel and his family had to walk through the desert then move along the valleys and ride on horses to reach Iraq. During the journey, Dakheel fell from the horse, badly injuring his neck. One of his sons was also injured and required hospitalization. Dakheel recalls the moment he arrived to Iraq, "When we first arrived to Iraq, they were very good to us. The ambulance quickly arrived and they gave us food. We arrived at Bardarash Camp and they took my son to the hospital and we were crying for our miserable situation.  It was a surprising thing to see a lot of people in this situation."
Leaving Syria was a difficult decision for Dakheel and his family. They came in an obligatory way.  Like the other families in Bardarash Camp, they left their family and relatives behind in Syria.  His children would often cry for their uncles and cousins and ask when they would see them again.
Being confined to the sieges of a refugee camp, being physically too weak to work and being overwhelmed by the prospect of unknown, Dakheel has been put under a great deal of pressure.  He shared, "(I look at) the way my situation is and I look at my kids my heart breaks.  They don't have clothes and they lack a lot of things. We are barely able to buy (basic necessities like) sugar, tea and medicines. If not for the aid from the organization, we would die."
Dakheel registered his children for school, but as he did this, COVID-19 arrived and his kids have been unable to continue their education. 
For Dakheel, the most challenging aspect of being displaced is the future of his children.  His thoughts are preoccupied with how to make a living for them under these circumstances and how to provide them with a future.  Dakheel shared, "I sit in the tent and I think of my children. I don't know, I spend all the time thinking." Today, Dakheel requires another operation for his neck, but he has no money to pay for that. In the meantime, he takes a daily injection to ease his pain. The medicines he needs for his liver are not available. Monthly, it costs him 20,000 IQD (17 USD) to pay for the medicines he is able to find. 
Options stall as COVID-19 arrives
While Dakheel has been at Bardarash Camp, he has been in communication with his uncle in Germany in an attempt to process some papers for his family to immigrate to Germany.  However, Dakheel's plans have been halted as COVID-19 turned into a global pandemic.
During the COVID-19 outbreak, organizations have provided Dakheel's family with hygiene and cleaning kits.  Dakheel is making sure that his children are safe and protected and said, "We take care of our children. We don't let them get into crowds and mix with ours. We have them stay at home, (we) wash our hands and we are taking care of ourselves."
Not losing hope
Dakheel reflected on being a refugee, "Immigration is difficult." He continued, "Who doesn't want to return to their country if the situation gets better? If the situation stays like this we cannot go back there. Our relatives in Syria have a very difficult time. They can't buy anything. They cannot even come here. They need to pay a lot to come to here. I miss my brothers and my mom most in Syria. What keeps me alive is I don't cut my hope in god. I trust in my god." 
"If someone wants to come to Iraq, I would tell them that here is a million times better. Those who talk to me, I tell them, "come here, it is much better." Those who return have properties.  In Syria, I didn't have a house. I was sitting in a house of someone (else) who gave it to me for free."
As conflict spiked in northeastern Syria last October 2019, 18,000 individual refugees entered the Kurdistan Region of Iraq (KRI) fleeing violence and seeking a better refuge.  Today there are 15,500 Syrian refugees in Bardarash Camp.
World Vision with a fund from World Food Programme (WFP), has been providing assistance to vulnerable families like Dakheel's in 9 refugee camps and 21 IDP camps in Iraq. Assistance includes providing them with a monthly cash income and a food parcel to support their needs. As vulnerable families across Iraq face intensified needs due to the outbreak of COVID-19, World Vision remains dedicated to providing life-saving assistance as well as working to restore their hope for better future.
Learn more about and/or support World Vision's global work to limit the spread of COVID-19 and support the children impacted by it on our COVID-19 Emergency Response Page.