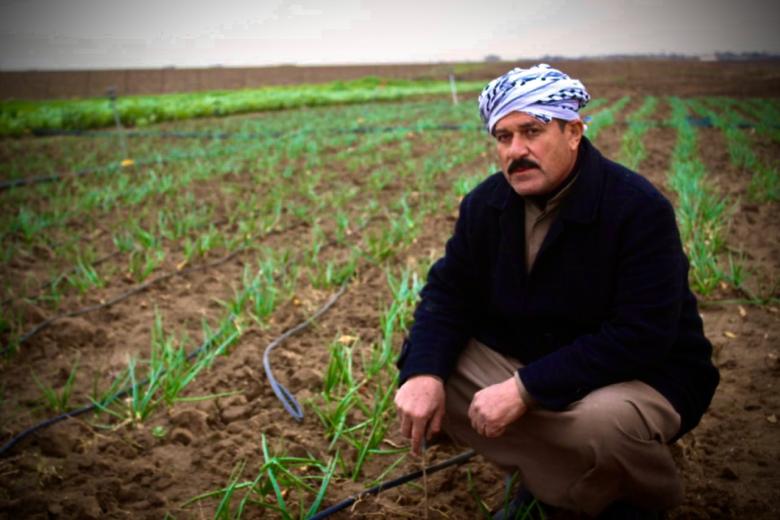 Rebuilding from scratch
Wednesday, March 9, 2022
"Money and children are the adornments of the life of this world." Ismail quotes the Quran.
Ismail married at a young age, and over the years, he made a large family of twelve children. Unfortunately, he lost one of his youngest daughters during the conflict. Today, all of his daughters live in their own homes, and four of his sons live with him in a small mud house he built by hand, and two other sons work in Mosul.
Ismail (57) grew up in one of the villages in Zummar, 77 km away from Mosul.
Life was progressing steadily for him as a young man. His father was a government employee, and when he retired, he entered the agricultural world. When Ismail completed high school, he was called to serve in the army for nine years, leaving behind his education. When he returned from army service, life started to prove to be challenging for his family. Nevertheless, he found work and managed to build a life. First, he got some training and worked on Axial Sprinklers in the private sector by installing and maintaining sprinkler systems for several years. Then, he went to Sudan on an assignment for six months, and he got a certificate of expertise in his profession.
During those years, his financial situation was very good. He built a farm and was the first farmer in his town to make a parallel well. He made a good living working in the private sector, installing and maintaining sprinklers. He had teams of people working for him. He could employ fifteen to twenty workers in the sprinkler, and he had a crane.
However, life did not continue to be good for him or anyone else in the town. When the conflict spread to Zummar, many people lost everything. In those days of violence and loss, Ismail fled to Mosul, where he encountered many hardships, including financial problems. While in Mosul, he was threatened and was captured by militants. He recounts bitterly, "When they took me, I said that is it. I am done. Those with me were executed. They were four. I became sick, and then they set me free. (These days) I am very mentally exhausted."
When the conflict ended, he returned to his hometown to find that everything he owned was destroyed. His farm and house were wrecked, and his ground sprinkler of 40 acres had been set on fire. In addition, his crane was taken from him. "Life became difficult, and living very difficult." shares Ismail.
As his house was destroyed, he built a mud house for his family, but it was not the same. Ismail shares, "Nobody had a house like mine." "I had a house of four rooms and reception. And it was clean. I had two cars. Everything was good then."  He continued, "You know when a man goes and leaves behind his home and his car, and his car gets burned, his heart gets burned. Your home and your furniture, are all gone. And you know, I worked hard and went abroad. This happened overnight, and I am now in debt. Now two of my children are of age to get married, but I cannot help them get married. After the conflict, life became very tough."
In some societies in Iraq when a young man reaches a certain age, he is expected to marry. Ismail feels pain as his children are at the age of marriage and cannot support them financially to have their own homes. He is also in much pain when he thinks of his children who have left school to support the family. Ismail said, "I know the importance of education, and I know that a person without an education is blind. It is challenging." He continued, "A human must see all things. And this setback was tough. The area is dead. Sometimes my children go to work as casual labourers. I have two who left school and went to Mosul to work there, 25 and 26 years of age". After all that Ismail has seen, he is doubtful about life. "You know the situation of Iraqis. Every day, there is something. The dreams are over."
Years have passed with one challenge after another.  During those days, Ismail found an empathetic store owner in Zummar who lets him take necessities from the shop with long-term debt. The owner doesn't urge Ismail to pay back his debts. Through this kind of shop-owner, he could make ends meet for his family and start to rebuild his livelihood. Recently Ismail became part of the Food Security project that World Vision Iraq implements in partnership with the Iraq Humanitarian Fund in Ninewa. Ismail received cash in three-month installments through the project and received agricultural business training. Ismail said, "A while ago, Mohammed and his team came from World Vision Iraq. My farm is outside the village. I do not know how they learned about me. When they came and looked at my financial situation (they saw), I was in difficulty."
Ismail invested the cash that was given to him. He will not use it now to pay the debts he hopes to pay back in the future. He bought bees, grapevines, and onion seeds. He also invested in some equipment for the plantation as he received business training on managing a plantation. He is waiting patiently for the grape to come out in spring and for the onion to come out in summer, and he will have honey soon as well.