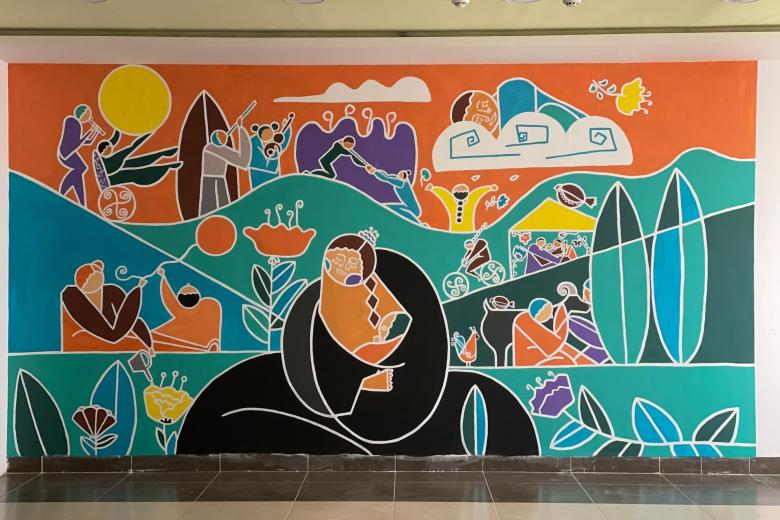 Painting our vision for every child: life in all its fullness
Thursday, May 12, 2022
By Elise Nalbandian (writing) with Shayan Nuradeen (inspiration and art)
The World Vision Iraq Comms team invites the World Vision partnership to enjoy a view of our mural by Shayan Nuradeen, WV Iraq's Communications Officer and up and coming Iraqi artist, of a "Our vision for every child, life in all its fullness." The 6 meter by 2-meter wall celebrates who we are as World Vision and welcomes us as we come up to the third floor of our office building here in Erbil.
In November 2021, World Vision Iraq moved our office in Erbil. We were mindful that the space should look like a World Vision office in line with our brand guidelines celebrating our vision, mission, and achievements. We have ensured all branding and visibility in the office would conform to the standards set for our visual identity, including using World Vision colours. To date, we have several orange accent walls, we have put up some of our best photos in our wide corridors and are putting up signage as needed. But the stark and bare entry wall was calling for something unique.
Shayan presented a proposed design for a mural and an internal committee approved it after adding a few elements with the end result pictured above. Whether you look at the computer rendering or the actual wall (they are not 100% identical), the viewer will notice a lot is going on. The idea of the mural is to describe not necessarily what we do in priority sectors (which is of the utmost importance and for that, please see the Annual Report 2021!) but rather to picture what we want our work to mean for all the children of Iraq.
Shayan creates the need for peace (sleeping child top right), security (second row, to the right) and safety/getting the help they need (top middle).  She crafts the joy of childhood through the children playing with balloons (even the sun top left) and the little girl in the middle in yellow who is happily looking up.  The chance to play (child on a bicycle), grow and flourish (generally every panel) are also essential messages, along with balloons and flowers to show life, in all its bloom, colour and fullness.
Shayan captured the essence of Our Promise and John 10:10 when talking about a life in all its fullness. Ultimately, we think our mural expresses our wish for every child to have a life full of joy, fun, friends and appreciation for what God has done for them. When I see the mural as I come in every morning, I can feel the prayer in my heart for the will to make it so.