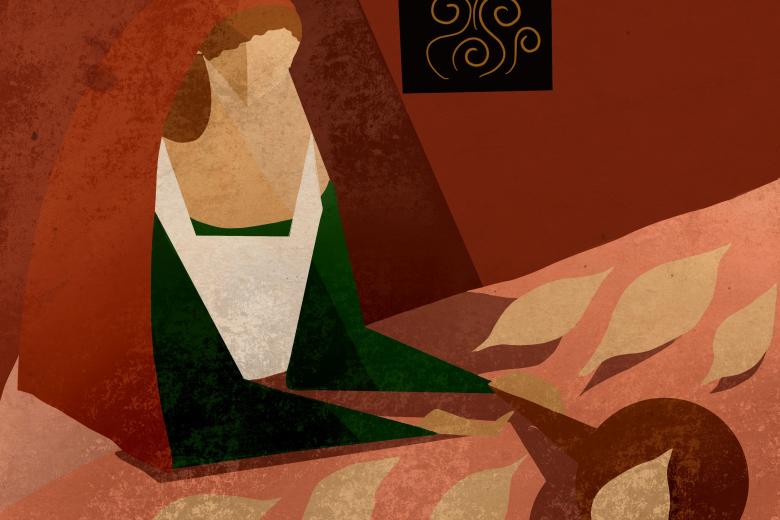 A Courageous Young Woman
Monday, December 6, 2021
Ruqaya*(23) is an Internally Displaced Person originally from Diyala in Iraq.  She had seven siblings (three girls and four boys) and since 2014 they have been living in poverty as they had to flee their homes and move to Tooz when conflict spilled into her hometown.
When they arrived in Tooz, she and her family were economically dependent on her elder brother as he was working in a restaurant in Tooz. One day though, tragedy struck and while he was going to work as usual, an explosive device exploded and he was killed. Their father became the sole breadwinner for the at this point taking on casual jobs on a daily basis. Because he was not able to fulfill his family's needs, he decided to marry off Ruqaya in order to reduce his expenses.  At that time, Ruqaya was barely 14 years old.
With the marriage looming, she had to leave school. She lost her dream to complete her studies. She had dreamt of being a teacher in the future so that she would have a role in society and help children to be educated. Instead, she was to marry someone who was seven years older than her and would decide for her.  
After her marriage, her husband didn't let her study saying that women are not allowed to study.  She was living in a state of sadness and she was finding married life to be difficult.  Her husband and her mother in law were treating her unfairly.  She was subjected to domestic abuse as well.   As a result, she became ill and experienced epileptic seizures. Because of her illness, she was unable to give birth. 
During her marriage Ruqaya always thought of separating from her husband, but she was afraid of her father and the society's view of her. But in 2017, tragedy struck again when her father was shot while going to his workplace, during the 2017 political conflict and he died from complication of his injury. At this point, Ruqaya lost the support of her father and was left alone in dealing with her husband who was becoming increasingly more violent towards her.
After six years of marriage, Ruqaya finally decided to separate from her husband as the violence towards her became unbearable. She asked for a divorce and forfeited all her rights just in order to get the freedom and live a safe life.  She went back to live with her mother and her siblings.  At that time her remaining brothers were supporting the family. 
With her dream of an education differed, Ruqaya always wanted to have her own project to help herself and her family. Her family did not support though. In 2020, however, she heard about World Vision Iraq and how they were helping people set up and manage businesses.  She was hesitated at first as she had no familial support but after the World Vision team talked to her things got better. Her family got encouraged by what they heard and supported her to participate.  Ruqaya participated in a small business training that was provided by World Vision.  After the training she got a small grant and she opened a bakery.  She now has an income of her own to help herself and her family.  She is able to buy medicines for her mother who suffers from chronic diseases and her family is doing financially better.
Ruqaya's bakery is not just for income though. It became a project which helped her to forget what she went through before with the terrible losses, the marriage and the domestic violence. 
Today Ruqaya has increased her sales and as well as her circle of customers through advertisements and new materials she bought for her bakery.  Not only Ruqaya was empowered, but also other women in her neighborhood.  Ruqaya shared that her business encouraged other women to have their own business as well such as beauty salons. 
She said, "I have suffered a lot from inequality in this society where they think that women should only work in a house, wash and cook, but I had a dream that I would have a job to help myself and my family, but despite difficulties and with World Vision's help, I managed to achieve my dream, and I am now working and I am asking all women who have a dream to try and to not give up."
World Vision Iraq additionally provided her with Psychosocial Support Sessions delivered on how to protect herself and how to deal with stress and depression by doing activities like relaxation activity or doing spiritual activity, painting, and etc. These trainings helped support her in dealing with her previous experience with domestic violence.
Ruqaya said, "When I remember the bad things happened to me I try to listen to music or talk to someone I trust and don't let anyone to exploit and abuse me as I became aware by World Vision on how to deal with such issues."
Ruqaya is a participant of a project implemented by World Vision Iraq and funded by the Visser Family Foundation, which provides business training and cash assistance to the most vulnerable families for Improving, establishing income adequacy, income security and resilience through livelihood support, in Salah al-Din, Tooz district, Sleman Bag sub-district and Amrli sub-district.   The project started in April 2020 and targeted 75 Heads of households by giving them a chance to improve their livelihoods prospective in the long run.
*Name has been changed to protect identity.