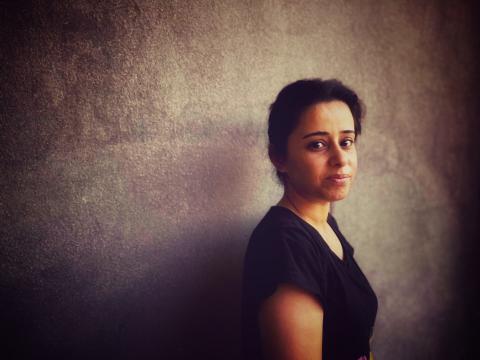 Family gives me power
Wednesday, August 11, 2021
August 3, 2014 is stamped on the memory of Dilian (33) as the most difficult day in her life. This was the day when the conflict spilled into her hometown of Bashiqa, a town situated at the heart of Ninewa plains. She was sitting with her family when one of her uncles and neighbors called them to warn them that a group was coming to invade their city. Dilian shares, "We didn't know what was happening! Everyone was speculating and saying different things. We didn't know what was happening but we fled to the Kurdistan region of Iraq.  We went out at three in the afternoon. We stayed three hours on the road to Duhok and then sheltered in one of the schools (in Duhok) for one year and a half." 
That event indeed was a life changing event for everyone who lived in that area and those who had to experience displacement as violence overtook this small town.
Yet, life for Dilian has always been unusual and difficult. As a child, she lived with her family in their grandfather's home which was shared by several uncles along with their children. The house was rather small and was too crowded for them.  Her father at some point finally decided to move his family out and rent a house elsewhere.
As a young girl, long before the upheaval of the conflict, when she was only 15 years of age, her father was diagnosed with diabetes and her eldest of brothers with rheumatism. Her father who was working as a carpenter had to stop working. Dilian, as the eldest of her siblings left school and started working in a flour factory to make ends meet for seven years until she lost the job due to the conflict. She worked for long hours to buy medicine for his father and brother and put some food on the table.
Dilian has six siblings. She has three brothers and three sisters. She was living with them and her parents and is the sole bread winner in the house for most of the time. Dilian's family had a difficult financial life because of the medical expenses in addition to the costs of renting the house. The financial struggles meant that in the end most of her siblings were not able to continue their education as they were not able to pay for the transportation to school. Only Dilian's youngest brother is currently studying.  He persisted and walked long distances to get to school when he had to so as to complete his education.
After the conflict ended, Dilian and her family returned to their home to find out that their town was destroyed: factories, shrines and homes. Dilian remembers the moment when she saw her town for the first time after coming back, "There was nothing.  Everything was destroyed. We were very sad, but we said at least we are alive. Thanks to god."
During their return, an uncle of hers moved to live outside of Iraq and her cousins asked Dilian and her family to stay with them in the house until they find somewhere to live. Gradually, her father was able to collect some money from items he sold and was able to rebuild a house for themselves. At that time Dilian, 33 years of age, started to work in a hair salon.
While working in the salon one day, the girls there were talking about an organization called World Vision that provided cash for work opportunities.  Dilian sought to learn more about the program and applied immediately.  Dilian was accepted and she worked for one month cleaning one of the gardens of Bashiqa town.  She shared, "It changed my life when I received the 400 dollars. The most important was the medicine I was able to buy for my father and brother and then I gave a little amount to the head of the hair salon so that I work (in partnership) with her to help run the salon. It is true that I was working there before (but the money I made was not enough). Still it helped ensure money for medicine and house expenses."
Her new partnership with the head of the hair salon means that Dilian can now continue to work in a flour factory in the mornings and then in the early evenings she works in the Salon.  Dilian shared, "With the work (in the salon) my salary increased by 50%. When I get the money, I spend it all on medicines and home expenses. I am the only one in the family who works (regularly). My brother has been working for a month now. It is a temporary job." She continued, "My life is always difficult and I always need a job."
What Dilian is most proud of today is that she could help her family.  Family gives her power. What she is most grateful for is to have such parents who support her. He parents have always had an eternal role in her life and have been a solid support to her. She dreams that she continues to work to support her family. She shared "The most important thing is the family. I don't want anything but to help my brother and father." 
Dilian sometimes gets worried and anxious and fears if she might not be able to help her family. Living in a male-dominated society especially in the work place, Dilian experienced challenges to find her space, but the support from her parents and her strong will and character helped her find her way.  Today, on World Youth Day, Dilian shares a message to the youth around the world "Chase your dreams. Don't say something is impossible. Nothing is impossible."
According to the head of sub district of Bashiqa, after the conflict, 2,000 homes were destroyed in Bashiqa and 1,500 jobs were lost. In 2020, World Vision Iraq with funding from Iraq Humanitarian Fund expanded its operations to Ninewa plains where it ran a cash for work project in Bashiqa town. The project directly helped 250 vulnerable persons and helped 10,000 indirect beneficiaries.