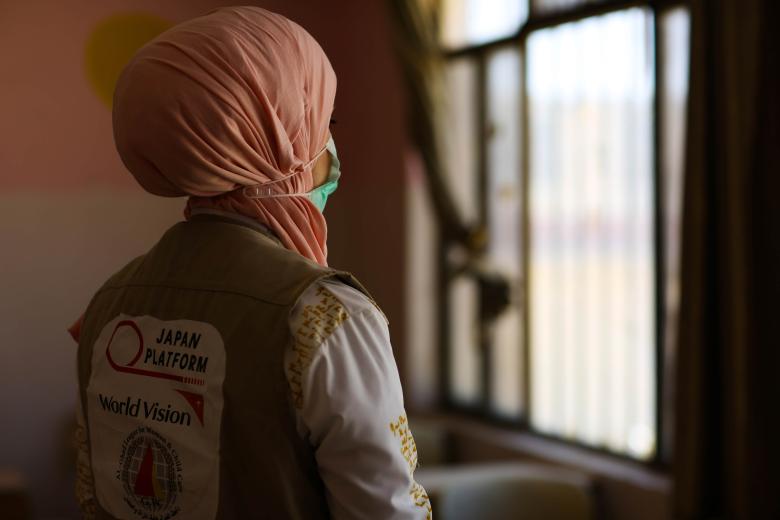 Stolen Innocence in West Mosul
Wednesday, June 23, 2021
Mona* burst into tears as she recounted the memory of her stolen innocence. "So they (her parents) told me that instead of getting back to school that I would be married off.  He was eight years older. I fell pregnant immediately and all these household and motherhood responsibilities landed on me without any direction or guidance or any advice at all. After a year, I had another child on the way. I can honestly tell you that those two initial years were very difficult until I decided to get back to school."
Mona, 30 years of age today, bitterly recounts her unstable childhood marked by emotional neglect and the early marriage she had forced into at the age of 16.  
Mona is the youngest daughter of a family of nine. She has two brothers and five sisters. Her two eldest sisters are older than her by 13 and 11 years respectively. Her father at the time was a school principal and her mother was taking care of the house although she left the responsibility of raising Mona to her two eldest daughters. Mona's eldest sisters were young themselves and had no experience on how to raise a child, and therefore they lacked the sensitivity to support little Mona.
In her home, Mona felt the lack of emotional care and neglect by her parents. Added to this, the constant move from one neighbourhood in Mosul to another worked to further alienate her from any emotional security. As a child, to make up for the instability and neglect she felt at home, she would make strong friendships with her peers and teachers in school only to lose these when the family moved.
The year Mona turned 12, her parents started contemplating getting her married off. She started to notice the old women who were coming to ask for the hands of the young girls in the house for their sons. Mona remembers refusing to come out in front of them. She was so scared of them. But inevitably, at the age of 16, during yet another move to a new neighbourhood, Mona's life was in upheaval again. Mona was enrolled in a new school where she once more did not know anyone although she continued to be an outstanding student. She recalls that she couldn't adapt to the new environment quickly enough. Finally, it was during that time, that she was withdrawn from school and had her marriage arranged. Mona, in a melancholic tone, shares, "That year was the one of loss of all things for me."
She continued, "But what was bad is that I heard them saying let's get rid of them." I was 16 and my sister was 18, and this was unforgettable. I didn't have any solution, nor a decision or an opinion that counted for anyone. The tradition was the most important thing and it dictated that girls should marry early. If anything, girls of 15 and 16 may even be considered too old to get married." 
After giving birth to her first baby, Mona was determined to continue her education. Her husband fortunately supported her in her ambitions despite this decision causing disagreements with her family and her in laws who had arranged the marriage on the understanding that her schooling was done. Nevertheless, she persevered. She would take her child to the nursery and go to school and bring him back on her way home. Her determination to succeed led her to pass the final exams with flying colours. Even with two children and all the responsibilities for caring for the house, she managed to come out fifth in her governorate. She entered the school of English Literature, and started her dream career.  
Today, Mona is a case worker for one of the local organizations that World Vision partners with in the West Mosul area to help raise awareness on child protection, early marriage and early motherhood issues. She works on educating and raising awareness of the parents on positive parenting and child protection issues. She also closely works with children who are victims of early marriage or emotional neglect from parents.   What gives Mona strength today is that she is working on cases similar to hers, helping girls who went through the same thing in life as hers - early marriage. 
One of the cases that Mona finds so close to her heart is a case of a girl child who got married early but also, just like her, is continuing her education. Supporting this girl means so much to Mona. She shares on her role, "For girls who are already married early, I give them the advice to continue their education, because education and a job is the solution for their lives. And the second advice I give is to delay the pregnancy or if they have a child to give her children better opportunities than she had herself. So if she has a daughter, not to have her daughter marry early like she did. And I also advise young mothers to space out pregnancies and not have too many children back to back."
She adamantly continues: "The right thing that I did in my life was going back to school even though there was little encouragement or support. But I am proud that I took this decision when I was young.  I was only 18. I got a (graduation) certificate when I had two children and I had the responsibility of cleaning the house. And the decision to continue my education and continue working balanced my life and compensated me for the wrong decision that was made on my behalf."
Mona is very concerned about the problem of early marriage in Iraq, "People in Iraq need to have their awareness raised on this issue continuously. There is high incidence of early marriage and divorce in the vulnerable communities. A lot of the time, marriages break down because of the young age of the bride and sometimes even the groom. The responsibility of marriage and raising children is too big and should not be placed on the still developing shoulders of children. Early marriage and pregnancy also have serious health consequences.  The awareness of schools, communities, neighbourhoods, families, and government should be maintained. It will require a lot of work across generations and for many years." 
According to the Protection Monitoring System Report by the protection cluster in Iraq, as of February 2021, lack of access to education, child labour, psychological trauma, stress, and anxiety and child marriage are the four main threats children in Iraq are having to face.
World Vision Iraq with funding from Japan Platform implements the project in West Mosul. Of the 120 (49 boys and 71 girls) registered cases of children at risk in the area, 20 of the cases are of early marriage. As of June 2021, 509 (194 boys and 315 girls) received psychosocial support services. In addition, positive parenting sessions were provided to 40 parents.
*Name has been changed to protect the identity.