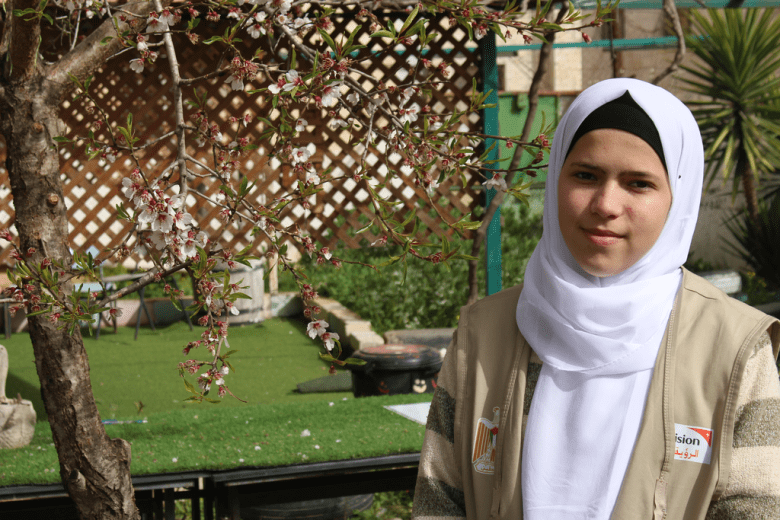 Amplifying children's voices through the Children's Parliament
Tuesday, July 12, 2022
Girls sit in the classroom shivering from the cold. Putting on many layers of clothes is not helping them face the winter season in Qusra Secondary School for Girls. The fact that the school sits on the top of a mountain in northern Nablus in the north of the West Bank, and that the heaters cannot operate in this school due to electrical installations problems, made it extremely cold there.
However, equipped with the skills they acquired from the Student Parliaments trainings, a group of 15 students from the school decided to do something about it. These Student Parliaments are implemented by World Vision and the Palestinian Ministry of Social Development, where students participate in the mobilization and advocacy trainings conducted by their schools' educational advisor, discuss social issues in their communities and come up with solutions to solve these issues through action and initiatives. 
The 15 parliament members came up with a fundraising idea called "Warm Winter is My Right" to rally community members and the village council to support the rehabilitation of their schools' electrical installations and to cover the first and second floors in school to prevent the high wind from entering and thus have a warmer space.
"My colleagues and I felt despair at the beginning of this initiative" says Basmalah, one of the 15 members. "The cost of fixing the heaters was very high, and we needed time to collect this amount from our community. Our teachers supported us in raising funds using social media, so we used our community Facebook page for this, and we succeeded.
All the effort put into the fundraiser was fruitful at the end. The Student Parliament succeed in collecting a fund that would cover all the costs of the rehabilitation work. 
"Our Student Parliament was able to raise money and receive support from the community members, who came together to support the school in covering the rehabilitation costs," says Basmalah. "We, as children, can be positive change makers when our voice is heard and has an impact in our communities and schools."
Our goal as a World Vision organization is the well-being of children and helping all communities create an environment that enables children to develop well, to receive services and to be nurtured. Through the Student Parliaments, we empower children to not only have their voice heard, but to help serve their communities and peers. Through its "Creating hope building resilience through nurturing environment project" supported by World Vision Taiwan, World Vision Jerusalem (JWG) works with 6502 children (aged 6 to 18) and 885 caregivers (parents and teachers) in nine vulnerable communities (villages) in South Nablus to ensure that child protection issues are mainstreamed at the different levels, at school through working with students; parliament.