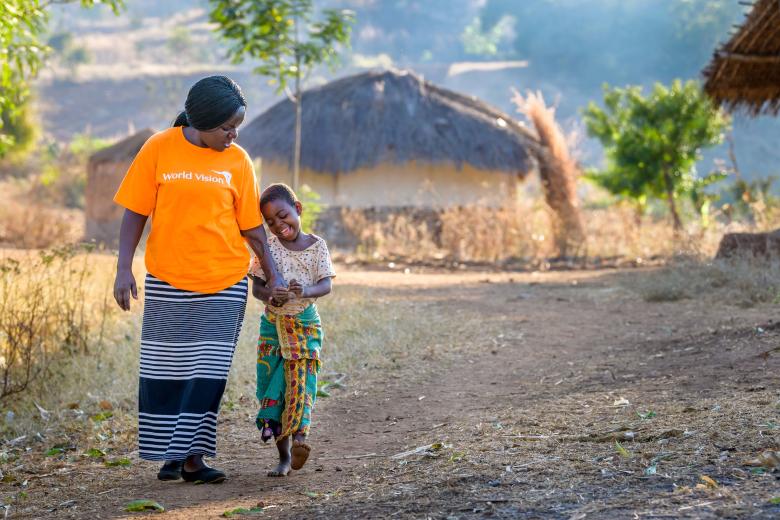 Meet the women daring to end malaria in Malawi
Tuesday, March 8, 2022
By Charles Kabena - Communications Manager
-
The "man's world" that James Brown wrote about some 50 decades ago, continues to crumble before our eyes as many impeccable women continue to break glass ceilings in demonstrating their capabilities to read and lead.  At World Vision in Malawi, we have many of these women, some of whom are helping us fight malaria.
We also have partners. And they push and inspire all of us forward to walk one step forward to reach the most vulnerable children and change their lives forever. Whether in education, health and nutrition, WASH (water, sanitation and hygiene) or food security, women are there. In fact, we believe that there's no development without women.
Through our 33 Area Development Programmes and grant-funded projects spread in Malawi's 28 districts, we have 148 women across different positions, including three in our six-member Senior Leadership Team. Among our 2,500 Seasonal Workers, over 40% are women. We pride ourselves in being a modern brand that believes in equality and the potential of our people.
In this month dedicated to women, we are celebrating the inspiring women helping to make a positive difference in the fight against malaria through World Vision.
These women joined 'the orange of hope' (World Vision) from all walks of life, and have achieved things most of us could only dream of, and that's precisely why they deserve their moment of recognition. Through them, we hope the next generation of women and men are inspired to follow suit and continue to push the boundaries in the progressive direction of their chosen fields. So, without further ado, here are our eight inspiring women we celebrate on International Women's Day 2022.
Meet Akuzike Banda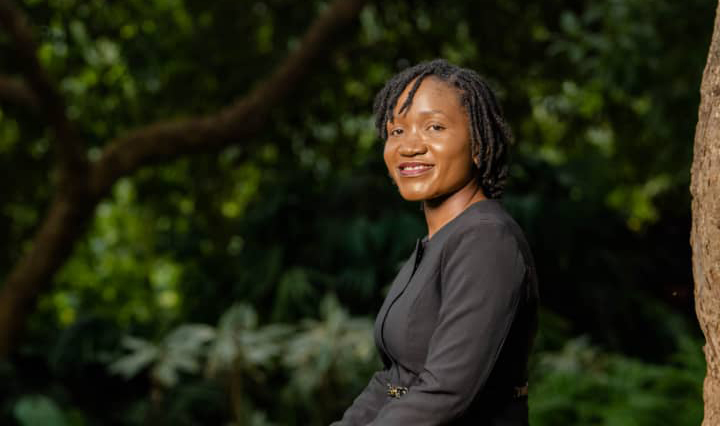 Akuzike joined the Ministry of Health in 2012 as an Environmental Health Officer (EHO) for Dedza District Health Office (DHO), where she served for a year. She later served Balaka DHO where she also coordinated nutrition and WASH interventions before she left in 2016. Having seen her potential, Akuzike got moved to the National Malaria Control Programme to serve as EHO, responsible for Long-Lasting Insecticide Treated Nets.
She is the only woman in the technical team dealing with malaria at the programme secretariat.
Along the way, Akuzike got her deserved promotion as Senior EHO in 2018. "So I moved from the district to assume a national role which was different in nature. I was implementing strategies formulated by other people, but now I became part of the policy think-tank for the Ministry", says Akuzike.
Due to her role, Akuzike has been consistently thinking of the field workers she left behind. "I'm always thinking of how best we cannot just bring in high-impact interventions, but how to equally utilise the people to achieve these goals", points out Akuzike.
Since she arrived in Lilongwe, Akuzike has fallen deeply in love with the malaria fight. "I look at pregnant women, the life they carry and think of the effects of malaria on pregnancy, the cost of treating the disease and the need to prevent it. That's my passion", says Akuzike.
In her first assignment, Akuzike worked hand-in-hand with World Vision staff in the 2018 mass campaign where they distributed 10.9 million mosquito nets to 28 districts of Malawi.  "Following the success of the campaign, this year, as the Ministry of Health, we took over the programme and we are distributing over 9 million mosquito nets in 25 districts", she shares.
Having implemented the campaign in the midst of COVID-19, Akuzike is proud of what is being achieved in the fight against malaria. "I am proud to be part of the agenda to eliminate malaria by 2030", says Akuzike who holds a Bachelor of Science in Environmental Health from the MUBAS, then University of Malawi - Polytechnic, obtained in 2009.
Every day as she walks out, Akuzike is motivated to give her all for the children of Malawi. From experience, she's learnt that malaria is a gendered disease that puts women at the receiving end of the burden, and she feels motivated to give her all.
As Mangochi Moves Ahead of Malawi in Fighting Malaria,Meet Confidence Mkungula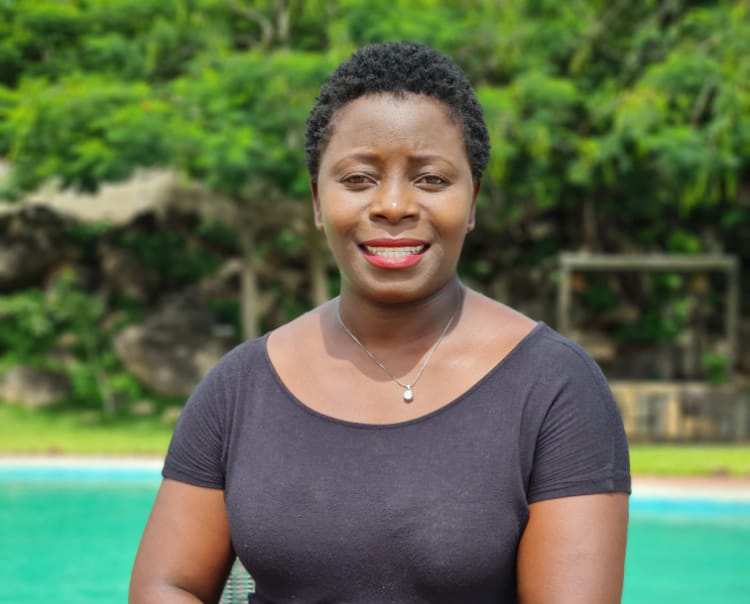 While malaria cases are rising in many districts across Malawi, Mangochi is slowly winning the battle. Thanks to an Indoor Residual Spray (IRS) programme being implemented in the district in partnership with the Ministry of Health, lives are changing.
At the centre of our work in the district is Confidence Mkungula who recently coordinated a team of 1, 677 leaders and seasonal workers to spray 336,000 households in Mangochi district to safeguard close to a million people from malaria. 
Throughout her childhood, Confidence dreamed of becoming a soldier under the Malawi Defence Forces. When she showed up for recruitment in 2009, she was discouraged by her cousin who was already in the armed forces. "He said I was too short and didn't have to waste people's time", says Confidence. She thought that was the end of a dream, but better was to come.
This trained nutritionist, and holder of a BSc in Public Health, joined us in 2014 to lead a different war. She was an all different kind of soldier. "Well, since I was kind of stunted, I thought, maybe I can help other children grow to their full potential", she says.
Ever since, Confidence has confidently served in different communities and districts including Thyolo, Chingale (Zomba) where she has worked with people to design and deliver water and sanitation as well as health and nutrition interventions that have been critical in improving community health.
"I believe that a strong investment in household and community health systems goes a long way in preventing diseases and promoting the general well-being of people", says Confidence.
In 2020, we entrusted Confidence with a new challenge- to lead the implementation of our malaria programme in Mangochi, powered by the Global Fund. Working hand-in-hand with the DHO, guided by Doctor Henry Chibowa and the District Commissioner, Mr Raphael Piringu, they sprayed 336, 468 households and safeguarded over a million people from malaria.
The fact that malaria doesn't choose whom to attack convinces Confidence that men and women should work together, and she always encourages her team to focus on the goal. With the socio-cultural background, women play a big role in the fight against pandemics.
"We are the first line healthcare system available for both prevention, care and support; as such it's important to support and empower women with decision-making positions and push them to be part and parcel of the development agenda", says Confidence.
Even with Mangochi now at 183 malaria cases out of every 1,000 people, which is way ahead of the national target of 192 per 1,000, Confidence wants more.
"I am very proud of what we are achieving in Mangochi as we fight malaria. I think we are on course to achieving something big in the fight against malaria. And we are achieving this together as men and women", says Confidence.
Finding pathways of beating Malaria from the Lab - Meet Dr Jessy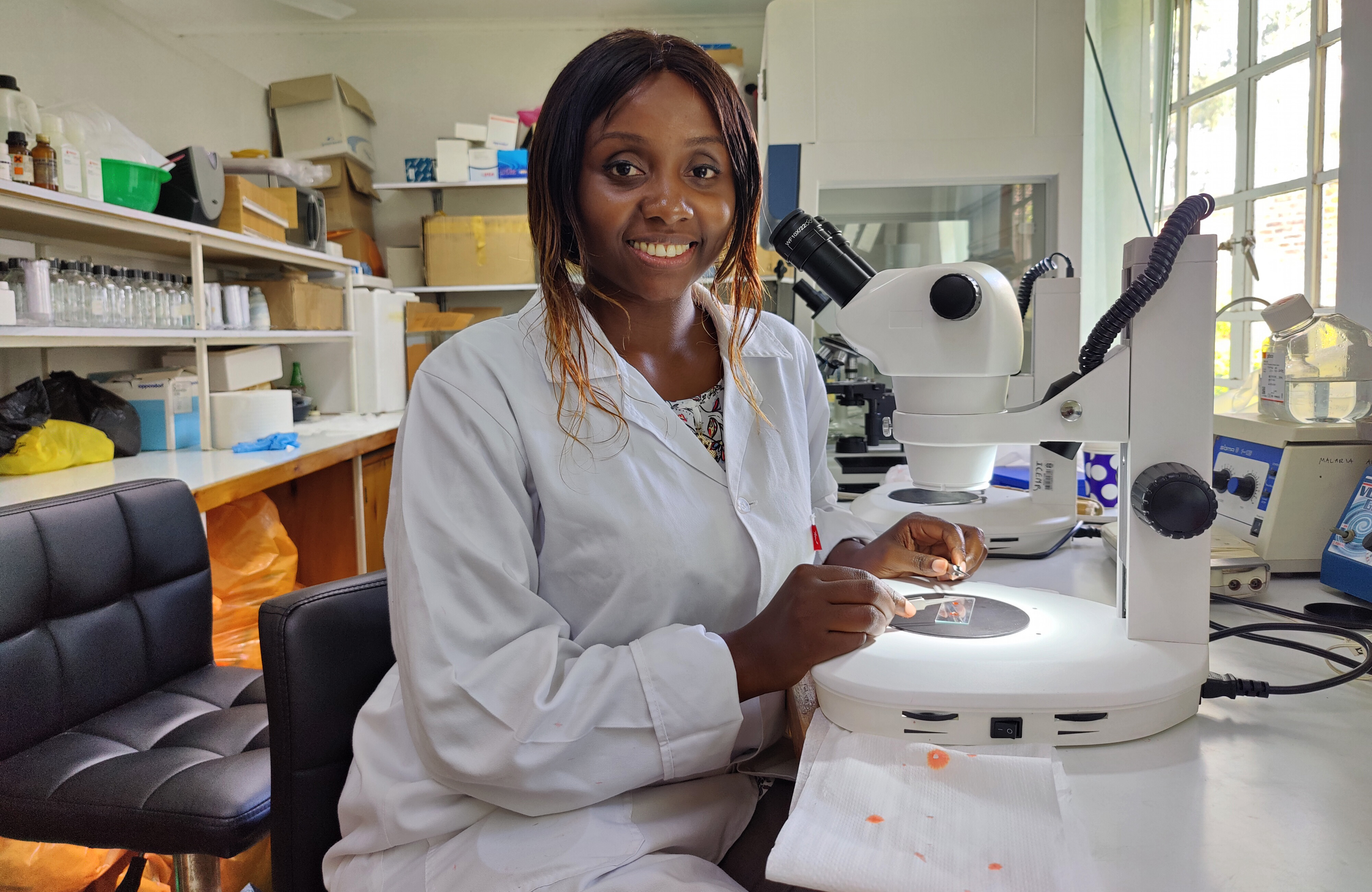 A few months ago, Dr. Jessy Goupeyou-Youmsi, a Researcher at the Kamuzu University of Health Sciences (KUHeS), was recognised by the Pan-African Mosquito Control Association (PAMCA) for her contribution in vector control in Sub-Saharan Africa, as well as her PhD work which led to breakthroughs in experiments of unique trends of malaria transmission in Madagascar. 
The maiden 'Excellence Awards' ceremony by the body sought to distinguish the spectacular achievement and active participation of women in the control of vector-borne diseases.
Speaking after scooping the win in the 'Early Career' category, Jessy dedicated her win to all frontline health workers who implement research ideas to safeguard people's lives from malaria. "Vector-borne diseases like malaria cause more than 700,000 deaths annually and their burden is highest in tropical and subtropical areas where they affect the poorest populations. So to be recognised by PAMCA for my role in vector control is a great honour and a privilege", said the Medical Entomologist, who holds a PhD from Sorbonne University in France.
As a postdoctoral research fellow at the Malaria Alert Centre of KUHeS under the Malawi International Centre of Excellence for Malaria Research (ICEMR), and as the Insectary Manager, Jessy supports in conducting periodical studies in World Vision's impact areas under its Global Fund-supported IRS intervention.
In collecting mosquitoes for studies, Jessy has experienced and overcome challenges of standing in a male-dominated industry. "In the community, to be a woman and leading, there are some people who will look at you in disbelief that you know what you are doing", says Jessy, laughing before quickly pointing out that consistent engagement is quickly paving way for up and coming young women in science to thrive.
Fighting Malaria and Helping Women Believe - Meet Loyce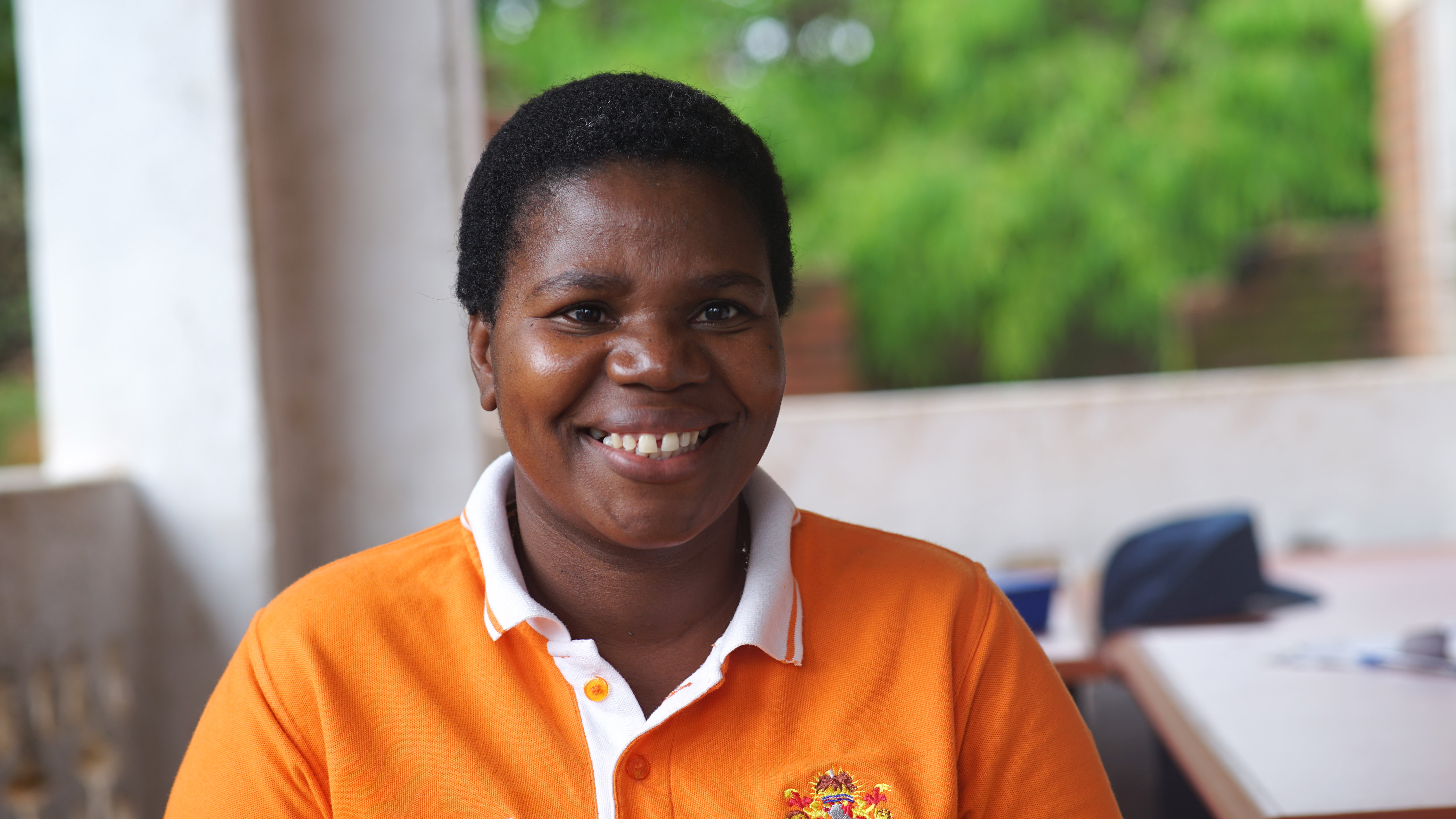 Loyce Magompho, the lady coordinating our malaria interventions in Balaka, is all sorts of inspiration.
With her Junior Certificate, which is basically 10 years of learning in Malawi, Loyce joined World Vision in 2002 as a cleaner. Due to circumstances beyond her control, she could not go on with education. In search of something to hold on to, Loyce chose marriage. But her suffering never ceased.
By the time Loyce joined 'the orange or hope', she was married, with one lovely child. Two years later, in 2004, Loyce decided to double working and learning. "I was inspired by many of the people I found at World Vision then, who always told me how intelligent I was and pushed me to learn more than just scrubbing floors", says Loyce.
Every day after working from our Limbe office in Blantyre, Loyce walked to Chichiri Secondary School where she attended night classes in readiness for her Malawi Schools Certificate of Education (MSCE) examinations. She smashed that exam but didn't find her way to the university.
But she never gave up.
In-between the years, Loyce pursued education with all she had and kept rising through the ranks at World Vision. She now holds a Master of Arts in Youth Development and has her sights set on attaining a doctorate degree.
While she has been pursuing knowledge, Loyce's key calling has been witnessed at work in World Vision. In the midst of the threat of COVID-19, Loyce led a team that included World Vision and government staff in spraying 137,200 households across Balaka to kill mosquitoes and eventually lower the burden of malaria in the district. As the world fights and survives COVID-19, Loyce is among the women leading from the front and helping create a future free from malaria.
When the intervention faced cultural and religious misconceptions, Loyce was at the forefront harnessing religion and culture to help them embrace change and stay safe from malaria. "As World Vision, we are about interacting with people and inspiring them to change for the better; most importantly, for the children and mothers entrusted to us by God", says Loyce.
A woman changing lives at her church
At her church, Loyce is fondly called pastor; not because she studied theology, but because she has dedicated her time to putting the word of God to work.
Having learnt the concept of Village Savings and Loans and Empowered Worldview from World Vision, Loyce has not been selfish. For five years now, she has been birthing savings groups at different churches around Blantyre, teaching and mentoring them on adopting a savings culture to survive urban life.
"As you know, most organisations are in rural places where needs are just huge. As such, less educated women in the city are left behind in terms of tools that can transform their lives", she says, smiling, before adding that upon the invitation of the Church, she has been gathering and meeting with women to help them create business plans as well as share their resources for business.
Many among the 108 women from five churches who have gone through Loyce's hands, she has helped them believe their lives mean more.
In fighting Malaria, Age is no barrier - Anne can Testify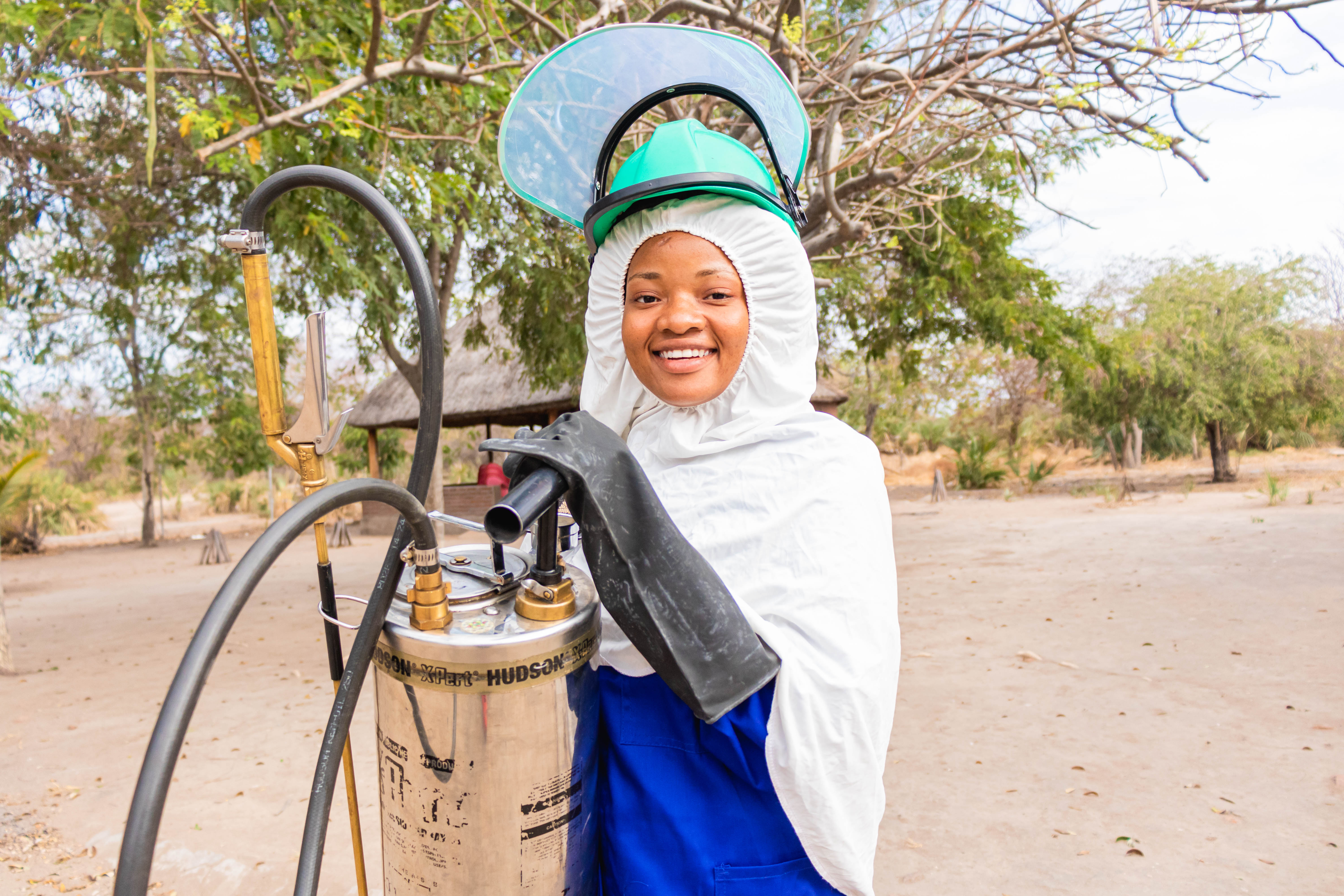 Born in 2001, Anne M'mera is the youngest of our seasonal workers when at just 18 years old. A year ago, she had just finished secondary school.
If it wasn't for the National Identity Card which she showed, Anne thinks she may have been denied the job. But upon being trusted, she went out to prove all her doubters wrong when she survived all the 36 days of spraying houses in Mangochi's Monkey Bay district to prevent malaria.
Being her first job, Anne happily went in for the experience of work, and to earn a living. However, when she stepped into the battle, she saw something different.
"Since we sprayed the first time, in my family, no case of malaria was recorded and this made me believe that the work I was doing was actually important", says Anne.
In 2021, Anne's performance earned her a leadership role; she became supervisor for her team of five members that went around Traditional Authority Namkumba, where they sprayed nearly 2,500 households to safeguard them from malaria.
"My team had three males and two females and at first I was afraid. I thought they would disrespect me based on my age and being a young woman", says Anne. 
But to her surprise, her community engagement and leadership skills inspired not just the team, but the entire communities they visited.
"Of course my supervisors from World Vision encouraged me a lot by telling me that being young and a woman was not a problem, but an opportunity to do things differently".
Meet Young Advocates Breaking the Bias in the Fight Against Malaria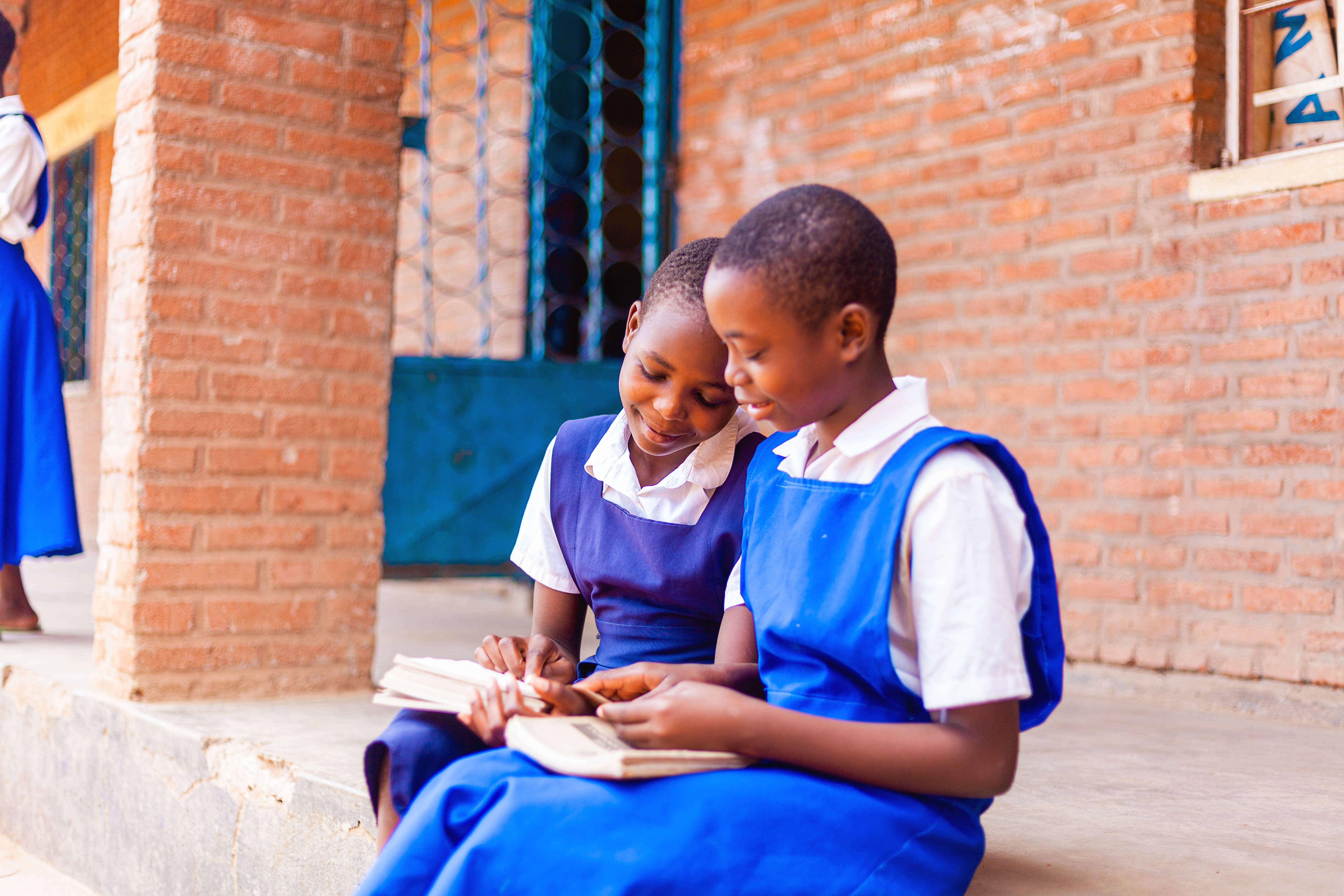 Before more women and girls to excel in education, and significantly contribute in building a sustainable future, there must be a levelled and unbiased playing field. Cognisant of the burden that comes with malaria, World Vision is helping every vulnerable child; male or female, to rise above the endemic disease.
Free from the disease, Halima and her friend are frequently attending classes and further encouraging their friends to ensure their homes are also sprayed, as World Vision is implementing its IRS project in Nkhata Bay, Balaka and Mangochi.
Halima and Anifa's good health means equal access to education like all children of their community.
IRS proactively accelerates the achievement of United Nation's integrated Sustainable Development Goals 3, 4 and 5 which touch on good health and well-being, access to quality education for all, and gender equality, respectively.
In NkhaTA bay, Yamikani is Fighting Malaria from the Front
Yamikani joined World Vision in 2015 as an intern with our National Office from the Polytechnic where she had studied Environmental Health. Later that year, Malawi was hit by an El Niño that left millions hungry. We needed Yamikani to help us in another capacity, so we sent her to Neno to support with the response work.
Later, in 2016, we moved Yamikani to support our WASH interventions in preventing trachoma among children in Tsangano, Ntcheu. In a quest to do more, Yamikani later on pushed her way to join our war against Malaria in 2018. She assumed the role of project Officer for our interventions in Machinga where she distributed over 500,000 Long Lasting Insecticide Treated Nets, with financial support from the Global Fund.
When we accrued savings from our mass mosquito net distribution campaign, we decided to invest the money in IRS in Mangochi and saw potential in Yamikani to lead a technical officer in 2020. Having learnt and grounded herself in malaria prevention, in 2021, we entrusted Yamikani, who just turned 31 in January, to be the face of our war against malaria in Nkhata Bay where, she leads 412 people in her work.
"There are times other people have judged me based on my gender", says Yamikani. "But through consistent engagement and performance, people have believed in me".
Having spent most of her professional life fighting malaria, Yamikani is committed to keep fighting.
"I've witnessed malaria cases falling in Mangochi and Nkhata Bay. Through this, I've also seen lives changing and I believe that if we do more as a nation, as partners, then malaria can surely be history", says Yamikani.
-
To all the ladies featured above, we just wanted to let you know that we love your dedication towards the children you serve, and pray that God gives you back the love and joy you've invested in the communities you've served. May the God of hope fill you with all joy and peace as you trust in Him, so that you may overflow with hope by the power of the Holy Spirit (Romans 15:13).
-
Additional reporting by Leah Malimbasa and Collins Khulani (freelancers)