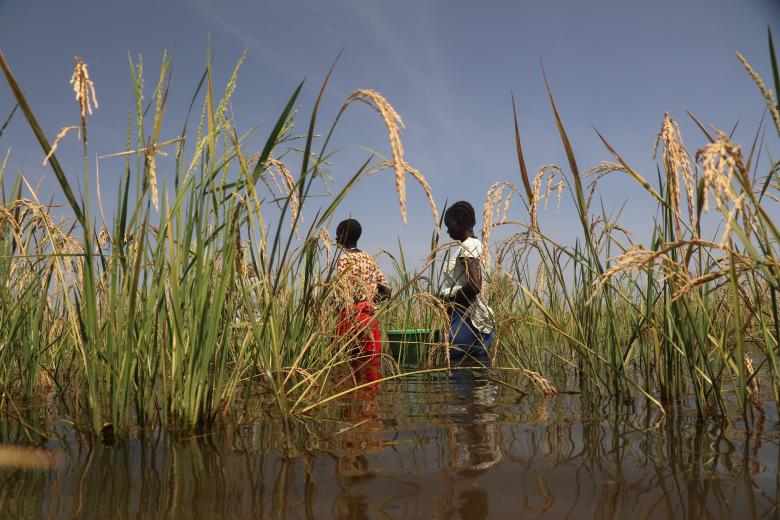 Hope rises as rice grows in flood-prone areas in rural South Sudan
Wednesday, December 28, 2022
The world is changing, and everyone needs to learn to adapt, thrive, and create new opportunities from misfortune and difficulties. Over the years, farmers in rural South Sudan endured food shortages due to recurring and more frequent flooding. Today, a new sense of hope and pride is rising as farmers learn to grow a new crop – rice – that thrives in flooded paddies.  
Rice farming is transforming farming communities in Gogrial East County of Warrap State into becoming more resilient and self-sufficient. Farmers are now becoming less worried about the arrival of the rainy season as they are learning more about how to prepare their farms and put floodwaters to good use.
'Harvesting this rice feels like a dream,' says Ayiei, 32 and a mother of three. Ayiei is among the families who fled from their homes in Amethic village in search of safer ground after a devastating flood swept their community in 2021. 
World Vision introduced rice farming in Gogrial East County early in 2022 as part of its Food for Assets project, in partnership with the World Food Programme.
Before the introduction of rice farming in the county, farmers and their families often found themselves hungry as they were not able to plant seeds and harvest crops. Sorghum and groundnuts are the usual crops grown in the county. These are drought-resistant crops that can withstand long periods of dry season. However, seasonal floods often wash away fields across most parts of the county. As the farmers learned more about rice farming, they soon found out that rice is a more suitable, and more profitable, crop to grow in flood-prone areas like theirs because it requires a lot of water to grow, unlike sorghum and groundnut.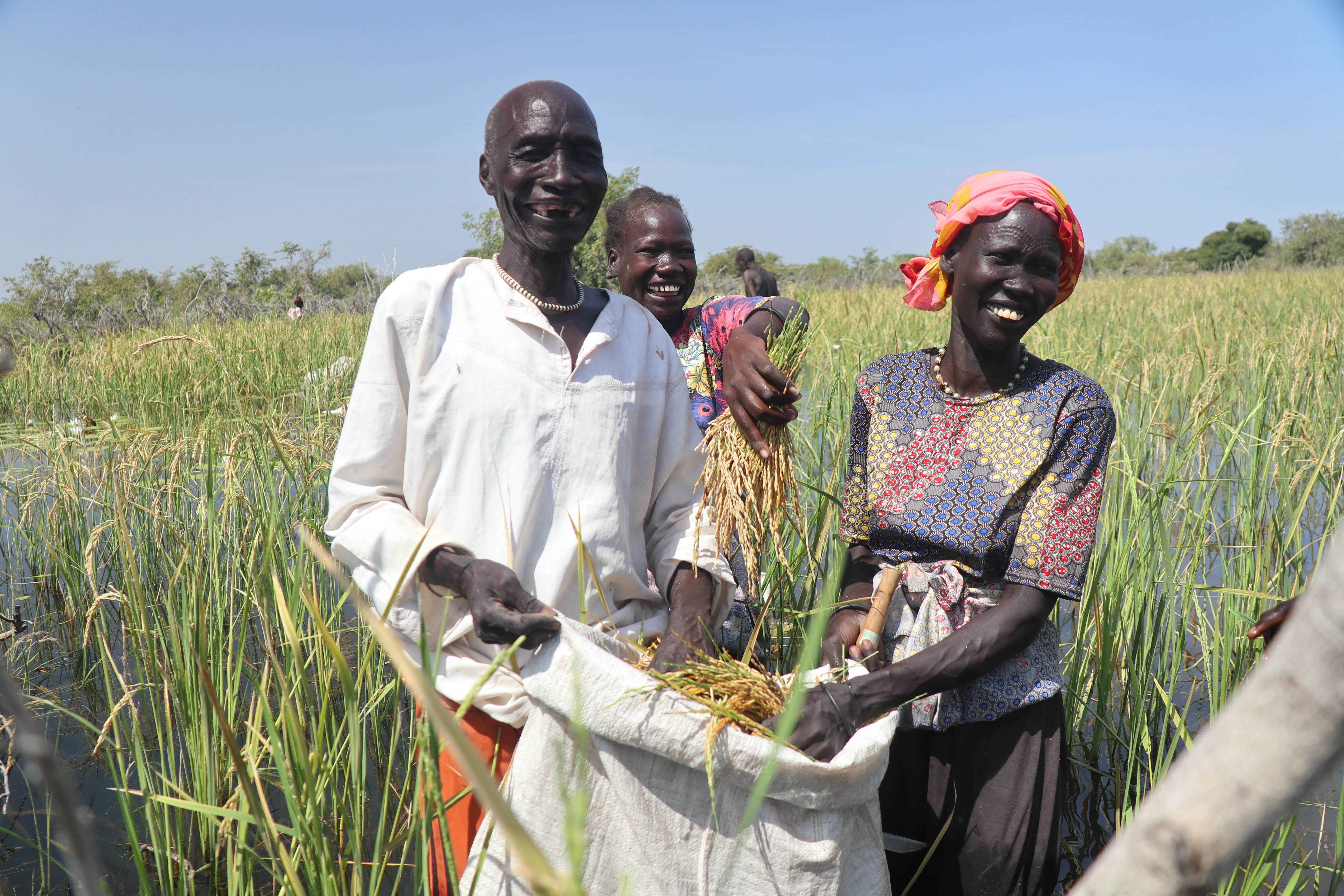 According to Ayak, a 30-year-old farmer and mother of five, the flooding they experienced this year destroyed more crops and displaced more people compared to previous years. "For over two years, we were not able to cultivate our land due to rain and river floods, which destroyed our crops and left us with nothing to feed on," Ayak adds. 
"Rice is something new in this area. Like the other farmers, I resisted it initially. We thought nothing would grow in water. But when I saw the rice growing in the water I was surprised and said to myself, 'this could sustain me for years since I do not know when these floods will stop', so I joined the team," says Ayak.
In just a short time, the rice farming project has started to ignite ripples of transformation in the community. As the farmers learn the art of nursery preparation, line planting, and harvesting, they become more confident in their ability to grow rice. The new skills and experiences they gain give them the ability to change their lives for the better.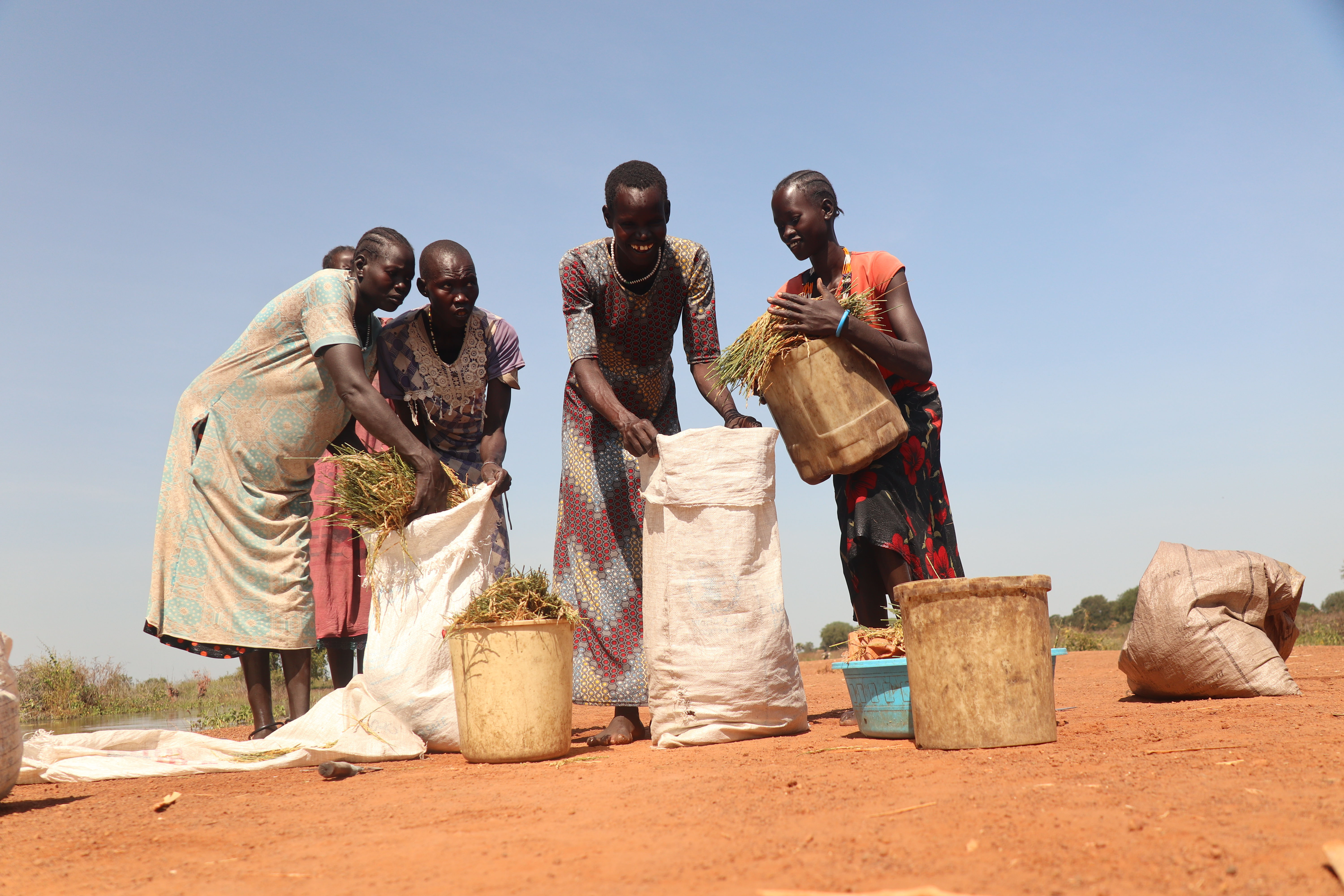 After six months of planting and anticipation, the time for harvest came. "God closed the option of growing sorghum and groundnut, but opened the option of rice," Ayiei says.
"It's hard work," Ayiei says. "I am still in awe, never in my life have I ever seen a crop grow healthy and well in floods. Upon seeing the rice grow in water, my joy is beyond expression. Harvesting this rice feels like a dream. I will carry on with this experience, to make something for myself and my family."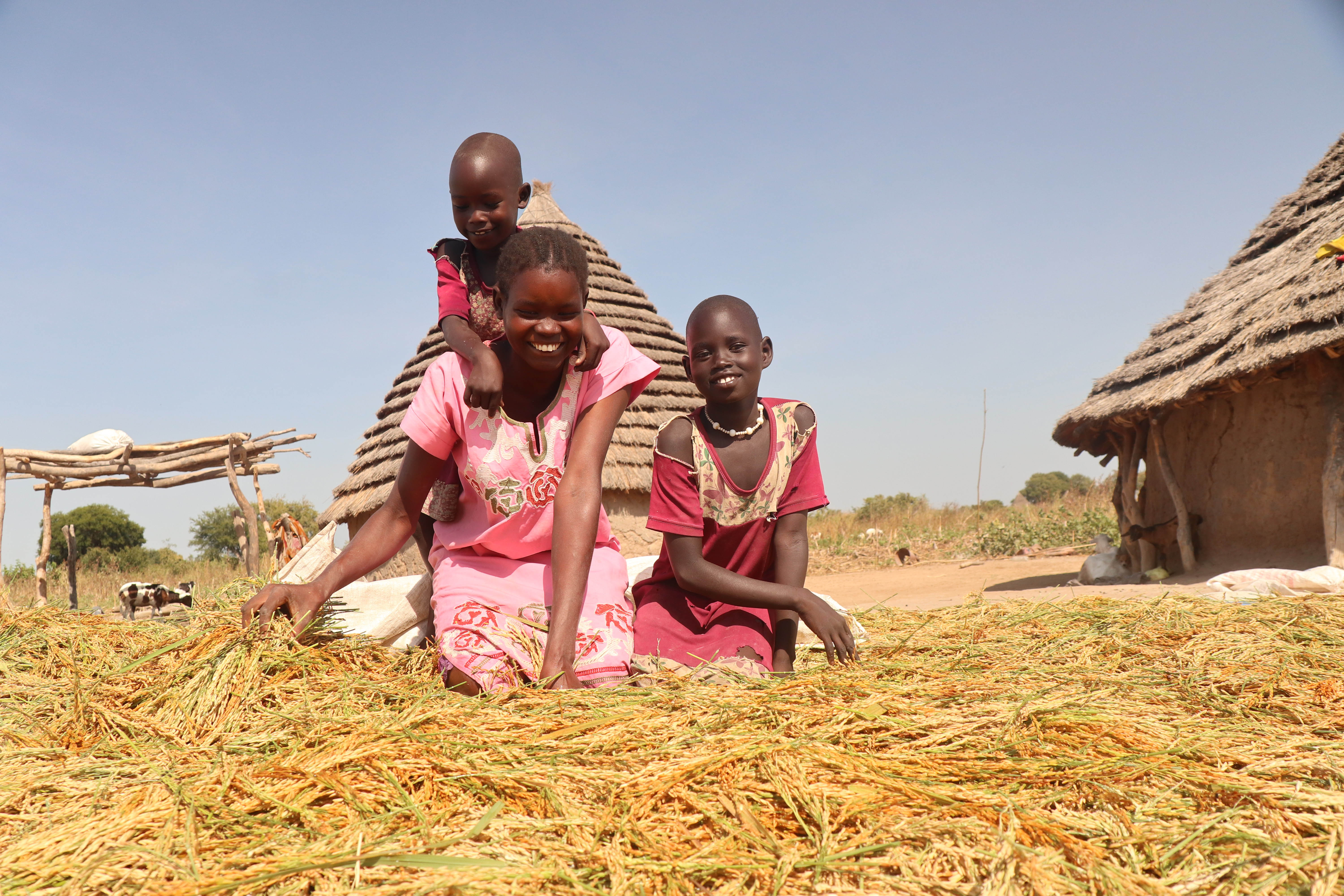 Now able to reliably grow their own rice and earn an income in the future, Ayak and Ayiei are planning to expand their farms. Soon they will start training their neighbors with the skills to start their own farms. 
"We are grateful for World Vision's support. Touching the rice grains after the harvest gave me the same feeling of happiness when I first touched my sorghum and groundnut harvests. I feel proud and I now have hope for the future," adds Ayak. 
In anticipation of dry months where rice production would be low, World Vision and WFP also introduced other climate-resilient crops and other climate-resilient farming techniques, such as crop rotation where cassava and sweet potato can be grown as these crops can thrive during dry season.
Story and photos by Scovia Faida Charles Duku, Communications Coordinator