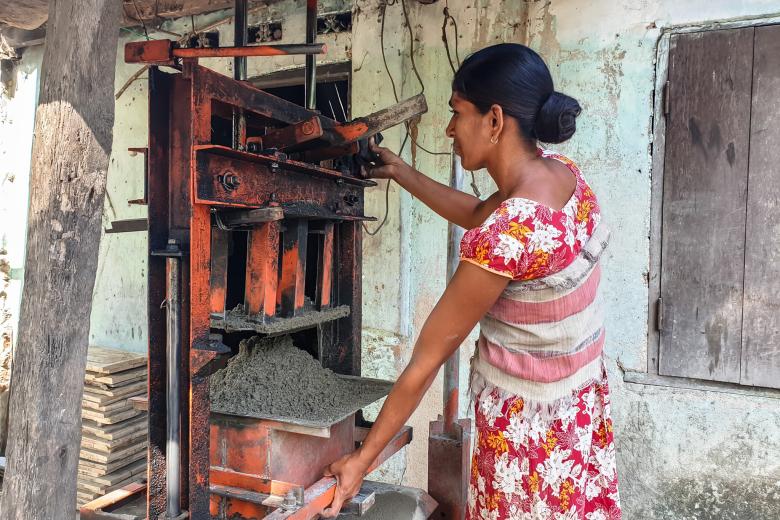 Building bricks and rebuilding lives
Friday, October 9, 2020
It is 8 am in Navithanveli. The sun is peeking through the half a dozen coconut trees in Jeyarani's (30) house. She is watering the cement bricks that were made a day before so that they will get stronger. In the meantime, her husband, John Antony (33) is mixing the cement, crusher run, and sand to make cement bricks. "The electricity board said that there is a scheduled power cut at 9 am, so we are a little earlier than usual to start our work," says John.
John Anton was a fisherman as well as a daily-wage worker at a brick-making facility. While things were manageable at the start of their life together, once the children came along, making ends meet started to become an issue.
"I used to go fishing early in the morning, at around 4 am, 5 am and go for brick making after getting back from the sea and work there till evening," says John Antony,  "Despite doing all this, we could not save any money."
Their children, Jeloshana and Jerikson, now nine and 13 years old respectively, were growing up. Jerikson had already started schooling. Jeyarani and John had to find ways to give their children the best possible education and health. Even when they started making clay bricks in their home on a small scale, things did not improve much.
As a part of improving the livelihoods in its working area, World Vision Navithanveli chose to provide livelihood support for Jeyarani's family. Jeyarani chose clay brick making as her field. "I received an eight-day training. I completed the training, and I was promised that I would be given the raw materials to make them," she remembers.
However, after discussing with her husband, they decided that they wanted to make cement bricks instead of clay bricks.
"My husband was already engaged in cement brick making. Hence, we thought that both of us together could make cement bricks and can run the business together," Jeyarani says, "There's also an issue in obtaining the permit to transport clay to make clay bricks and making clay bricks is a little tougher compared to making cement bricks."
However, she was not sure if her request would be heeded.
"I went there [to the World Vision office] without much hope. I thought that I would be told, 'You completed the training for clay brick-making, we can't provide the machinery needed to make cement bricks.' However, when I asked them, they said, 'It is okay. We will buy it for you. We are okay as long as you are engaged in work and improve your life'," Jeyarani shares.
Since they received the new machine, John Antony has stopped going for fishing and daily wage work. Both of them work together to make bricks at home.
"The machine has made our work a lot easier. We can't make as many as bricks if we do it manually, and, however, we try, the end product would not be as neat," John Antony says, "Because the machine presses the cement mixture, the bricks are neater and would be far stronger."
"The business is good for us. We keep continuing to get new orders. Sometimes, we can't provide the bricks people want because that is the level of demand we have," says Jeyarani.
The reason for the demand is, the quality of their bricks is much better than those John used to make in the facility. "When I was working as a daily wage worker making bricks, we were asked to make 120 bricks from a cement packet. However, at home, we make only 100 bricks from a packet. If we try to make those extra 5, 10, or 20 bricks, the business would not run well," he says.
When the hospital in Sorikalmunai was recently renovated, the government official purchased the bricks from them. "The officials did all sorts of tests to ensure the quality of our bricks," they say.
"Our situation has improved because of this gift from World Vision," says the happy couple, "With our income, we have laid the foundation for our new house. We spend on our children's education comfortably now. They go to extra classes in the evening thanks to our increased income. We are able to provide nutritious food for them as well. We have bought a cow and have started selling the milk too.  We are able to save as well."
"Our target is to complete the house we are building for us," both of them say with hope, as they continue making the cement bricks.