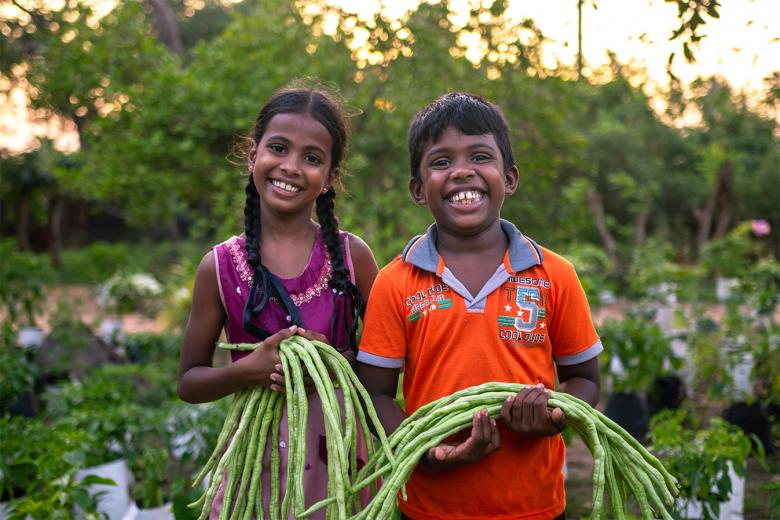 Cars, country and family
Monday, May 17, 2021
Serena, Nissan and Toyota are siblings. But Toyota's name didn't make it to the birth certificate because his mother vehemently protested against it and his father had to finally agree to the name 'Pesala' - an acceptable name for a child.
There are three things that Akila loves the most - cars, family and his country. He loves his family – his wife Singithi and their three children (ages 10, 8 and 10months) - way more than he loves cars but he loves his country a teeny tiny bit more than he loves his family.
Akila confesses this with tears and gets very emotional talking about Sri Lanka. He wants to see it prosper and see its people out of poverty and he believed the only way he can achieve this is through political power. So he submitted his name as an independent candidate at every election and borrowed money from his friends and relatives to manage a small election campaign.
Akila is a social worker by default. He helps anyone and everyone in his village and the village loves him. But they never vote him in. In the process of being obsessed with saving his country he neglected his family. Akila didn't know how to provide for them or care for their needs. He had no stable income. Singithi suffered silently and did what she could to feed the little ones.
"World Vision saw what was wrong in the picture and directed me for counselling," says Akila, "That's when I began to see my role as the head of the family. The direction was so helpful and I was determined to change."
World Vision enrolled him in the home gardening project and Akila and his wife both attended it. Singithi was the one who was most involved in growing their small garden while Akila was away doing social work until Covid-19.
With the pandemic forcing the country into a lockdown, Akila now had to stay home. He engaged in the gardening activities and began to show an interest. He also helped Serena and Nissan have their own little patch of organic cultivation. They both have a great interest in gardening.
"I am not able to explain everything about gardening to them like how World Vision does, so during school holidays I let Nissan tag along for World Vision meetings on home gardening," he says. "I love organic farming," Akila shares, "I feel thrilled that even my youngest can sometimes crawl among the cultivation and pull a bean and bite into it. They are safe because we use absolutely no chemicals.
"With their garden growing, they were able to sell the vegetables to the neighbours during the lockdown. They also grew some of the vegetables and chilies by the side of the road for people to pluck for their homes for free.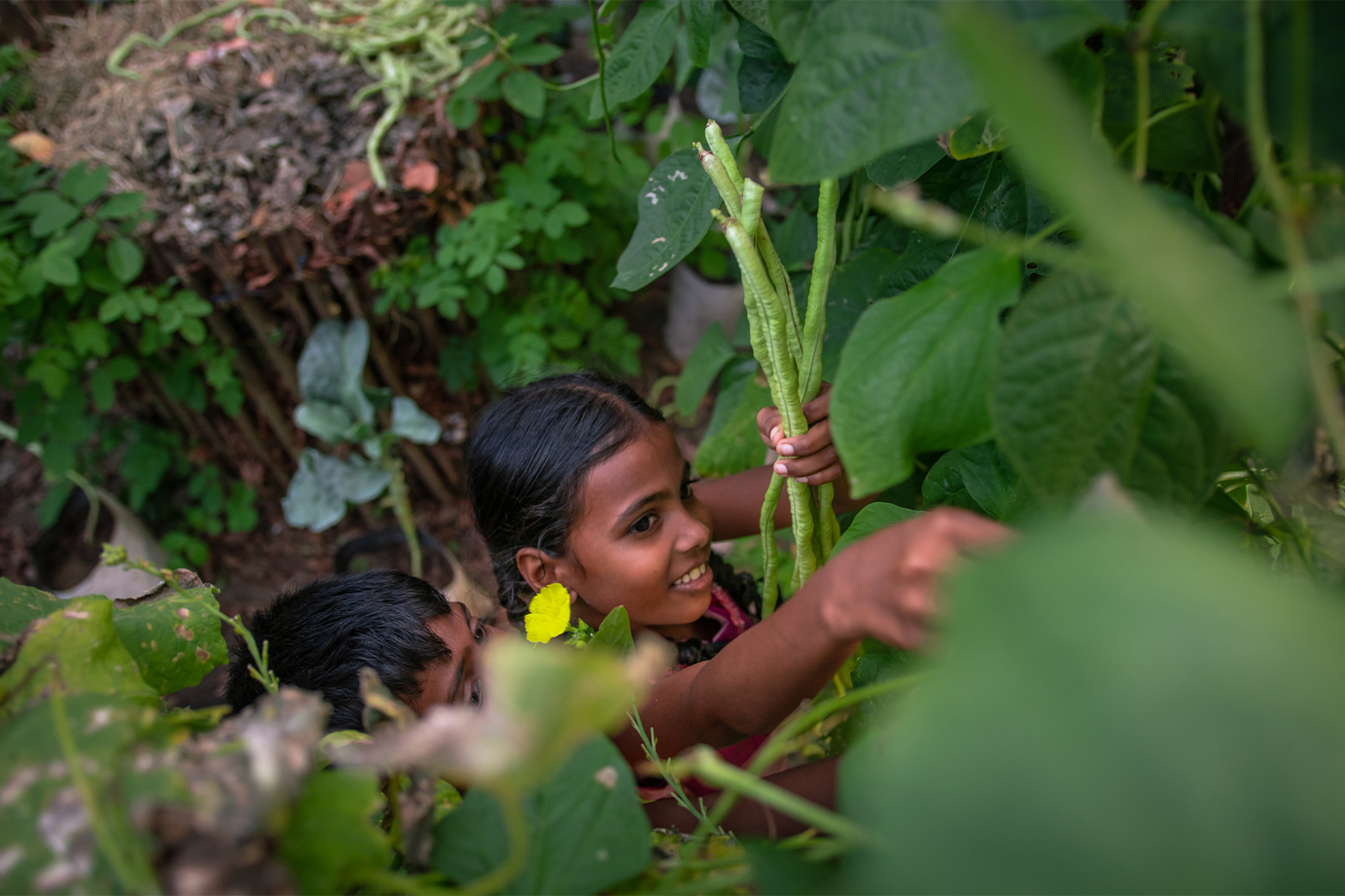 As soon as the lockdown was lifted in June, he worked with World Vision to help all child society members learn home gardening. He also shared knowledge with others in his community and encouraged them to grow their own home gardens.
Akila's garden is spilled over to the empty land next to his. He has also begun to farm in his brother's garden and is now working on a mass cultivation in a partnership of three more people who are economically disadvantaged and need a stable livelihood.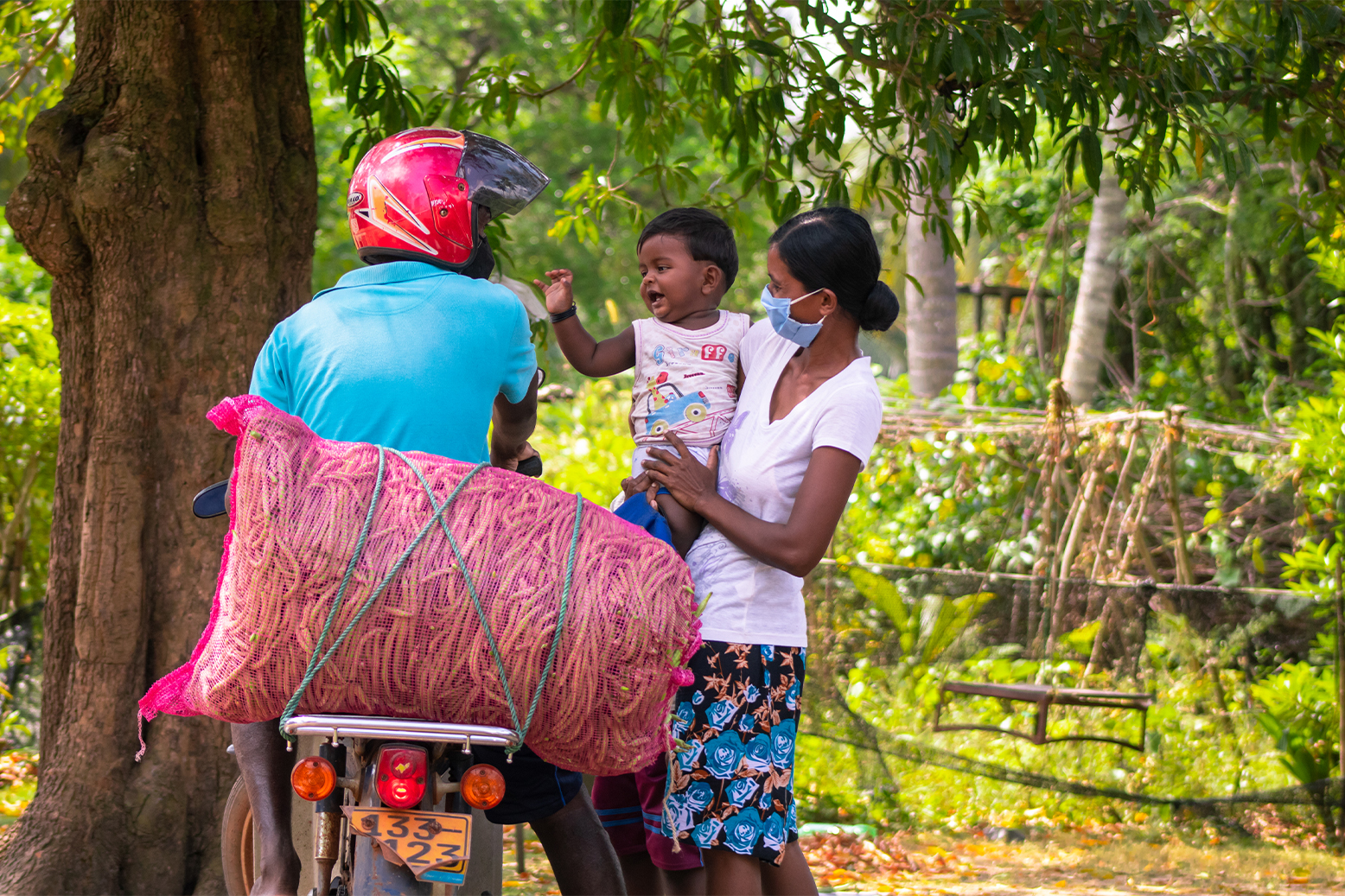 Meanwhile he is harvesting around 40 kg of long beans every day from his cultivation and takes to the vegetable centre for selling.
He still loves his country. But he is much better at taking care of and providing for his family now.