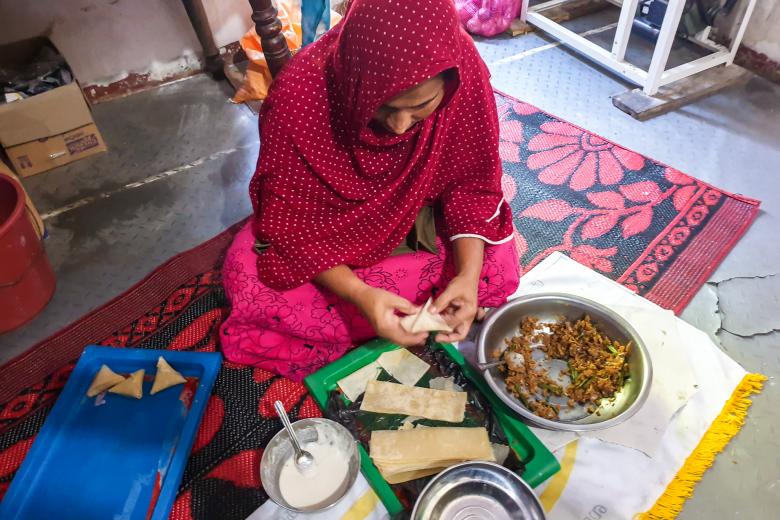 Nasliya's tasty success
Friday, October 9, 2020
Nasliya's typical day starts at 2.30 in the morning. She has to do the initial cooking to make breakfast and lunch for the school canteen she and her family are managing. They have to make 300 keerai vadai, 150 yeast rotti, 150 parotta, dhal curry, coconut sambal, and pittu/thosai, in addition to rice, three curries for the day, and boiled eggs for nearly 150 students and teachers.
She wakes her husband, Fousal Faiz, up at 4.30 am so that he can start kneading the flour. Following that, she wakes her daughter, Ritza, up. Nasliya's day can get busy such as this, but there is happiness and satisfaction in her face.
"My husband was working overseas at a gas station before this," she says, "But he was not getting his salary. He could not return either. I was here with our four children, who were 17, 15, 11, and 5-year-olds at that time, and I was under enormous struggle. I could not vision a way forward."
"One night, I prayed to God and was in my bed to sleep," Nasliya says, "That's when I thought that I could start working. The next day, we had our women's society meeting. It was created because, even though development was happening in our area, women were not a part of it.
"In our society's savings, we had Rs. 3,000, and it was decided that it will be given as a loan to three of us, Rs. 1,000 each. I told them that I will pay it back and took the loan. I was the president of the women's society at that time. I suddenly told them that I am going to get a loan. The president is not supposed to get a loan."
"Even when I was returning home, I did not really have any idea what to do with the loan," she says. "When I was asked what I was going to do with the money, I told the members that I was going to buy chicken, even though I had not decided anything yet."
However, she did buy one hen for Rs. 500 and kept the remaining Rs. 500 with her.
"The next day, I bought coconut oil, gram dhal, and sugar and made vadai and curd vadai," Nasliya says, "I had never practised making them before nor did I ever observed while others making them. However, I still went ahead and made them and the first day was a success. My eldest son, Akram, took them into the village and everything was sold out easily."
From the money she earned from the first day sales, she bought more items and started making snacks and selling them. She kept trying and improving her business. Her hard work and perseverance started to bring more success to her.
Her husband, who was not in a position to contact Nasliya, did not know about his wife's new venture until a few days later when he called.
At this point, she had started making yeast rotti, curd vadai, keerai vadai, and vegetable rotti.
"I bought small quantities of ingredients and tried. Everything came out really well. I don't know if it was God's grace, but it was a success," Nasliya smiles.
Soon she realised that her husband did not have to suffer in another country while she was able to manage here so well. She went to the Foreign Employment Bureau office in Kalmunai and made a complaint to them about her husband's plight. Within a few months, her husband returned home.
 "This brings good income, so let's do this,' I told him," Nasliya says. He agreed.
 "He did not even know how to knead the flour," she says, "So, I had to get up early and teach him. Now, he is the one who does it." 
Together, they expanded their small business. They make samosa and rotti too, in addition to other products she was making earlier. Due to the taste and affordability, they were also given the opportunity to manage a school's canteen.
To support their small business, World Vision Navithanveli donated a dough kneader to them last year. "Thanks to this machine, the time needed to knead the dough has gone down by half. We knead about 15 kilos every day. Since we have to knead it differently for different snacks, we knead them as 3 batches of 5 kilos and it usually takes between 20 to 30 minutes without the machine, but the machine does it in 10 to 15 minutes."
Today, she makes more than 10 varieties of snacks in a given day. While their morning is spent at the school canteen, they come back to start preparing for the evening snacks. "My husband takes them in a trishaw and sells them. Our youngest son, Ajam, helps out on holidays and on weekends," she explains.
 "My dream now is to open up a shop to sell our short-eats," she says. "I have married off my eldest child, a daughter. Ritza is the one involved in our business completely. I want her to run the business when we are old. Hence, I am teaching her all the business aspects. Our eldest son, Akram, is following an automobile service course. I want him to open a service centre and do well in his life. The youngest one, Ajam, is studying now. I want him to study well and become a government officer. That is all I want."