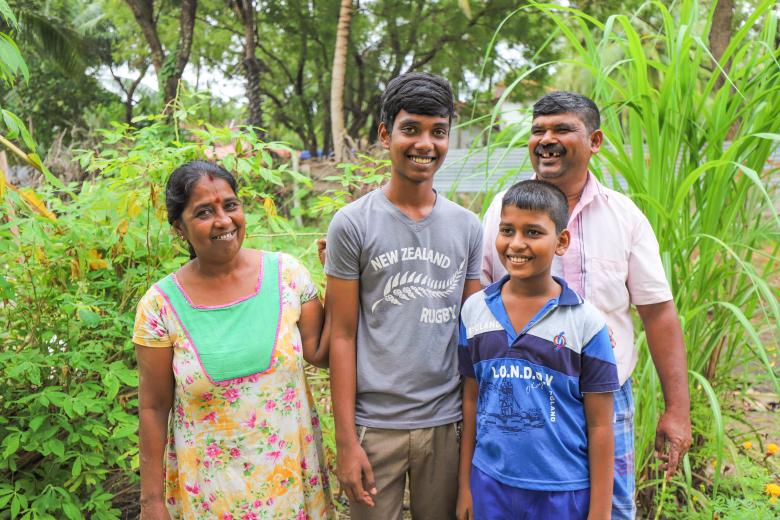 Natural farming gives hope to Ledsumi's family
Thursday, February 11, 2021
Ledsumi's youngest son was just 5 when her husband, Sepamalai fell off a building under construction. He worked as a mason at that time and was the sole breadwinner of the family. Their children were 9, 8 and 5 years then. That accident paralyzed not only him but also his family.
"The children were shocked and sad to see their father unable to move or bring them to school like before," says Ledsumi, "But they were very understanding and they walked around 2 km to school."
With the income gone, the family began to cope by reducing the number of meals and borrowing from neighbours and relatives. Ledsumi had to choose between her husband's medical expenses and fees for her children's extra classes. She had to take him for physiotherapy at the hospital once every two weeks and it cost around 3,000 rupees (USD 15) each turn.
"I could no longer give the children any food to take to school to eat during the interval, but they never embarrassed me asking for things they liked," she says.
"My eldest helped me a lot with house chores and the younger ones kept their father company while I prepared dinner and arranged for next day's breakfast," she adds, "I wanted my children to at least have their breakfast before they walk to school."
Ledsumi spent most of the time caring for her husband and had less and less time for children, to check on their schoolwork.
"I used to feel a tremor down my spine every time I thought of how I could take my family forward," "I could not bear this and I cried over countless nights for a miracle to happen," she says.
Ledsumi had some experience in gardening. She had already grown a few vegetable and fruit plants. "Although these yielded enough to give my family three meals, I had to sell some to buy the rice, grains, oil and other basic ingredients we needed for cooking. At the end we sacrificed a meal to have these," she says.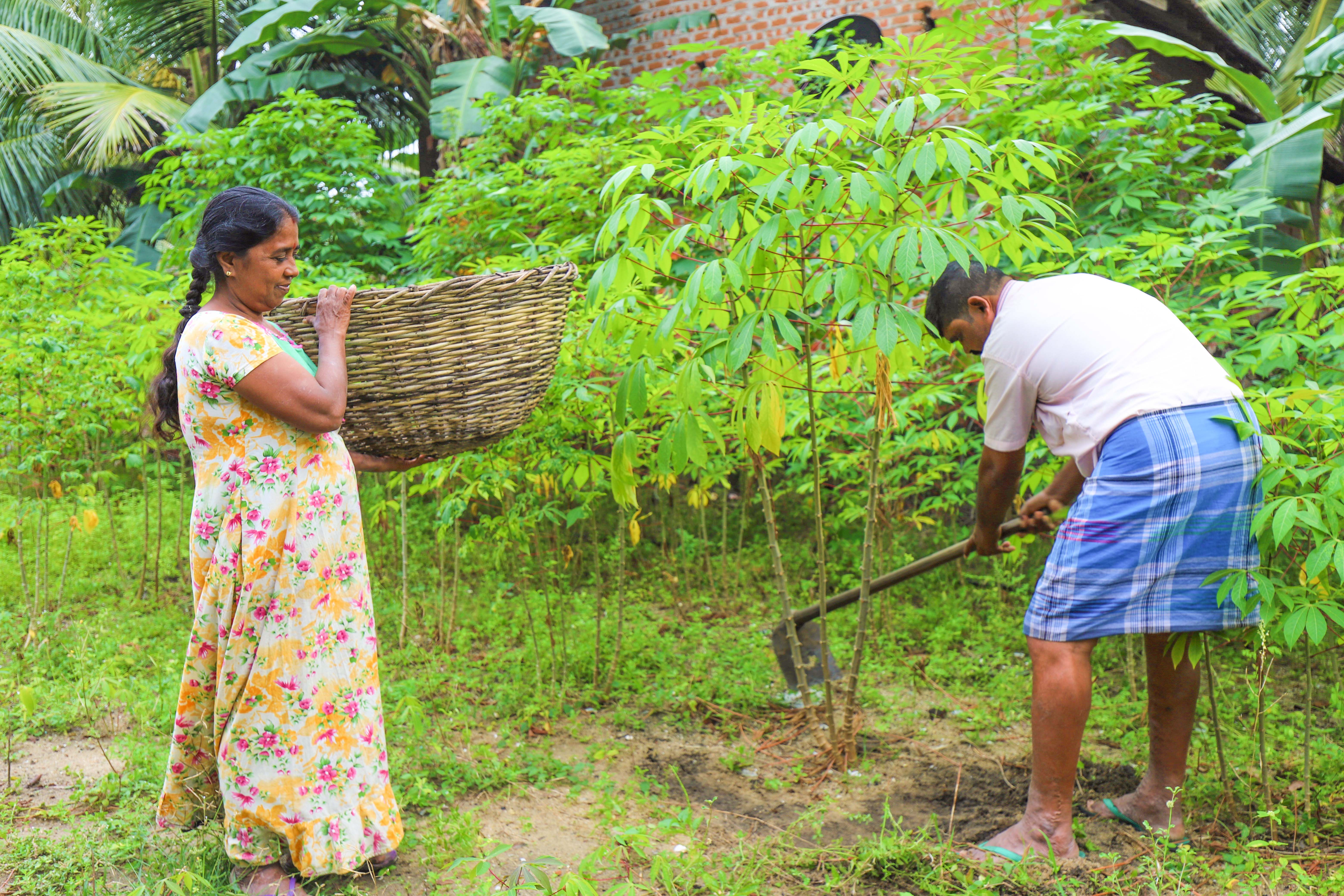 "Those days are the worst nightmare I had and almost two months passed by like that. And at a certain point I was desperate to do something," she says.
She decided to expand her home garden to the rest of the land available around her house. But she had no clue how to do it and make it a livelihood.
"I spoke to a man who runs a plant nursery in my village and I bought seeds and saplings of corn, eggplant, chilli, okra, long bean and tomatoes. And I also bought from him several chemical fertilizers, as he gave a high recommendation to them," she shares.
Determined to make things work Ledsumi spent a lot of time in her garden. She woke up around 4 am, prepared breakfast and lunch, attended to her husband and started garden activities. She spent almost 6 hours a day continuously burning under the hot sun. She ploughed an acre of land on her own and planted the seeds and seedlings she bought. She fetched almost a hundred buckets of water a day to irrigate the cultivation.
In between her work she kept attending to her husband. She served lunch to her children once they returned from school and attended to the house chores as well. She wouldn't let her children into the garden, worried that the chemical fertilizers that already started damaging her skin would affect them too. The fertilizer has caused allergic responses in her foot and hands, leaving red patches. But she had only one thing in her mind - a stable income to support her family.
However, after three months of intensive care, her cultivation still let her down. And it kept letting her down, again and again, harvest after harvest. Infections and pests attacked the plants. The soil turned so dry, rough and discoloured.
"I was devastated. I had spent even the little savings we had to do this cultivation all my savings on this cultivation. I kept crying my eyes out, every single night after my children had gone to sleep," Ledsumi's voice breaks.
"I think God must have heard my cries because one day in 2015 I had visitors from World Vision. They took a walk around my home garden. They asked if I would be interested in continuing the home garden based on a natural farming method that they would train me on. I said 'yes'."
Ledsumi got enrolled on the project and received training on natural farming that does not need ploughing, chemical fertilizers and weeding. The training included preparing the land for natural farming, transforming the chemical infused land into a natural farm, the importance of mulching, ways to naturally fertile the land, ways to care for the plants at each stage, pest management, climatic disaster mitigation and basics of business management.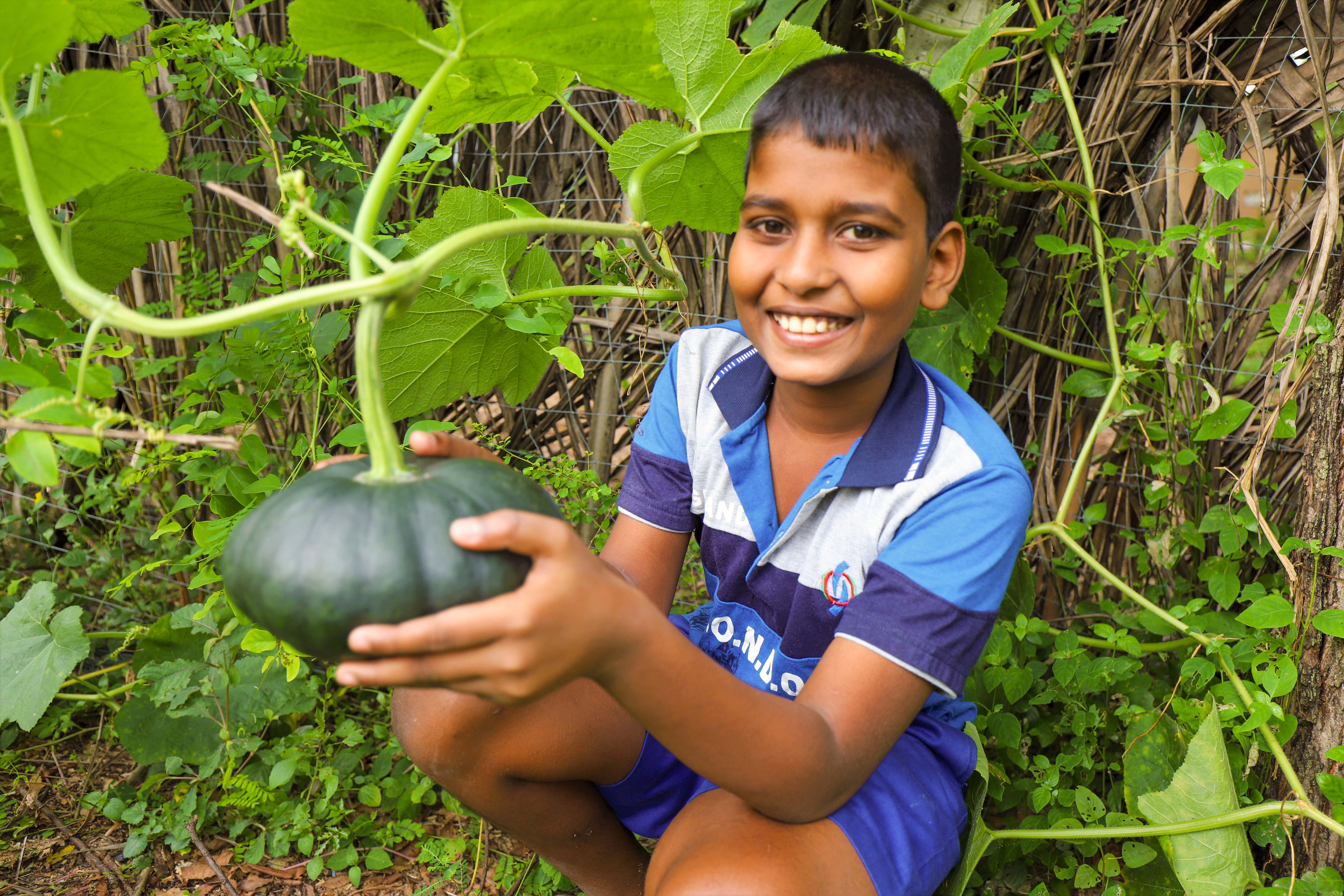 Within two months, Ledsumi transformed her home-garden into a natural farm. Though she had to borrow little money from her friends to run her family during those months, this time she had hope because during each stage of cultivation she had support and guidance from the Project.
"I planted eggplant, okra, tomato, long bean, cluster bean, drumstick and snake gourd seeds I received from the Project. The biggest relief is that I don't have to draw water like before, as I have installed the electric pump and connected it with the sprinklers that water my entire farm in 15 minutes. They provided us everything." gleams Ledsumi's face.
"The most interesting part of the training is that when I realized that we don't need to use chemical fertilizer to grow the plants. But just the ingredients available in and around the house would do it. I felt very frustrated for having spent a lot of money to buy chemical fertilizers."
To boost the fertility of the soil, as demonstrated in the training, Ledsumi prepares Indigenous Micro-Organisms (IMOs) from the remaining cooked rice, sugar, vinegar, rotten fruits and vegetables, ginger, garlic, animal bones and charcoal that are available at home and backyard. She prepares and bottles them before she starts every cultivation. She sprays the necessary amount of IMOs to which she says her farm responds really well.
"Though my first natural farm harvest was not contented to the fullest, day by day I can see the soil becoming more nutritious and sustaining moisture, eventually producing the best vegetables"
"The first-ever natural farm harvest is always close to my heart. That morning, I felt like I delivered a healthy baby, as I looked at the corns shining in tones of yellow, dark purple oblong eggplants, clusters of beans and the green tapestry of Indian Pennywort adding more hue. I cannot explain what I felt with every harvest was fear of failure or excitement of success, but I am sure that I am proud of myself."
"A few harvests Iater, I started selling excess vegetables at my neighbourhood, nearby vegetable outlets and also transport them to the Bridge Market. I understand that my vegetables are getting a better demand. My confidence improved and I felt all my pains vanishing away when I realized that I had to do nothing to improve my harvest but to leave it to nature, who can get it done for me. Now I have much time to spend with my children and they are very happy being around me."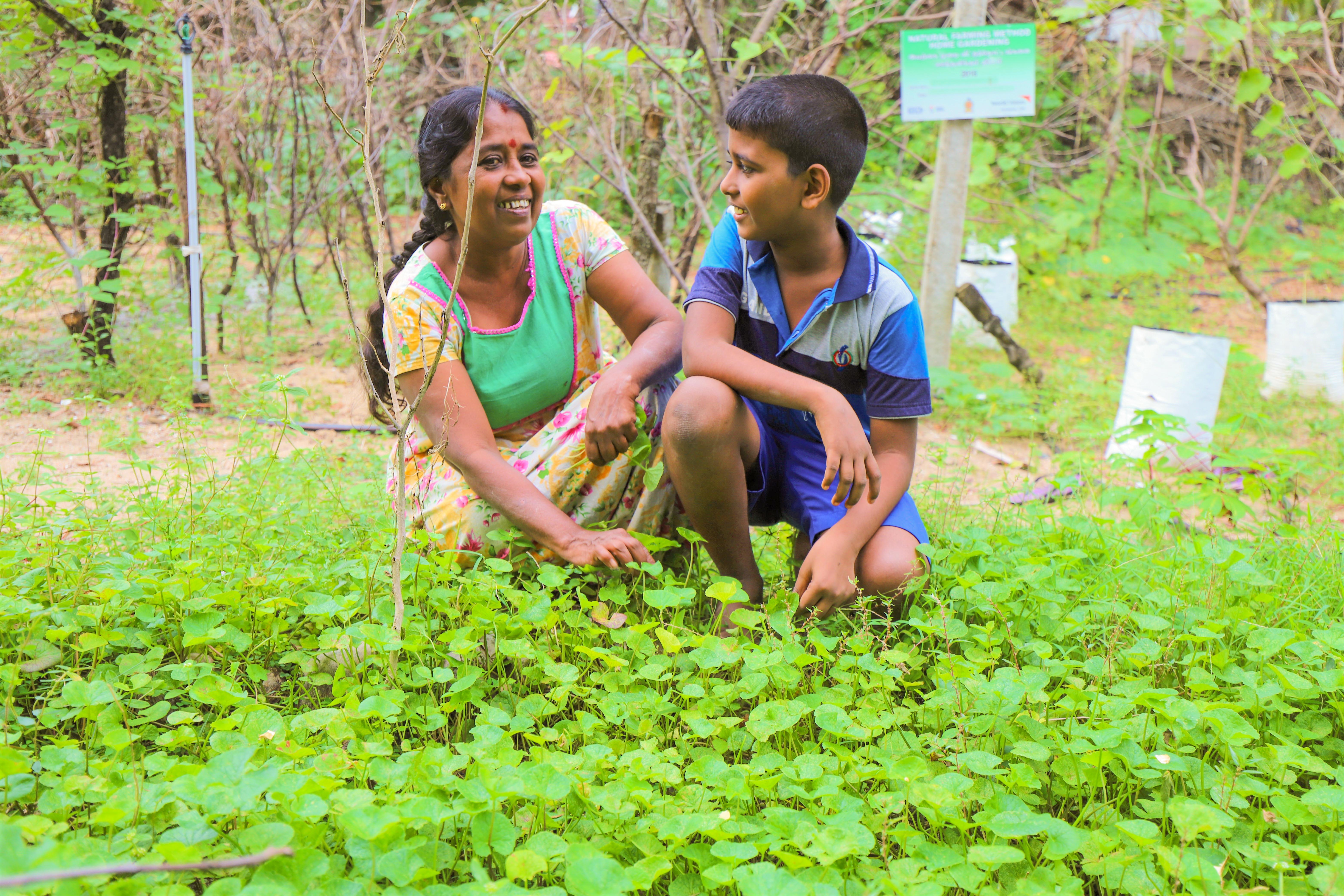 "With a few months of savings, I started to settle little loans I borrowed. And I packed my children's lunch box with biscuits, that they were long yearning for. "
"I was able to afford my husband's private physiotherapy sessions. He attended improved therapies very often and showed improvements in a few months. He is now able to move around without support and he also helps me with chores in the cultivation."
"And now I spend the money on my children's extra classes. We bought them anew cycle to go to school and classes. And very recently we also bought a big phone for my children to attend online classes."
Her youngest is 11 years now and he is a great helper on the farm during his spare time. She doesn't mind letting him in her natural farm. He loves plucking the grown vegetables and gets amused as he weighs them to pack. He also knows which IMO to spray when he sees the leaves turning dull or crawling up.
Ledsumi says, "Now he enjoys his favourite deep-fried eggplant curry and often says that he is finally free from the smoky smell of the curries, cooked with chemically grown vegetables."
"I also get visits to my farm by organizations and individuals who like to learn natural farming. I feel delighted to show them around and the work I do. They click a lot of pictures too and say they too are inspired to follow natural farming. We are the happiest to see our family and farm growing together"
"I want to see my boys doing their best in school. My husband and I will keep farming to see that happening. We also have a plan to start an IMO business. Unlike that nurseryman, I will let people improve their farming with IMOs. I also wish to expand my farm when I can afford more land and give works to at least two poor people who are suffering to raise their children, just like we did."
The Natural Farming Project is funded by Korea International Cooperation Agency (KOICA) and has so far impacted 2064 farmer families in Vaharai, Koralaipattu, Kiran and Eravur Pattu in the district of Batticaloa (East Sri Lanka).