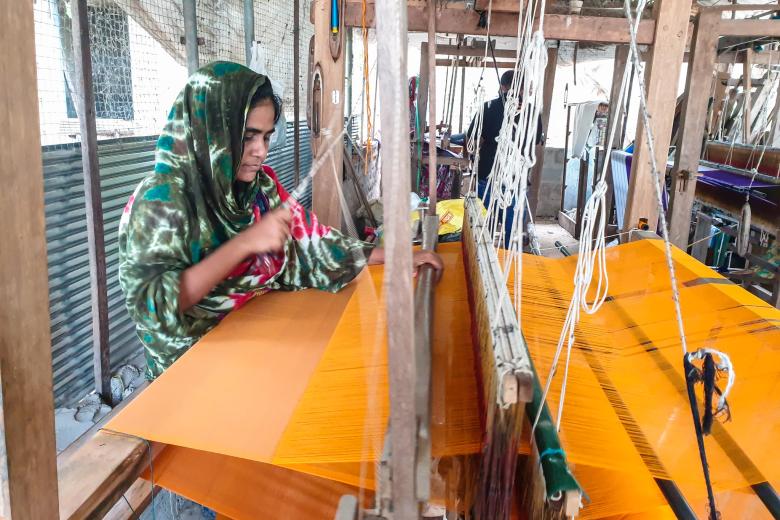 A single mom weaves for a brighter future
Friday, October 9, 2020
Majimunisa had never worked before her wedding. Her difficulties started only after the wedding. Just four months after she gave birth to her daughter, Amrina, she became a single mother. With no formal education or work experience, she had to be dependent on her parents and siblings.
"When Amrina was four and was ready for preschool, I realised I could not continue to depend on others for everything," says Majimunisa.
"Before my marriage, I attended a handloom weaving training for a couple of days," says Majimunisa,  "After I became a single mother, I decided to do handloom weaving because that's what the women in my village did."
She worked six days a week, from morning to evening. Despite her hard work, the income from the job, was insufficient. Since she was working for someone else, she didn't make a good income and had to continue to depend on her parents and siblings to provide for her daughter.
"I spent so much time at work away from home, it was difficult to take care of my daughter," Majimunisa says. "I was working away from home when she was growing up. And the income from it was not sufficient for us."
"I started feeling that it would be better if I started working on my own," she says. In 2015, World Vision Navithanveli came forward to support her. They not only provided her with a handloom but also provided her training in the trade.
Majimunisa worked in a room in her house first. Now, she works a handloom hut that houses her sister and a neighbour, in addition to her. Three of them work together in their own handlooms.
"It is less tiring to work together because we can talk and share moments," she explains the benefit of working together. All three of them, independently, weave cloth pieces and sarongs.
When talking about her life's changes and the art of weaving, Majimunisa's eyes light up. She explains the process of weaving patiently and with interest. However, once she starts weaving, she does not talk, not even look up, because weaving requires lots of concentration. Majimunisa's eyes go from one end of the cloth to the other end, constantly and repeatedly. Occasionally, one among the hundreds of lines of threads will break. When that happens, she stops weaving and joins the broken thread again with a knot, and remove any remaining broken ones. It requires a great deal of patience, and Majimunisa is clearly good at that.
"After I started working on my own, I can start working whenever I want. I can take a day off whenever I want. It is easy to send my daughter to school now," says Majimunisa. "We were poor. The income has increased since I started working at home on my own. I think of this job highly because it helped me when I was really poor."
Amrina is thirteen now, and continuing her education without any considerable difficulties. She has a bicycle and her mother is able to spend for additional classes for her and get her the school supplies.
"She studies well," says Majimunisa of her daughter, "I want her to be able to do a good job when she is grown up." As for her, Majimunisa wants to teach handloom to others so that another person can have a livelihood opportunity.