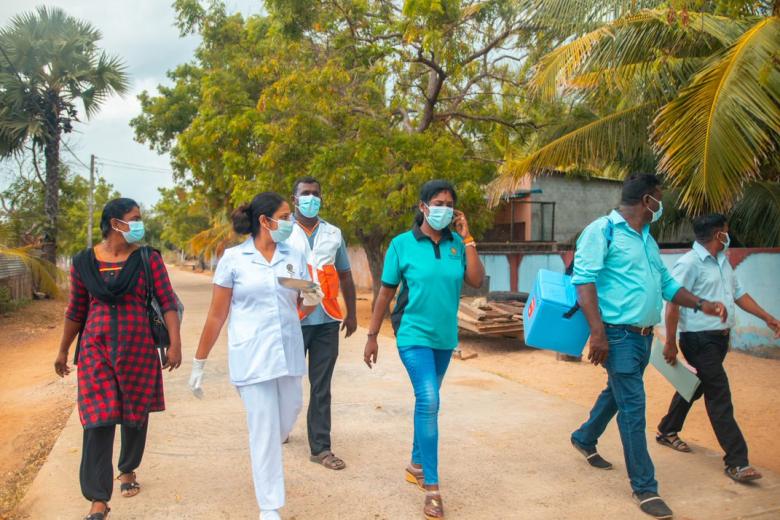 Taking health home
Friday, December 16, 2022
When we talk about the front lines, most of us just tend to look at the doctors, nurses, attendants in the hospitals, but there are more people like Public Health Inspectors, Ambulance Drivers and Social Service Officers who are going out to strangers' homes. They never know what environment they are going into. They don't know who's been in and out of those homes. There they help people with disabilities to get cleaned, bathe them, help them have their meals and mentally prepare them for vaccination against Covid-19. They are exposed to all of this.
Jeevithan Suganthini is a District Social Service Officer (SSO) from the Social Service Department, Trincomalee.
As a SSO her role is to focus on enhancing the well-being of the public, assisting to fulfil the basic needs of individuals and communities prioritizing the people with disabilities, the most vulnerable and those living in poverty. She greatly contributes to the care, support and empowerment of the disabled populations.
"The social justice was challenged by the devastating impact of Covid-19 on the most vulnerable communities. Even though there were number of projects for pandemic prevention, supported by the government and non-government organizations, only few among them were inclusive. The human dignity suffered a lot in the face of economic crisis, loss of jobs and limited access to healthcare centres and psychosocial support", says Suganthini.
"The pandemic followed by the economic crisis had a grave impact on the persons with disabilities, whom health and well-being are my sole responsibility. At a certain juncture, through the District Secretariat I was introduced to the Covid-19 Prevention Project of World Vision Lanka. As I have worked with the organization before, on several livelihood and empowerment activities, I felt very comfortable to approach them for help", she continues.
In collaboration with the World Vision Lanka, the District Secretariat, Trincomalee Ministry of Health and Social Service Department, Suganthini led a team deep interior into the villages that house feeble members. This mobile vaccination team included a Public Health Inspector, a nurse, a World Vision staff and a Grama Niladhari or a member of Rural Development Committee. 
Setting into the field around 5 in the morning, the team spent at least an hour in each house they visited. There they raised awareness among the family members why vaccination was essential, let them believe that Covid-19 vaccination would not affect the health of their house members with disabilities, familiarized with the members who were afraid of getting injections, waited there for another 20 to 30 mins to monitor if they respond to any allergies, provided them with appropriate medicines in case if they get fever later that day. And they got back home late in the night.
Every 12 hours after vaccination, the team ensured that they make a telephone conversation with the house members they have visited, and to check on any symptoms after vaccination.
Even though it was a stressful situation to Suganthini and team, by the end of the day when they taking a break, they felt fulness about their services. Although Suganthini was worried about carrying infection to her family; she has a younger son at home and elderly parents, she committed herself to attend to the most vulnerable the next day.
World Vision Lanka celebrates such inspiring hidden heroes like Suganthini.