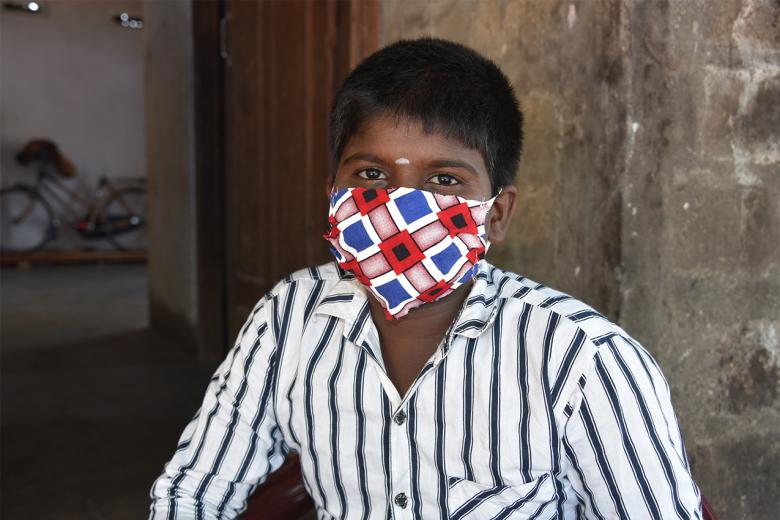 Thanusan: Stitching masks to protect from the virus
Monday, May 17, 2021
Thanusan (14) has always been an agile child. Coming from an economically disadvantaged family, he wanted to help his father, who is the sole breadwinner for the family, by earning some extra money.

"Since our family is poor, I thought I could do a small garden and sell the produce from it and use it for our family's needs," Thanusan says. "I thought to do it during my school holidays. That is when coronavirus came. It is like a demon.

"Thanusan lives in a village that is more than 30 km away from Jaffna town, North Sri Lanka. It took a while for the villagers to understand the seriousness of the coronavirus. As a curious child, when he understood what coronavirus was, he recognized the importance of masks to prevent the virus from spreading further.

"I had not even known what a mask was," Thanusan says. "When we clean our homes, we used to use handkerchief or pieces of cloth, not masks. I was watching the news and they showed masks in it.

When I saw the masks and how they prevent coronavirus from spreading, I decided to make masks so that my relatives can be safe from the virus."
"The shops nearby don't sell masks," he continues. "These are petty shops. If we are to buy masks, we have to visit a place that is 6 km from here. That is why I thought of stitching masks for my parents, siblings, relatives, and neighbours.

"However, it was not easy for him to make the masks. He had to find cloth, and find a way to stitch them.

"My aunt is a tailor," Thanusan says. "She will provide me with pieces of cloth that can't be used by her. With her help, I started sewing masks by hand. Since I had not had any training or practice, the first few masks did not come out properly. But I continued to practice and got better."

"My first completed mask was for my mother," he recalls. "Then, it was for my father, uncles... I made dozens of masks for everyone. Stitching masks was an interesting experience.

My younger sister and cousins would sit around me to watch me make masks." Thanusan is delighted to think that his masks may have helped his family and relatives from coronavirus. "It was the reason why I started stitching masks," he smiles.

After a local leader posted about Thanusan online, people started to visit Thanusan and share his story on social media as well as local television channels. As are sult, he has become a local celebrity.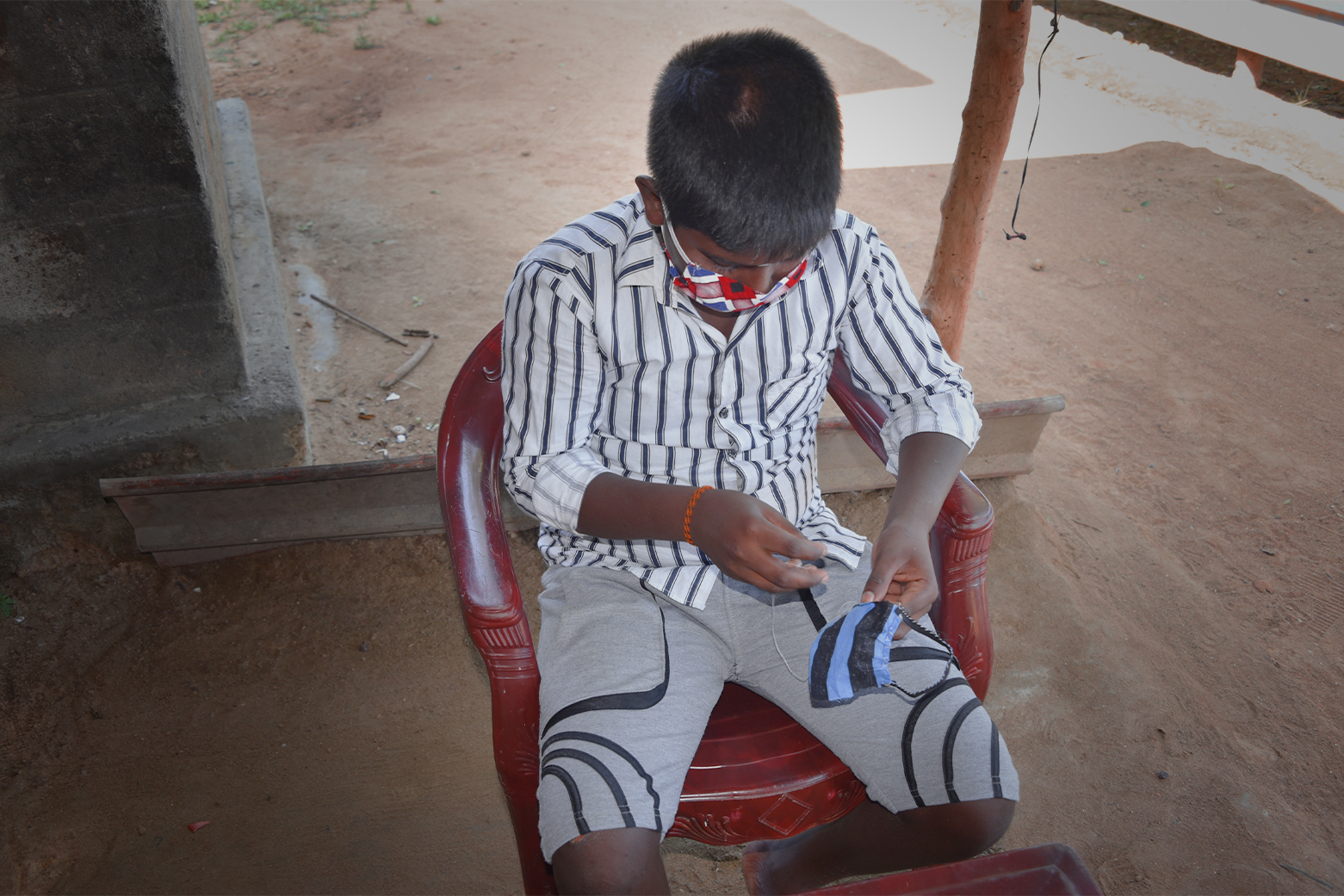 However, he is not letting his new-found celebrity status affect him. "My school friends do ask about the news items or posts about me," he says. "However, I do not give it any importance. When I go out, people ask me all the time, 'Aren't you the guy who appeared on the news for stitching masks?' I will say 'Yes,' and move on."

"It is a great thing that Thanusan thought about others and wanted to help them to stay away from the virus, "says Yogeswary (37), Thanusan's mother. "What he did was God's work. We are proud of him. He is such an active boy. He will do gardening, he will help with house chores, he will do anything. He will never say no to anything."

Thanusan, who likes art subject at school, wants to study well and get a state job so that he could look after his family. In the meantime, he is going to go ahead with his earlier plan to garden during his free time to make extra money as well as use vegetables for food to help his parents.